The lawyer for a woman who was seen being dragged off a Southwest Airlines flight in Maryland said that she never claimed her allergy to dogs was life-threatening.
Anila Daulatzai, 46, reportedly told the crew that she was allergic to two dogs traveling on the plane. They told her that she could manage by sitting away from the dogs in the rear of the plane, attorney Arjun Sethi said in a statement posted on his website.
"Professor Daulatzai's story has gone untold. She discussed her non-life threatening allergies to dogs with Southwest representatives upon entering the aircraft, and together they decided that she could manage by sitting away from the dogs towards the rear of the plane," he wrote.
"Professor Daulatzai never asked for the dogs to be removed from the plane, did not request an EpiPen, nor did she ever claim that her allergies were life-threatening," he added, saying that this was contrary to Southwest's statement and a number of media reports on the incident.
A video captured her being taken off the plane.
A Southwest representative asked her to leave the plane on Sept. 26 from Baltimore to Los Angeles, CBS News reported. She refused and they got the Maryland Transportation Authority involved to take her off the plane.
"Despite her clear attempt to resist a law enforcement officer, Ms. Daulatzai was professionally removed from the aircraft within the guidelines of the MDTA Police," a statement from the police agency said.
Sethi said that Daulatzai, a Muslim, was racially profiled by police.
"Police pulled her from her seat by her belt loop, dragged her through the aisle exposed with torn pants, and humiliated her for the world to see in a now viral video," Sethi said, adding that Daulatzai is pregnant with her first child.
She was charged with resisting arrest, disorderly conduct, and other offenses.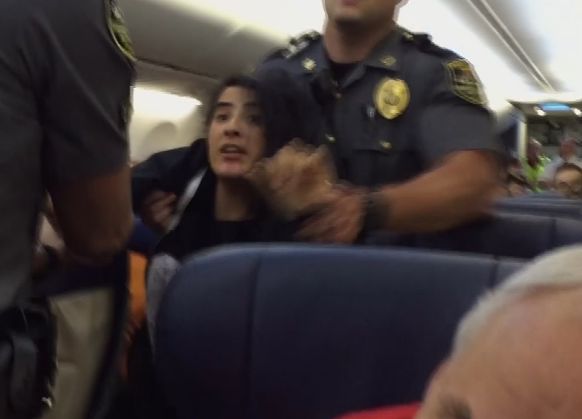 "Professor Daulatzai suffered physical injuries and mental trauma, required emergency care at a local hospital, including for her pregnancy, and is under continuing medical care. Professor Daulatzai has also received hate mail, including racist messages and threats of further violence. There was an attempted break in into her home. She has since left her home, fearing for her safety," Sethi claimed.
Southwest apologized for the incident but attempted to clarify the issue.
"There was one emotional support animal and one pet onboard the aircraft," the company told CBS News. "Our policy states that a customer (without a medical certificate) may be denied boarding if they report a life-threatening allergic reaction and cannot travel safely with an animal onboard."
Another passenger, Bill Dumas, said he recorded the now-viral incident.
In the video, the woman can be heard saying, "What are you guys doing?" as they grab her and pull her down the plane's aisle.
Dumas told NBC that the woman claimed to have a "deadly allergy" to dogs, asking that the animals are removed. The woman also asked crew members for an injection to help deal with her symptoms.
"My dad has surgery tomorrow. I'm sorry, my dad has a surgery. What are you doing?" she tells the officers as they arrive and attempt to remove her from the plane.
"C'mon, lady. Let's go," an officer tells the woman.
As the woman starts to resist, the officer the grabs her and then drags her down the aisle.
"Don't touch me! I'm walking!" she says. "I can't walk. He's got my leg," she replies to another passenger, who tells her to comply with the officers.
As she is pushed to the door, she then tells them: "I'm a professor! What are you doing?!"