Before almost every election in California, the wording of ballot measure titles, summaries, text, and rebuttals is enough to leave the most politically astute voters feeling confused—even duped, say two state legislators.
Assemblyman Kevin Kiley (R-Rocklin) and Sen. Melissa Melendez (R-Lake Elsinore) told The Epoch Times that state ballot measure texts and summaries are so skewed, many voters have no idea what they are truly voting for or against on election day.
The problem, they say, is that in California the authority and responsibility to write fair and impartial ballot titles and summaries rests with the attorney general—a partisan political office. The attorney general crafts the wording in a way that leads voters in the desired direction.
Kiley called the practice "terrible" and said it amounts to "election fraud."
"The attorney general has a history of doing this. He has really just completely manipulated the language in a way that likely changes the whole outcome of the vote," Kiley said.
"It's time we finally protect the integrity of our elections by putting a neutral nonpartisan official in charge of writing the ballot language."
Several lawsuits have been filed against Attorney General Xavier Becerra in the past few weeks for his wording of ballot measures as November elections approach.
Kiley and Melendez want to avoid further legal actions and hand over the authority for wording ballot measure titles and summaries to the nonpartisan Legislative Analyst's Office (LAO). They've proposed legislation, Assembly Constitutional Amendment 7 (ACA 7), to do that.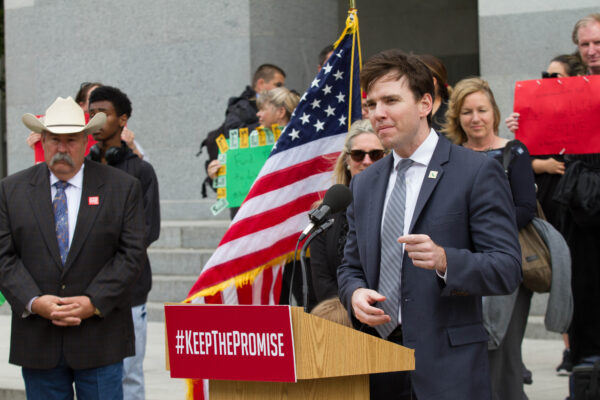 Attorney General Xavier Becerra has denied his wording is biased. His office sent The Epoch Times court rulings in five cases as evidence. In those cases, the plaintiffs alleged Becerra's wording was biased, but the court decided in Becerra's favor.
In a sixth case, the court ruled partially in favor of Becerra, but ordered an amendment clarifying the description.
The Attorney General's Office told The Epoch Times that they follow state mandates and "take that responsibility seriously."
"Under California law, it is our job to issue official titles and summaries describing the chief purpose and points of every proposed initiative submitted in compliance with procedural requirements," the office stated in an email.
Kiley introduced a previous version of the bill in 2017. At the time, former Legislative Analyst Mac Taylor testified the LAO was capable of writing nonpartisan ballot titles and summaries.
His successor, Legislative Analyst Gabriel Petek, agrees. Petek told The Epoch Times in an Aug. 13 email that his office is capable of doing the job.
"While our office does not take positions on legislative bills, my view is that we have the capability to write ballot initiative titles and summaries," he wrote.
Ruth Weiss, director of legislative oversight for Election Integrity Project, California (EIPCa), told The Epoch Times via email that her nonpartisan watchdog group strongly supports the move.
"We are absolutely in favor of transferring the duty and responsibility of writing ballot initiative titles and summaries from the Attorney General's Office to the nonpartisan Legislative Analyst's Office. It is a move that is long overdue for the benefit of ballot clarity and election fairness," Weiss wrote.
Melendez and Kiley said they've been stonewalled on ACA 7; the Democrats, who hold super majorities in all levels of the state government, have left the bill to die in committee.
"They won't even allow their members to vote on it, and they can hold bills in the Rules Committee forever," Melendez said.
So far, there are no takers for ACA 7 among elected Democrats, but Melendez said that could change if constituents call their legislators to demand reform.
"The elections code is very clear. … It says you have to give a true and impartial statement on the purpose of the measure, and it's not supposed to be used as an argument or to create prejudice for or against a measure," Melendez said.
'Gas Tax Repeal' or 'Road Repairs Repeal'
One of the court cases the Attorney General's Office highlighted concerned the wording of Proposition 6 on the 2018 ballot.
Prop. 6 proposed a repeal of the Road Repair and Accountability Act. The Act, also known as Senate Bill 1 (SB 1), increased fuel tax to raise funds for road repairs. Its title on the ballot began with "Eliminates certain road repair and transportation funding."
Critics of the wording said it emphasized a repeal of road repairs instead of a repeal of the fuel tax. Proponents of Prop. 6 advertised it as a "Gas Tax Repeal."
Travis Allen, a Republican gubernatorial candidate, challenged the language of Prop. 6 in court and won the case.
However, an appellate court struck down the lower court's decision. The appellate court opinion stated: "If reasonable minds may differ as to its sufficiency, the title and summary prepared by the Attorney General must be upheld … because 'all legitimate presumptions should be indulged in favor of the propriety of the attorney-general's actions.'
"Only in a 'clear case' should a title and summary prepared by the Attorney General be held insufficient."
Melendez called the gas tax repeal a "fiasco" that was "still pretty fresh in people's minds."
"A lot of people felt duped on how it was written, and they were," she said. "When the State Attorney General is writing the ballot titles and summaries in a way that really sways the opinions of voters, you can't get more sinister than that. … It's not his job."
This year, Propositions 15 and 22 are among those that have come under scrutiny for their wording.
Prop. 15's description says the measure "increases funding sources for public schools." The wording was opposed by business and anti-tax advocates, because the measure calls for a large hike in commercial property taxes, but the description does not clearly state it is a tax increase.
Prop. 22 is described as "exempts app-based transportation and delivery companies from providing employee benefits to certain drivers." The measure, if approved by the majority of California voters on Nov. 3, would carve out an exemption in the controversial Assembly Bill 5 (AB 5), which broadly limits freelance work.
Proponents of Prop. 22 have sued Becerra for the wording. They argue his wording emphasized the pro-AB 5 side concerning worker benefits, and downplayed the anti-AB 5 side regarding limitations on the gig-economy.
They say an earlier title, "Changes employment classification rules for app-based transportation and delivery workers," was less biased, and allege Becerra changed it to sway voters.
Recent editorials in the Los Angeles Times, San Francisco Chronicle, San Jose-Mercury News, and San Diego Union-Tribune all have questioned the impartiality of the Attorney General's descriptions.