SACRAMENTO—A group of Democrat lawmakers introduced a bill on Feb. 10 that would mandate all workers to be vaccinated against COVID-19 in California, even as omicron cases continue to plummet statewide.
Assembly Bill 1993, authored by Assemblywoman Buffy Wicks (D-Oakland), is part of a series of bills generated by a coalition of state legislators—the Vaccine Work Group—aimed at developing policies to create stricter inoculation laws.
"Our pathway to stability—and away from a perpetual state uncertainty—is clear: vaccination," Wicks wrote on Twitter on Feb. 11. "Keeping our community safe is our top charge as elected officials, that's why I'm introducing #AB1993 to mandate all businesses require employees to get vaccinated."
According to the bill text, the policy will amend current COVID-19 vaccination policies and require all workplaces to establish a vaccination program for employees to get vaccinated. If passed by the legislature and signed by Gov. Gavin Newsom, AB 1993 would go into effect Jan. 1, 2023.
If enacted, the bill will "require an employer to require each person who is an employee or independent contractor, and who is eligible to receive the COVID-19 vaccine, to show proof to the employer … that the person has been vaccinated against COVID-19."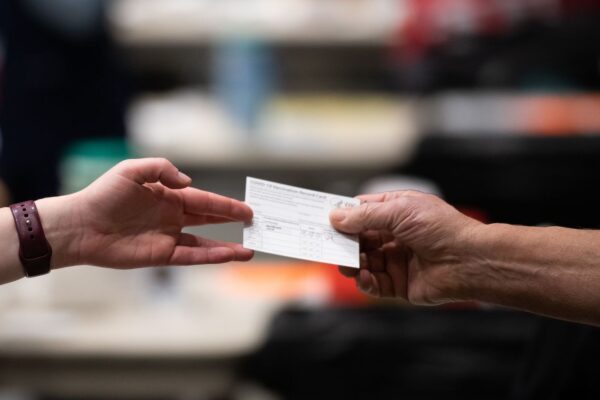 Only individuals who have a medical reason or sincerely held religious beliefs will be eligible for exemptions, which would be granted by the employer based on guidance outlined by the state's public health department and the Division of Occupational Safety and Health.
Penalties would be levied on employers who do not comply with the mandate and remain in effect until the U.S. Center for Disease Control and Prevention concludes the vaccine is no longer necessary to protect the public's health.
The California Chamber of Commerce, a business advocacy group, told The Epoch Times in an email they are "still reviewing the language and possible amendments" of the bill and have not taken an official stance on AB 1993 yet.
But Wicks said this bill is necessary to protect businesses, even though case rates are declining, because of the "unpredictability" of the virus.
"People have experienced so much whiplash these past few years when it comes to testing, masks, & vaccines — in the workplace, in our schools, in the businesses they visit," Wicks wrote on Twitter on Feb. 11. "People are craving stability, and we know enough at this point in the pandemic that we can make that happen."
Wicks said businesses "don't need to be pulled into a political debate, they want certainty." She also said hospitals are at capacity with "unvaccinated COVID patients" but did not specify which hospitals.
Wick's proposal is the fourth bill produced by the seven-member Vaccine Work Group, which includes Sen. Richard Pan (D-Sacramento), Sen. Scott Wiener (D-San Francisco), Sen. Josh Newman  (D-Fullerton), Assemblywoman Akilah Weber (D-San Diego), Assemblywoman Cecilia Aguiar-Curry (D-Winters), and Assemblyman Evan Low (D-San Jose).
Other bills written by the group include Senate Bill 866 and Senate Bill 871, which would permit children 12 and over to receive vaccinations without their parents' consent and mandate all school children to receive the vaccine beginning in 2023.
Lawmakers tried passing a similar bill last year—with Wicks leading that effort as well—but she scrapped it after drafts of the bill were leaked. She said at the time she wanted more time to write the "strongest bill possible."
The introduction of this proposal comes as Newsom is poised to roll back stringent statewide restrictions on large gatherings and indoor masking through a new exit strategy, termed the "endemic," for the COVID-19 pandemic in California.
The announcement is a shift in tone since the state first implemented some of the country's strictest COVID-19 restrictions in March 2020. The state will also lift its indoor mask mandate on Feb. 15, just two days after the Super Bowl. State officials continue to monitor improving case numbers as the statewide positivity rate dropped to 9.5 percent—the lowest since Christmas Eve—and below 13.9 percent from the previous week.
State and city officials came under fire after photographs surfaced on social media of them attending NFL games without masks—despite the existing indoor mask mandate still in place—amid criticism from residents and small businesses calling for a return to normalcy. The Super Bowl also had a sold-out crowd of over 70,000 attendees with hardly any masks in sight at the SoFi Stadium.
Assemblywoman Buffy Wicks did not respond to a request for comment.