HOMESTEAD, Fla.—Rum Bum Racing's Nick Longhi and Matt Plumb started in last place in Saturday's Grand Am Continental Tire Sports Car Challenge Kia 200; two-and-a-half hours later, they were taking their second checkered flag in as many races in the #13 Rum Bum Racing Porsche, having come through the 67-car field with focused driving, amazing pit work, smart set-up, and great luck with the weather.
This was Rum Bum's second win in their new Porsche 911, which replaced the BMW the team had been using . The first came at the Barber 200 in March—the first race with the new car. The second win at Homestead came in front of many friends and sponsors of the Miami-based team, including team owner Luis Bacardi.
Nick Longhi qualified the #13 Rum Bum Porsche on the pole, setting a new lap record while doing it. Unfortunately during tech inspection it turned out that the car's rear wing was minutely outside the rules; Plumb and Longhi were relegated to last place for the start of the race. This meant that thirty-six GS-class cars stood be between the Rum Bum team and victory.
As Matt Plumb put it, "The good news is that the Speedway has a lot of passing zones—and we were blessed with a lot o f rain to start with."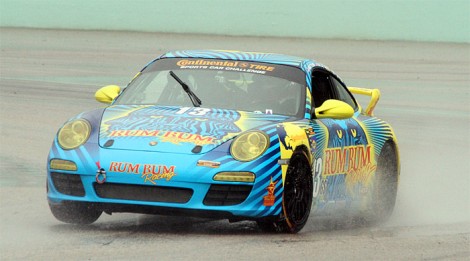 The race started in hard rain, meaning Nick Longhi had to peer through the spray of the entire GS field—but not for long. By lap 2, Longhi had advanced to 16th; by lap 15 he was fourth.
Longhi pitted on Lap 18 under caution, and amazingly quick pit work got the Rum Bum Porsche out ahead of everyone else, with Nick Plumb at the wheel. Plumb needed only one lap to pass all the car which hadn't pitted to take the lead of the race; in an hour and ten minutes, Longhi and Plumb had gone from last to first.
"Starting at the back at certain racetracks, it's very difficult to pass, but this is such a fantastic racetrack—the oval is so wide," Longhi said.
"You're always a little bit nervous going out in the rain because something bad might happen, but it could not have been a better scenario for us. If one person makes a mistake, there people get slowed down and all of a sudden, you're there.
"Coming into the pits and seeing those guys make that pit stop and shooting out in the lead, beating everybody else out of the pits I felt … that was fantastic."
Next: Plumb Takes Over