The Biden administration plans to provide "education and counseling" to federal workers who don't get vaccinated by December, Centers for Disease Control and Prevention (CDC) Director Dr. Rochelle Walensky said on Oct. 20.
On Sept. 9, President Joe Biden announced sweeping measures that focus on the federal government, the health care sector, and private businesses. Federal workers and federal contractors will be required to get a COVID-19 vaccine. Contractors have until Dec. 8 to mandate their employees to get the shot. Federal contractors can't allow their employees to opt out.
The deadline has been praised by public health officials and Democrats as a way of boosting the U.S. vaccination rate amid the COVID-19 pandemic.
But Republicans, businesses, and unions fear that the rule could have widespread damaging economic effects and might create further labor shortages as workers refuse to get vaccinated. The deadline also comes shortly before the peak holiday season, prompting further concerns to the economy.
Some GOP-led states have threatened to sue the administration over the vaccine mandate that requires businesses with 100 or more employees to ensure their workforce is fully vaccinated.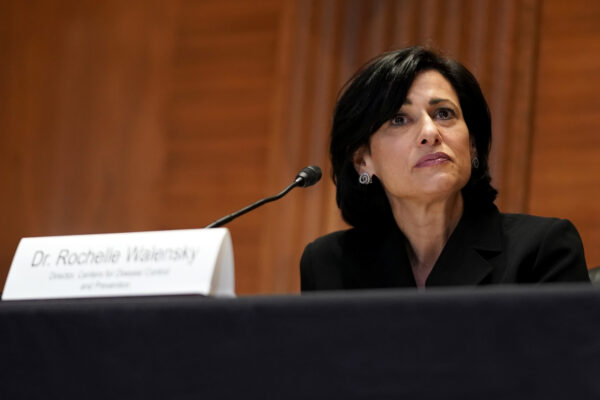 Speaking at a press briefing at the White House on Oct. 20, Walensky said the administration doesn't want to "punish" workers who don't get vaccinated by the December deadline and will instead offer them education and counseling in an effort to persuade them to have the shots.
"For the small number of people who do not comply by the deadline, the first step is a period of education and counseling," Walensky said.
The CDC director noted that this period of counseling will come before unvaccinated federal employees are removed from their roles.
"It's important to remember that this is a process, and the point here is to get people vaccinated, not to—not to punish them. So agencies will not be removing employees from federal service until after they've gone through a process of education and counseling," Walensky said.
"And just like federal agencies, contractors will follow standard processes for accommodations and enforcement among their employees."
Walensky stressed that the requirement for federal workers to be vaccinated by the December deadline will "not cause disruptions to government services that people depend on," adding that agencies have "the flexibility necessary to enforce the mandate without impacting critical operations."
"And we all know, as we've talked about over and over, getting more people vaccinated—and vaccination requirements are very effective tools—will accelerate the path out of the pandemic," she said.
The vaccine requirement comes at a time when industries across the United States are facing acute bottlenecks in supply chains, such as material and worker shortages as well as the skyrocketing prices of materials, driven by pandemic lockdown measures.
These issues have also affected consumers, who are now faced with empty shelves and higher prices on top of rising inflation levels.
Meanwhile, the Biden administration has been focused heavily on pushing two major spending measures through Congress. A bipartisan infrastructure bill worth $1.2 trillion was approved by the Senate in August. That legislation is currently being held up in the House as some progressive Democrats have said it will only be approved if the Senate also approves the $3.5 trillion social and climate spending bill.
Last week, a group of 160 Republican lawmakers sent a letter to the president urging him to "reevaluate his priorities" and address the supply chain and ports crisis facing the nation before considering additional social spending and taxation legislation.
"We must address the global supply chain and ports crisis before Congress even considers additional social spending and taxation legislation. Our priority right now should be strengthening our nation's economy and increasing our global competitiveness," the letter reads.
The letter goes on to accuse the Biden administration of further fueling the current crisis by raising energy costs and triggering inflation through "reckless unchecked spending" and "attacking American businesses."