A woman who was stabbed in the neck by a man in Las Vegas before he was shot by police has spoken out.
The suspect, Caleb Hill, is accused of stabbing a woman on the bus before stabbing another woman on the sidewalk, Fox5 Vegas reported. Body camera footage from a police officer shows officers repeatedly yelling at Hill, 39, to stop and get on the ground, for several minutes while he runs next to a busy road as several police officers with Tasers, beanbag rifles, and guns trail him.
Hill was shot by an officer as he approached a bus stop, according to the body camera footage.
Robin Woodfin, the woman who was stabbed on the sidewalk, said that Hill allegedly came up to her and stabbed her in the neck. Woodfin said she recalled being in the hospital emergency room with Hill in a hospital bed next to her.
"He was in the bed next to me. I couldn't believe that!" she told ABC 13. "I'm in shock, but I'm glad to be alive."
"He's crazy as hell," Woodfin, who was seen in the footage with a bandage on her neck, later said of Hill.
"I felt an arm around my neck," she added, "and something going in my throat."
Hill "just kept" stabbing her, she said. "Whatever it was; I don't know what it was," she said of the weapon he used. She took seven stab wounds in the attack.
Hill, who is reportedly in critical but stable condition, was charged with attempted murder and evading arrest.
In the interview, Woodfin said the other stabbed woman, who was not identified in reports, became upset while in the hospital when she noticed that Hill was placed next to the victims. She asked the hospital staff why he was near them, and hospital staff then moved Hill to another location.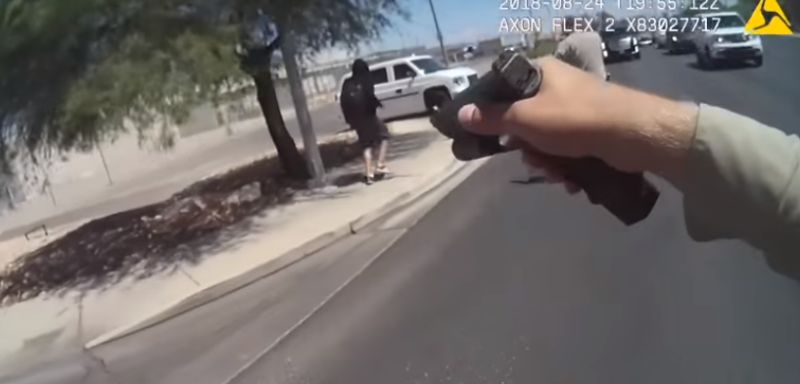 On Aug. 28, Fox5 reported that Las Vegas police are searching for a motive in the stabbings.
"If he's already caused harm to two individuals, and is not complying with uniformed officers, he doesn't want to be arrested," Las Vegas Assistant Sheriff Tim Kelly was quoted as saying by the Fox affiliate. "You don't necessarily get that close. If an individual swings around with that knife, it only takes one precise hit and then you're down."
"We believe there are some illicit drugs" involved in what Hill was acting erratically, Kelly said. "But we're waiting on toxicology reports to come back."
Body Camera Footage
In the Las Vegas Police Department video, the suspect can be seen acting erratically as officers order him to put down the knife. "Put the knife down," one officer tells the man. "Hey, drop the knife," another adds.
Police tried subduing Hill with a Taser and a low-lethal beanbag shotgun, but those proved to be ineffective, the Las Vegas Review-Journal reported.
The body cam footage shows Hill attempt to enter a car that drove up on the sidewalk at one point. Then, as he gets close to a bus stop that appears to have people inside, an officer opens fire.
Kelly told the newspaper that police are trained to stay at least 21 feet from individuals with knives, which is why the officers didn't approach Hill to try and disarm him. "The officers did everything they could to stop this from getting to the point that it got to," he said.