The family of a wounded victim of the Las Vegas shooting massacre is demanding answers from the hotel company and the music festival organizers as police continue to release insufficient information about what happened during the deadliest mass shooting in recent U.S. history.
Paige Gasper was left with shattered ribs and a lacerated liver after she was hit by a bullet at the Route 91 Harvest Music Festival on Oct. 1.
Gasper's family filed a lawsuit against MGM—the company that owns Mandalay Bay Resort and Casino—Live Nation, the organizer of the music festival, a maker of bump stocks, and a number of other parties.
Gasper worked three jobs while attending Sonoma State University and saved up $236 to attend the country music festival. She's doing better now, but has a long road to recovery, according to her lawyer, Michelle Simpson Tuegel.

"A kid like that expects two simple things: to have a good time at a concert and to be safe," Tuegel told Fox News.
As information about what happened on Oct. 1 remains scarce, Tuegel's firm launched an independent investigation concurrent with Gasper's lawsuit.
The lawsuit blames concert organizers for not informing attendees what to do in case of an emergency.
"There appears to have been no PA, emergency announcement, no pre-planned 'here is where the exits are in case of the emergency,'" she said. "Knowing these large outdoor events are targets is not new to anyone."
Tuegel claimed that part of the injuries Gasper suffered was due to the chaos that broke out after the shooter began firing.
"Based on information we have from our client and other statements we have gathered our client was trampled a bit," Tuegal told Fox News. "Chaos ensued after that."
Police say that a single shooter, Stephen Paddock, fired from the 32nd-floor window of his hotel room in Mandalay Bay onto the music festival crowd below, killing 58 people and injuring more than 500.
Gasper's family is ready for a lengthy lawsuit, Tuegel said. At least one lawsuit similar to Gasper's has already been filed and Tuegel said her firm is set to file another lawsuit soon.
A similar case was filed in Los Angeles on behalf of Gus Castilla, the father of Andrea Castilla who died in the attack.
That lawsuit accuses MGM of not keeping track of Paddock as he brought a massive weapons arsenal to his room.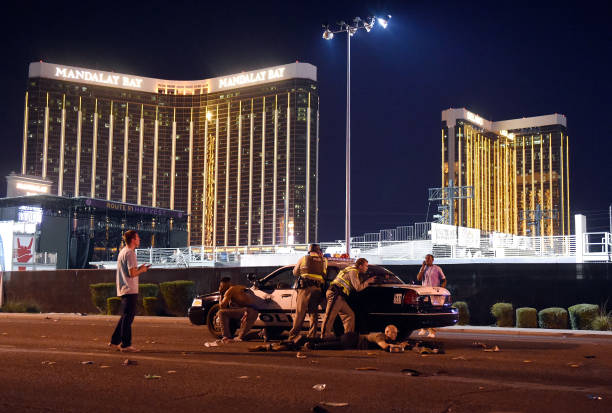 "It's inconceivable to us that the perpetrator was capable of transporting what amounts to an actual armory of weapons into the hotel, especially in an era in which shooting incidents and terrorism are front page news on a daily basis," said a statement from the law firm of attorney Richard Bridgford.
The lawsuit also accuses concert organizers of not having clearly marked exits for the crowd.
"What's truly regrettable, especially in these times of known heightened risk, is that this tragedy was completely foreseeable and thus avoidable," the statement continues. "That such things will occur is a virtual certainty these days. As such, those who profit from attracting the public into their business venues must do a far better job of safeguarding them. As a result of their failure to do so my client has forever lost his beautiful and intelligent daughter of only 28 years."
Live Nation, the organizer of the music festival, issued a statement saying the company was "heartbroken over the tragedy.
"And while we are stunned and grieving over this incomprehensible act of violence, we know that this is a moment when we must come together to prevent more tragedies like this from occurring," the statement reads.
A statement from MGM said that the company is cooperating with authorities.
"We are grateful for all who came to the victims' aid that evening, including our employees, first responders, the police and citizens who acted in countless ways to assist," the company told Las Vegas Review-Journal. "Out of respect for the victims we are not going to try this case in the public domain and we will give our response through the appropriate legal channels."
From NTD.tv