Largest Opium Poppy Field in Canadian History Discovered
August 27, 2010 2:02 am Last Updated: October 1, 2015 7:12 pm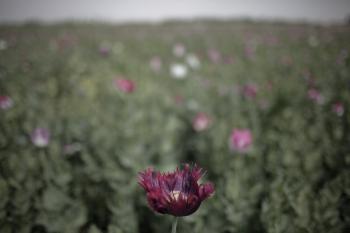 A field of opium poppies were discovered in Chilliwack in British Columbia, Canada, near Vancouver.
The Royal Canadian Mounted Police have arrested two men who were growing seven acres of the illegal cash crop—the largest discovered in Canadian history.
The names of the suspects have not been released, but one is a 24-year-old man from Mission and the other is a 31-year-old from Abbotsford, British Columbia. The men are scheduled to appear in court on Dec. 14, according to The Canadian Press.
The police estimated almost 60,000 mature poppies were growing in the field. They believe that the poppies were used to produce doda, a gray powder derived from the dried opium poppy seedpod.
"This is a significant seizure," said Kurt Bosnell, a corporal with the Chilliwack RCMP drug section. "There's very few instances where this has occurred in Canada before so it took some time in order to confirm exactly what it was."
The owner of the field had leased the land and was not involved in the crime.