Largest Grain Reserve Supply Stolen in Northeast China
May 3, 2008 12:00 am Last Updated: May 3, 2008 12:00 am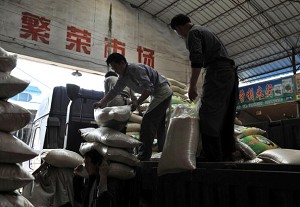 Northeast China's largest grain depot, the "No. 90 Grain Storehouse," was recently robbed of its entire stock. Investigation has revealed the loss so far to be an estimated 900 million yuan (approximately 128 million US$.) At least six related arrests have been made. In light of the current global grain shortage, the case is of serious import to the communist regime leaders.
The grain storehouse, located in Fujin, Jiamusi City, mainly stores rice, soybeans, and corn. It also has its own grain transportation railway. A local worker, who did not want to be named, informed Epoch Times that a population of over 10,000 live near the storehouse, which includes several work units, a state-owned farm warehouse, a railway terminal station, and a large oil plant.
On April 30, a local resident disclosed to the Epoch Times that the case was exposed when superiors in authority issued grain transfer requests, and subsequently discovered that the storehouse was empty. It was rumored that many internal staff members had participated in the theft and selling of the stock supply. All local residents are aware that the regime's Central Discipline Committee has been following up on the case.
A local resident told Epoch Times, "The investigative team of the Central Discipline Committee arrived about one week ago. Currently, they have unveiled that stock valued at 900 million yuan have been lost. Three officials, including the director, were arrested last week. Currently, about six or seven people have been arrested, with the investigation is still going on."
According to an inside source, employees of the storehouse, from the director on down to gate security staff, have all participated in the large-scale theft. Local residents frequently witnessed the transference of grains by rail and other means of transportation. Some have even observed instances of culprits making off with a pack of grain on their shoulder. The source also stated that the stock is normally sold to people from other provinces.
An Epoch Times reporter has repeatedly tried to contact storehouse employees, or make direct calls to different departments of the storehouse. Most of the time, no one picks up the phone, or if they do answer, they quickly hang up.
On April 29, a storehouse employee's wife told the Epoch Times that her husband's cell phone had been turned off by his work unit, and he has not been back to home for several days. On April 30, the reporter made repeated phone calls to the wife, but no one would answer.
The reporter also attempted to contact the storehouse's superior authorities, the Grain Bureaus of Heilongjiang Province and Fujin City. Those who answered the phone hung up immediately after the storehouse situation was brought up.