Large Scale Hunger Strike To Be Launched
March 21, 2006 12:00 am Last Updated: March 21, 2006 12:00 am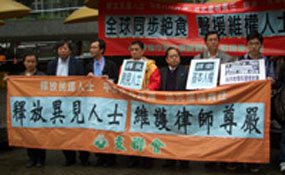 The Chinese authority's decision of suspending attorney Gao Zhisheng's law office for one year remains unchanged, but the hunger strike activities initiated by attorney Gao are still on going, and a large scale hunger strike will be launched in the near future.
On Monday, March 20, the result of the judiciary review on Gao's case maintained the decision of one-year suspension of Gao's law office. Gao's defending attorney Li Heping told the reporter on Monday afternoon that, the Beijing Bureau of Justice would not allow them to make photocopies or hand copy the written response to their appeal.
Li said: "Beijing Bureau of Justice has a written response to our appeal, I wanted to make a copy, but the Bureau said that I had only the right to 'review and read' and they interpreted the 'review and read' as looking at it only."
Attorney Gao indicated that, the day the result of the judiciary review came out, the Beijing Tax Bureau also came to audit his office accounting records and wanted to take the books with them, but Gao refused. Attorney Gao said it was very easy for them to mess about with his accounts.
Gao: "This afternoon, a group of Beijing Tax Bureau officials came to my office to audit my accounts. We expressed our views on this matter and hoped they would go back and discuss this with their superior. All accounting records in my hands follow the format created by the Chinese Communist Party (CCP), and it would be as easy as turning one's palm over if they wanted to fake something. Today, they did not bring any legal papers with them to audit me. I cannot just let them take the books away."
But the relay hunger strike initiated by attorney Gao is still on going. It was Xi'an attorney Zhang Jiankang who was on hunger strike on Monday, February 20. According to the relay hunger strike website, at least 25 organizations and individuals worldwide supported the activity on this day. This website also revealed that in 44 days from February 4, the start of this activity, to March 20, the registered hunger strike participants have reached 3,175.
At the same time, Hu Jia and Ouyang Xiaorong, who helped Gao in planning the hunger strike, are still missing; Qi Zhiyong who was abducted has not yet been released; and Zhao Xin in Yunnan Province and Guo Feixiong who was forcibly escorted back to Guangzhou by the police are both restrained from going to Beijing. This is an indication that the authority is making every effort to isolate attorney Gao.
According to some, Beijing's Hu Jia has been missing for 32 days since February 16. His wife Zeng Jinyan went to various Beijing police stations and Homeland Security Units all over the city to inquire about Hu, but she has obtained no results. On Monday, February 20, Zeng Jinyan sent a letter on the website to of Beijing Municipal People's Congress member Wu Qing, requesting Wu to push through an investigation.
On Monday evening, Wu Qing indicated that she did not want to talk about this matter in any depth, but she would fulfill her duty as a representative of the People's Congress.
Zeng Jinyan also indicated to the reporter that, because the police did not admit to the abduction of Hu, she would hold a press conference on Tuesday, March 21, to tell the public the entire story of her husband's disappearance.
Attorney Gao Zhisheng indicated that, as much as we have been suppressed, people's determination to maintain human rights will not be shattered, it is most likely that they will hold a large scale hunger strike in the near future.
Gao Zhisheng: "We may select one province at a time, to hold a hunger strike with several hundred thousand participants, each wearing a blue ribbon, to warn the CCP regime not to underestimate us, although we have no weapons and are powerless."