Large Numbers of Tibetans Arrested, Families Not Informed
April 30, 2008 12:00 am Last Updated: April 30, 2008 12:00 am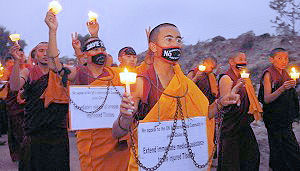 The Chinese authority arrested a large number Tibetans without informing their families. Additionally, in order to protect the transmission of the Olympic torch, three thousand armed policemen on alert were sent to the area surrounding Mount Everest.
After the Lhasa uprising, Chinese armed police launched a large scaled arrest. Many Tibetan families were unaware of their family members' whereabouts, and there is no office to inquire.
A Tibetan Government-in-Exile Emergency Coordination Team member Kelsang revealed on Sunday, April 27 that Gurudorje, a Tibetan in Ganzi County, was arrested on March 28. After all effort to find her husband ended in vain, his 40 year old wife lost her sanity and died in grief.
For over a one month period, besides many monks and nuns committing suicide in various areas in Tibet, many family members of those being arrested were also under great pressure. Kelsang indicated that now, not only are suicides happening after one's being arrested, many of their family members also go insane because of the anxiety.
According to "Voice of Tibet" (VOT), the majority of Tibetans doubts the Chinese regime's willingness to negotiate with the Dalai Lama's special envoy. They believe it is only a gesture on the surface and that China cried out to improve international public opinion.
Many people, including the local Chinese Han race in Tibet, think that the situation is not getting better. The number of Chinese soldiers in Tibet continues to increase, and the newspapers and television stations continue to viciously criticize the Dalai Lama.
It is reported that in order to ensure that the Olympic torch passes Mount Everest smoothly, the authority continues to send armed police and government officials into the local temples. Kelsang indicated that in the past two days, more than three thousand soldiers were deployed in Dingri County where Mount Everest is located, and an additional squadron was sent to the mountainous border between Tibet and Nepal, where many Tibetans escaped from China to India in the past.