The Los Angeles Police Department released video footage of an officer-involved shooting after a traffic stop.
The suspect shot a female police officer during the North Hills traffic stop on July 27, KABC reported. The officer in the video can be seen asking the suspect to get out of the vehicle.
"You don't have anything on you, right?" the officer asked the man. He then exits the vehicle and opens fire.
He shot the female officer, after which her partner rushed to her aid, shooting and killing the suspect, 32-year-old Richard Mendoza. KABC reported that Mendoza had ties to a gang as well as prior convictions.
The female officer sustained a gunshot wound to the leg and was taken to Dignity Health in Northridge, according to the KABC report. She isn't expected to return to duty in several months.
In the video, the other officer tells her:"You're gonna be okay … I got you, I got you."
The male officer then radios for help: "Officers needs help, shots fired. Officer needs help; shots fired. Noble, south of Plummer."
LAPD Chief Michel Moore told the Los Angeles Times on Sept. 10 that it's a miracle that the officers escaped greater harm. "By the grace of God she is alive," Moore said. "Officers are fearful in these situations and the public here gets to see why."
"Once a person has you in that position, it is very tough," he said. "You cannot stop that first one or two shots."
Moore said that the female officer worked in the LAPD's gang unit and recognized Mendoza.
He told the LA Times that the gunshot had shattered the female officer's femur in her leg. "I spoke with her, she is OK," he said.
The LAPD didn't release any more details about the incident.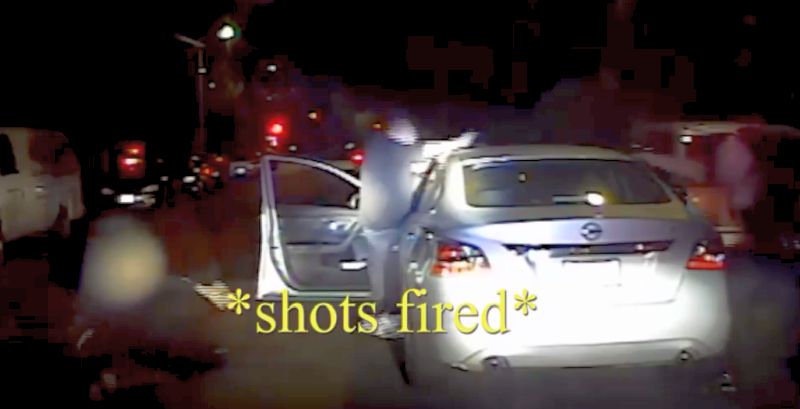 Traffic Stops Dangerous for Police
In early August, a video was released by police in Pennsylvania showing a man opening fire on two officers. One of the officers was critically wounded in the incident.
The National Law Enforcement Memorial Fund (pdf) said traffic stops are notoriously dangerous for police officers in the United States. The leading causes for officers being shot and killed in 2017 occurred when they were responding to domestic incidents and while conducting traffic stops, the group's annual report says.
And, according to the most recent figures published by the U.S. Bureau of Justice Statistics, males make up a greater percentage of drivers pulled over (12 percent) than females (8 percent). "In 2011, about 3 percent of traffic stops led to a search of the driver, the vehicle, or both. Police were more likely to search male drivers (4 percent) than female drivers (2 percent)," the report said.