The Los Angeles Police Department's (LAPD) effort to solve a staffing shortage by asking retired cops to return to service is falling short as hundreds file paperwork to leave or retire, according to a union representing the department's officers.
The department expects 600 officers to leave next year—about a 20 percent increase since 2022.
To make up for the loss, LAPD is using an existing program called "Bounce" to recruit retired officers back to fill several positions, including patrol and detective openings.
If rehired, they will earn a regular salary while their pension payments are put on hold, Officer Warren Moore told The Epoch Times. The program currently allows retirees to return for one year.
But, so far, the response rate has been low, according to Tom Saggau, spokesman for the Los Angeles Police Protective League.
"Hardly anybody's responded or wants to come back," Saggau told The Epoch Times.
As of Jan. 16, LAPD was understaffed by 277 sworn officers and civilian personnel, according to a department personnel statistics report (pdf).
'Chronically Understaffed' Amid Rising Crime
This comes as part of a larger staffing problem at the nation's third-largest urban police department, which faces an escalating murder rate, auto theft, and gang violence.
Violent crime continues to rise in Los Angeles since the advent of the COVID-19 pandemic. The city ended 2022 with 382 homicides—down from 397 in 2021 but about 48 percent up from 2019.
Many officers are retiring early, and others are quitting due to the city's high cost of living, according to Saggau. The rise in anti-police sentiment, public scrutiny, and negative perceptions of law enforcement on social media has also played a part.
"The vile hatred of these police abolitionists takes a toll," he said. "We've got a retention problem. We can't keep people the full length of their career eligibility because they've just had it."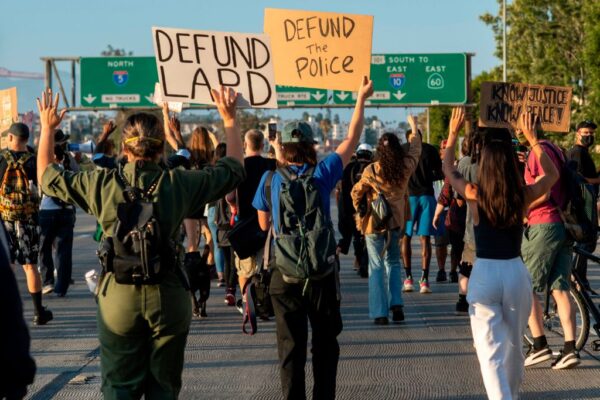 The department budgeted in the fiscal year 2022–23 for 9,460 sworn officers but 9,243 were deployed, according to the personnel report. However, the number of "street-ready" officers was much lower—about 9,000, Saggau estimated—after accounting for injuries or those who are back at work but not yet able to return to the field.
The shortage means fewer officers for specialty units, such as the Venice Beach bike patrol and Hollywood foot patrols. This has also resulted in increased workloads and overtime shifts, which burned people out and created a huge morale problem, Saggau said.
"There are no good outcomes for departments that are chronically understaffed like the LAPD," he added.
To worsen matters, about 30 percent of the department's 158 recruits fail or quit before they graduate from the police academy.
Hopes for New Administration
Newly elected Mayor Karen Bass, a Democrat, said during her mayoral campaign last year that she supported building up the department's sworn officer numbers to 9,700, and the police union is optimistic about finding common ground with her, according to Saggau.
"[Bass] has advocated for LAPD to be at its authorized force," Zach Seidl, acting deputy mayor of communications, told The Epoch Times.
Bass outlined her public safety strategy, calling to aggressively recruit new officers. She also wants to immediately hire and deploy civilians to free up at least 250 officers who are stuck behind a desk doing administrative work.
National Trend
Los Angeles isn't alone as it struggles to fill its ranks. Police departments nationwide are having a hard time finding and keeping officers, as shown in a June 2022 survey by the Police Executive Research Forum.
After the hiring of new officers fell sharply in 2020—by nearly 21 percent compared to the year before—in 2021, they rebounded but were still about 4 percent lower than before the pandemic, the survey showed.
It also has been difficult for departments to catch up with the number of retiring and resigning officers.
Police agencies reported nearly 43 percent more resignations in 2021 than in 2019, and retirements increased by nearly 24 percent during that time. Agencies in the Midwest and West lost more than the overall average, the same for those with more than 500 officers, according to the survey.
"These negative changes almost certainly were caused largely by the extreme stresses that the COVID-19 pandemic brought to policing in 2020 and 2021, and by the thousands of protests and demonstrations following the murder of George Floyd in 2020, which in many cases involved acts of violence and hostility toward police officers," the survey reported.