Landslide Buries Five in Southwest China
February 20, 2013 4:41 pm Last Updated: October 1, 2015 11:07 am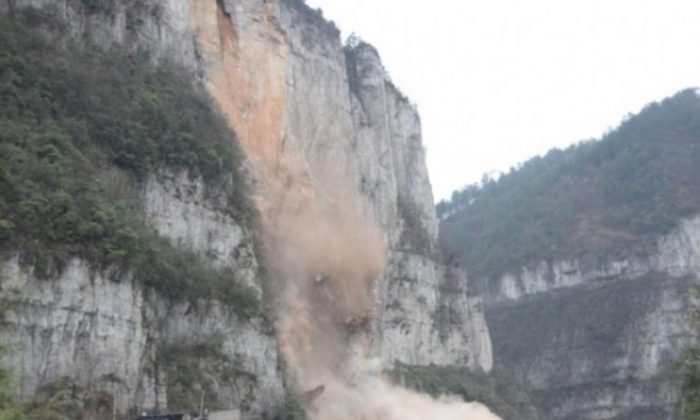 At least five people, including two children, were killed in a landslide near a coal mine in southwestern China on Feb. 18.
A preliminary investigation failed to reveal the cause of the accident, but this is already China's third landslide to happen near a coal mine this year.
The five deceased were identified as an electrician from the coal mine, and four relatives, including a mother and her two children, according to a report by the Qiandongnan autonomous prefecture.
The incident took place around 11:30 a.m. in the town of Longchang in Kaili City, Guizhou Province. At least five people were buried, along with three trucks, and six work sheds that were acting as temporary housing for local miners and their families. 
The Qiandongnan report stated that the landslide occurred on a slope about 200 meters high and 50 meters wide, and sent 5,400 cubic meters of rock down the mountain. Dozens of smaller slides followed, blocking the river at the base of the mountain and forming a lake.
As of Tuesday evening, more than 240,000 cubic meters of rock had accumulated in the lake, and there remains a risk of further landslides throughout that area, according to the state mouthpiece Xinhua.
The direct cause of the landslide has yet to be identified. However, a coal mine called Pingdi is located about 100 meters away from the site of the disaster. A netizen commented: "Is this landslide not related to that coal mine?" 
Another blogger responded, "An investigation into the landslide should be conducted. Otherwise we don't know how many others will be buried due to excessive coal mining."
Liu Hu, a reporter for the Guangzhou-based New Express Daily, wrote on his Tencent Weibo blog that the Longchang disaster occurred above a coal mine. 
An Epoch Times reporter telephoned the Laoshanchong coal mine at Longchang on Tuesday afternoon, but the staff member was unwilling to reveal any information about the landslide, and told the reporter to look at official reports online. 
Landslides have previously occurred in neighboring mountains. Liao Fei, governor of Qiandongnan, told state media: "We didn't give due attention to the coal mine set up at the foot of the mountain during the examination, so there have been oversights and omissions found in the accident prevention and safety measures."
The first coal mine-associated landslide this year was on Jan. 11 in Gaopo Village of Zhenxiong County in southwestern China's Yunnan Province. Believed to be caused by a coal mine blast, the landslide killed 46 people. 
The second one took place on Jan. 28 in Toutun Village of Zhenxiong, during which 38 houses collapsed and 928 houses were damaged, with an estimated direct economic cost of 95.3 million yuan (US$15.26 million). 
Read the original Chinese article. 
The Epoch Times publishes in 35 countries and in 21 languages. Subscribe to our e-newsletter.