Land Grabs in Southern China Trigger 3-Day Riots
September 26, 2011 9:57 pm Last Updated: October 1, 2015 3:32 pm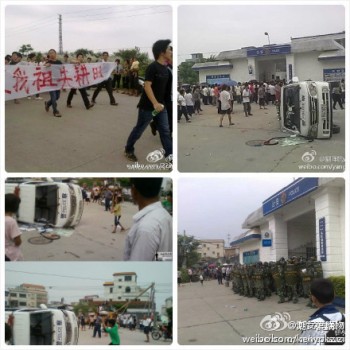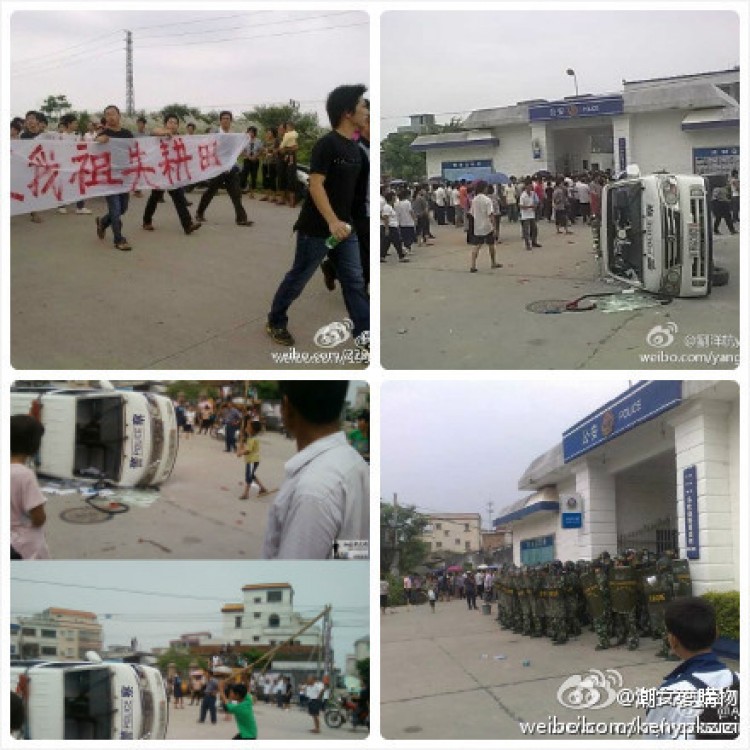 Thousands of residents in two Southern Chinese townships took to the streets last week over unfair land expropriation. These types of conflicts have become very common throughout China with increased numbers of villagers being forced off their land by real estate developers and local officials who turn the land for huge profits.
Wukan Village
The initial protest on Sept. 21 in Wukan was triggered when villagers learned that one of the last pieces of the villagers' land had been sold to a developer and construction work was about to begin. Angry villagers gathered in a square to demand that authorities disclose accounting detail of the land transactions within three days.
Villagers have accused village officials of secretly selling their land. They estimated that more than 700 million yuan (US$109 million) of land compensation money has been embezzled in the past four years, according to Voice of America.
The next morning, authorities dispatched paramilitary officers and riot police, along with anti-riot vehicles to suppress the protest, but were met with strong resistance from angry villagers, who overturned seven or eight police vehicles.
Wukan villager Mr. Zhang told The Epoch Times that police with shields and batons beat villagers, and one policeman said they were ordered to "beat whoever is there."
Another villager, Cai, told New Tang Dynasty TV that two children were beaten, and one was seriously injured with a broken nose.
A villager who spoke on condition of anonymity told The Epoch Times that he heard of police beating a 13-year-old girl to death. Tsing Tao Daily also reported that a 13-year-old girl was injured and went missing after she was sent to a hospital. Villagers worried that she might have died, or might have been moved to another location because she is dying.
Villagers returned to the police station on Sept. 23 to demand the release of four villagers who were detained by police the day before. Authorities eventually released them.
Chinese authorities have been blocking news about the protest in Lufeng and only very few media covered the story.
Nanfang Daily reporting that many police officers were wounded. But according to Hong Kong's Ming Pao, villagers said that was seriously untruthful. They said only villagers were wounded. More than ten villagers were hospitalized, and even more dared not to go to the hospital for fear of being retaliated against afterwards.
Longguang Village
The protest in Wukan gave rise to similar unrest in other villages of Lufen City. On Sept. 23, about two thousand villagers of the neighboring Longguang Village protested to the Lufeng municipal government. This time a city official came out and said he would investigate the issue and get back to them.
Mr. Li, a representative of the Longguang villagers told The Epoch Times that they too have taken action to protect their land. On Sept. 23 villagers armed themselves with wooden and iron clubs and were prepared to fight with police if necessary. They also bulldozed down a wall surrounding land sold to a developer in 2006.
The protest in Longguang on Sept. 23 was not quelled by police. Some villagers speculated that it may have been because all the local police were dispatched to Wukan Village, as tension was also still high there.
Longguang villagers told RFA that they had been petitioning for six years with no avail, from the provincial level of Guangdong to the municipal level of Lufeng. Almost every village has been struggling with illegal land seizures, they said.
Guo Zhongxiao, a Chinese media worker in Hong Kong, told Deutsche Welle that the collusion between officials and businessmen, like seen in Wukan Village, is a common problem in China.
"The closer it gets to the grassroots, the more vested interests leading to serious corruption by officials and businessmen. It's a deeply rooted problem stemming from the system, and one cannot expect any changes soon," Guo said.
Chen Yongmiao, an expert on the Chinese constitution and a former editor and commentator from Beijing said, in his opinion the land grab problem in China will not change because of these protests.
"This protest is still [too] weak when it is up against developers who have the backing of a powerful government. There has never been a single case of land seizure or forced demolition or eviction that could be redeemed after a protest. Instead, protest is usually quashed and has never led to any resolution."