HONG KONG—Reigning National Indoor Singles champion Queenie Lai ended the year on a high by winning the National Knock-out Singles title last Sunday, Dec 18.
A total of 99 lady bowlers participated in the annual tournament, which was played in seven clubs around Hong Kong. In contrast to last year's near-zero degree of climate, the weather this year was fine and the matches progressed smoothly throughout.
Lai, who represented Seabird Sports Association and won her second Indoor Singles title in June, aimed to add a second singles title within the year. She played 2011 National Champion of Champions winner Amy Chwang in the final, after defeated five other players.
The long day of hard work obvious affected the performance of the two players in the final with a number of big counts happened in a few ends.
In end four Lai got 4 shots after trailed the jack. In the 6th and the 15th end it was Chwang's turn when she drew 4 close shots. Lai replied in the twelfth end with 4 nicely drawn bowls. In those four ends the nearest bowl from the losing side was at least a meter away from the head.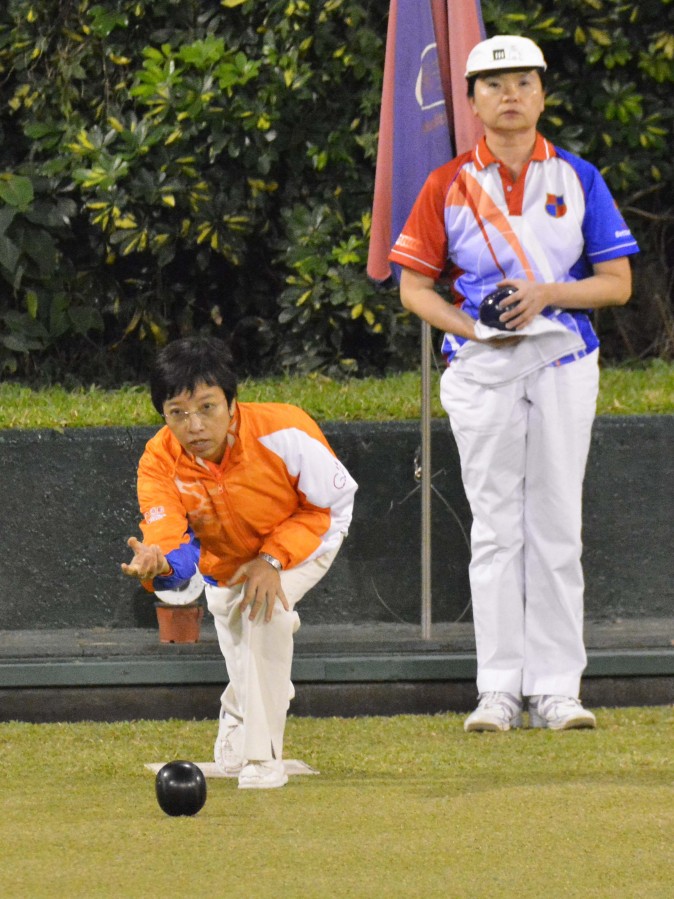 Despite the big counts, the game was tight throughout. Lai was seemingly heading for an easy victory when she was leading 15-9 after the 13th end. But Chwang pushed the scoreline to 15-14 with a 4 in the 15th end. 
Lai held a shot after Chwang finished bowling in the 16th end. She maintained her composure to draw another shot with her last bowl to lift the title.
Lai was delighted to win the title and believed her mentality helped her to win, "I have great confidence so was more willing to play some aggressive shots. And I am lucky because some of them did produce the desired results".
She also attributes her success to the condition of the green as it was fast and suit her playing style.
Now Lai just needed to win the National Pairs and National Champion of Champions to complete her collection of all national titles.
To Chwang tiredness was the main reason for her loss in the final, "I had two difficult games in the quarter-final and semi-final, which was against Lychee Lai from Seabird Sports Association and Hong Kong International Helen Cheung. I almost used up all my energy to overcome them so was exhausted in the final. I cannot perform my usual standard so have to accept the loss".
The National Knock-out Singles has a tradition of playing all games within one day, representing a tough test on physical fitness, mental toughness and stamina of the competitors. The game on Sunday evening finished at 8:30 pm, represented the earliest finish in the last five years.
This week in Lawn Bowls
There is an IRC Invitational Triples on Dec 27 at Indian Recreation Club starting at 9am through until 6pm.