LOS ANGELES—Nearly every Los Angeles resident encounters homelessness on a day-to-day basis. Encampments line neighborhoods, parks, and outside of businesses. The fire department said 54 percent of fires reported in Los Angeles were started in homeless encampments last summer. And residents are fed up, according to a new survey.
LA residents say they don't trust city and county officials to adequately address the spiraling homelessness crisis plaguing the streets, according to the survey (pdf) published Feb. 10 by a nonpartisan coalition of civic leaders and community members.
"Unless we stop the drugs, homelessness isn't going anywhere. [Ninety] percent is drugs," one Latino voter said, according to the survey.
An African American voter told pollsters: "People are taking advantage of no bail. They're doing the crime, getting arrested, then doing it again."
The survey, conducted in December 2021, presents responses from a series of focus groups put together by the Committee for Greater LA and orchestrated by David Binder Research. The committee said the purpose of the study was "to gauge voters' knowledge, attitudes, and perceptions about the issue of homelessness, including existing policies, and accountability."
The results of the focus group paint a grim picture of LA residents' level of trust in city and county officials. Residents said they don't see any accountability from elected officials on how their taxes are being spent toward reducing homelessness, no consistent plan across city districts, and no successful tactics on how best to deal with the homeless.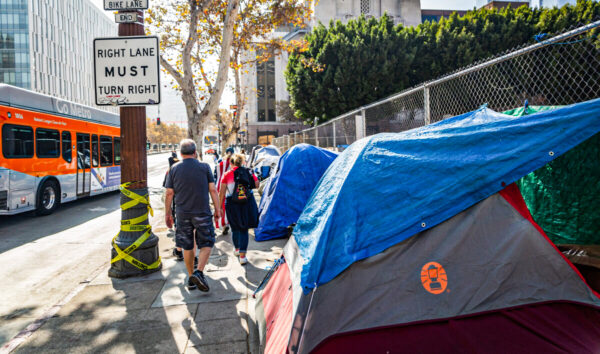 Residents sensed that elected officials are "content to manage the problem" and not solve it, the results said.
Mayor Eric Garcetti allocated $1 billion for the 2021–22 fiscal year to address it. Currently, officials utilize an array of different supportive housing methods including Tiny Home villages, interim housing units, and repurposing properties to name a few.
Residents chunked homeless individuals into four categories:
• Those with serious mental health issues
• Those with drug addiction issues
• Those who are otherwise healthy and capable of work but prefer to live outside
• Those who have simply fallen on hard times due to the economy
Residents also said Angelenos have "become too lenient" and coupled homelessness with recent progressive criminal justice reform measures the city has adopted, rolling back on some tough-on-crime approaches, such as limiting the hours that encampments are allowed up in public spaces.
"Homelessness is essentially everywhere," longtime policy expert Darry Sragow said during a committee webinar discussing the results on Feb. 10. "And to say that voters are frustrated by the problem is a gross understatement."
The pollsters discovered that the groups interviewed are decently informed on local politics impacting the progress of helping the homeless, and they expressed frustration over the failures of Proposition HHH—a $1.2 billion bond passed by voters in 2016 to build 10,000 permanently supportive housing units for the homeless.
The city's independent auditor Ron Galperin discovered this time last year that only 489 units had been built. Since Proposition HHH passed, homelessness has grown 45 percent.
"The plan is HHH, but we're 5 years in and it hasn't made a difference. You've got to follow the money and hold people accountable. It's just the red tape and who's taking, who's skimming," an African American voter said, according to the survey.
Findings of the report show that across each focus group, residents are frustrated that the commitments made through their tax dollars haven't significantly reduced homelessness. Instead, they see more homelessness popping up in their neighborhoods.
Contrary to many of the ambitious goals to end homelessness that officials have laid out over the past few years—the problem has worsened. Los Angeles saw a 20 percent increase in homelessness from 2017 to 2020.
It is estimated that more than 66,000 homeless people live on the streets countywide; meanwhile, 41,000 of that number are in the city of Los Angeles alone. The next homeless count takes place Feb. 22–24.
"Voters do not have the expectation that we are suddenly somehow going to eradicate homelessness in Los Angeles," Sragow said. "Again, uniformly, they see this as a problem that is going to be around for a long time, and what they're looking for is a realistic plan with clear measures and goals and a system of accountability to measure whether or not those goals are being met."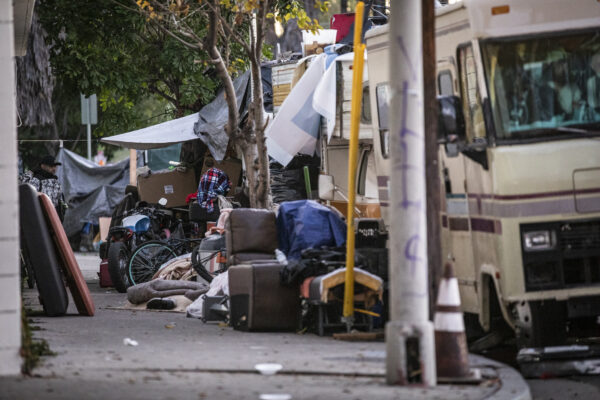 Angelenos want an independent, centralized, nongovernment entity overseeing all efforts to address homelessness, the survey found. Generally, LA residents trust nonprofits' ability to address the crisis more than city and county leaders.
"I like it, because I think the issue is less creating a larger pot of money than it is about being more exacting about how that's spent and then having accountability," one millennial voter said of the proposal.
Though sentiments regarding residents' attitudes toward enforcing anti-camping policies are not displayed in the survey, Sragow told The Epoch Times in an emailed statement that "government efforts to move homeless encampments and individuals off the streets was discussed at length."
"There is no question that the encampments were of concern," he said.
He added that residents in the groups want streets cleared of homeless individuals, "but they also expressed empathy for their circumstances and want them to be placed in housing and not pushed from one part of town to another."
As the filing deadline for LA city candidates to submit their paperwork approaches this weekend, homelessness remains a top issue in the minds of LA residents.
The Committee for Greater LA said they sent the results of the survey to elected officials as well as candidates "urging them to recognize the valid frustration Angelenos have on the issue of homelessness and to be open to the solutions proposed rather than considering a unilateral approach."
A similar study, conducted by the Los Angeles Times in conjunction with the Los Angeles Business Council, found that 94 percent of residents considered homelessness a "very serious issue" in December 2021. For that study, 906 eligible LA voters were interviewed.
A key difference between the two studies is residents' attitudes toward another tax measure toward reducing homelessness. Individuals in the committee's focus group had a negative view of throwing more taxes at the problem, whereas the business council's survey found most residents would find another tax increase favorable if it seemed promising.
"There is an absolute total complete—without exception—lack of faith in city and county government to address homelessness," Sragow said. "In all the years I've watched focus groups in the hundreds, [I've] been doing this for decades, never have I seen this kind of consistency in focus group results."