LOS ANGELES—In 2016, tens of thousands flooded the streets of Los Angeles to protest the election victory of President Donald Trump, with hundreds arrested.
Police geared up in anticipation of similar action the week of the 2020 election, but the city remained relatively peaceful with only a couple of skirmishes.
On Nov. 7, after Democratic presidential candidate Joe Biden declared a win, thousands did take to the street in celebration. (The Epoch Times will not call the race until all challenges are resolved.) No arrests were made and there were no reports of injuries, LAPD Officer Tony Im told City News Service.
Election Night
On the evening of Nov. 3, the generally busy streets of downtown Los Angeles were quiet and calm. People funneled in and out of restaurants for take-out, couples strolled with their dogs.
But a whoosh of helicopters overhead at about 8 p.m. signaled something was afoot. The police and news copters made their way to The Staples Center.
Protesters were gathering there, heading down South Figueroa Street. Some were dressed in all black and wore safety gear, including helmets and gas masks.
At approximately 8:15 p.m., the LAPD declared an unlawful assembly and issued a dispersal order. The police arrested 30 people who had not dispersed.
Among them was a journalism student from Long Beach City College, who declined to give his name. He told The Epoch Times: "We were moving down an alleyway … when the police came. Some hid, but were later found by the police. I didn't have any student media credentials, but I plan on fighting the citation in court and hopefully avoid any penalties."
Failure to disperse from an unlawful assembly punishable with imprisonment in a county jail of up to six months and a fine of $1,000, according to the Shouse California Law Group.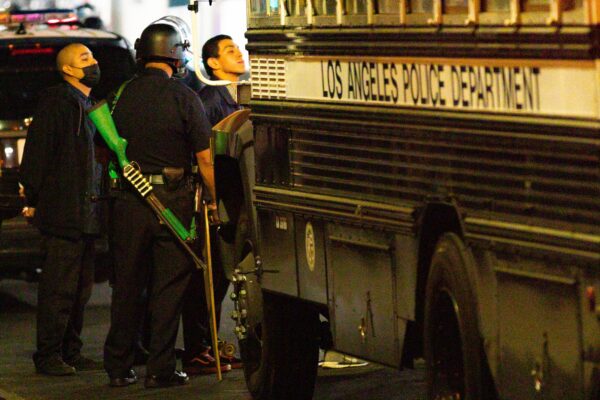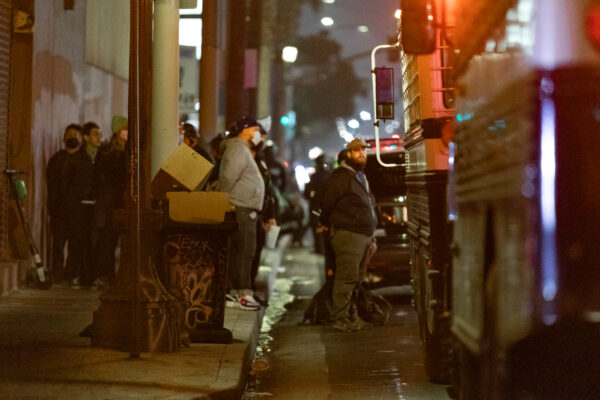 Protesters continued south on Figueroa, reforming in larger numbers.
As officers tightened riot-control formations, people in the crowd started yelling profanities at them. The smell of marijuana filled the air. Bicyclists and skateboarders at the intersection of Figueroa and Washington cursed at police while performing tricks and riding in close to the officers.
After the bicyclists left the intersection, two unmarked SUVs pulled up carrying over a dozen officers dressed in tactical gear, who were standing on the vehicle's side platforms. The police lined up into formations, splitting the crowd into smaller groups.
A splinter group of protesters continued east toward the Blue Line station near Washington Boulevard and Grand Avenue, while the crowd that stayed at the intersection slowly dissolved into the night.
More than 40 people were later arrested for blocking train tracks at the station and loaded into LAPD buses nearby, while news and police helicopters hovered overhead. About a dozen homeless people continued to sleep through the commotion, some only feet away from one young woman who tightly clutched her iPhone in hands bound by zip-ties.
The LAPD reported vandalism to businesses, including a Starbucks on Figueroa and 7th streets.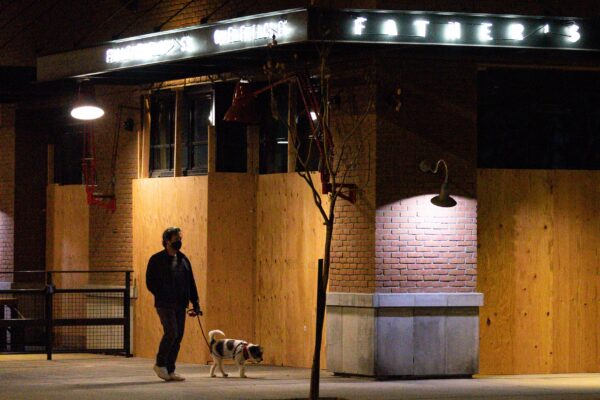 As election results continue to be processed, many businesses have prepared for civil unrest by boarding up their doors and windows in downtown Los Angeles.
Police declared an unlawful assembly on Nov. 4 in the area of Pershing Square, and reported being surrounded by demonstrators when they called for additional units.
The declaration was made at about 7:30 p.m. and by 8:00 p.m., most had left the area. The police canceled a citywide tactical alert before 10 p.m.
The Los Angeles Times reported that three people were charged, including two filmmakers. LAPD Capt. Stacy Spell told The Los Angeles Times: "We are having an ongoing challenge with individuals who are participating in disruptive activities, taking over the street and failing to disperse but subsequently claiming to be media. Literally the entire crowd claimed to be media."