The Los Angeles County Sheriff's Department is investigating reports that its deputies leaked graphic photos of the crash that killed former NBA star Kobe Bryant, his daughter, and seven other people.
Los Angeles County Sheriff's Deputy Maria Lucero told The Associated Press Friday that "the matter is being looked into."
And another spokesperson told The Hill: "The matter is being looked into, and there are no further comments."
It's not clear how far the photos were spread and who was responsible, reported The Los Angeles Times, which broke the story. A sheriff's department source told the paper that one of the images was allegedly on the phone of an official in an inappropriate setting, and the same source said the sharing of photos of the victims' remains and crash site was a topic of a discussion between first responders.
Patti Giggans, the head of the Sheriff Civilian Oversight Commission, told the paper Friday that the alleged behavior is "completely unprofessional" and "very regrettable."
"Hopefully we'll hear more, what was going on and how they found out," she said. "At this point, we have to trust that the sheriff is going to get to the bottom of it."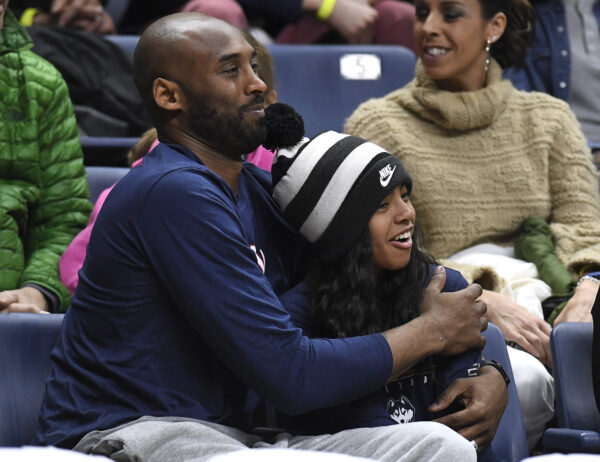 Bryant's helicopter crashed into a hill in Calabasas, California, during poor weather conditions. The crash killed Bryant and his 13-year-old daughter, Gianna, and seven others including Christina Mauser; Payton and Sarah Chester; Keri and Alyssa Altobelli; and pilot Ara Zobayan.
Bryant's wife, Vanessa, filed a wrongful death lawsuit against the company that operated the helicopter.
"Defendant Island Express Helicopters' breach of its duty and negligence caused the injuries and damages complained of herein and Plaintiffs' deceased, Kobe Bryant, was killed as a direct result of the negligent conduct of Zobayan for which Defendant Island Express Helicopters is vicariously liable in all respects," her lawsuit said,  KTLA reported.
Bryant is asking for punitive damages, although the exact amount wasn't disclosed in the suit. Island Express hasn't issued a response to the lawsuit, and Island Express declined to comment on the litigation when contacted by a Reuters reported.
The Feb. 24 complaint was filed in Los Angeles County Superior Court against Island Express Helicopters and Island Express Holding Corp., accusing the pilot of failing to "use ordinary care in piloting the subject aircraft."
Kobe and Gigi Bryant were both honored during a memorial service at the Staples Center in Los Angeles on Feb. 23.