Los Angeles law enforcement agencies reported that hundreds of officers and staff were quarantined this week after testing positive for COVID-19.
LA County Sheriff Alex Villanueva said 573 personnel were quarantined, with five of those in the hospital.
"That's a big chunk of people," Villanueva said on a Facebook livestream Jan. 5. "It's not close to what we had last year with the Delta variant, so this is good news."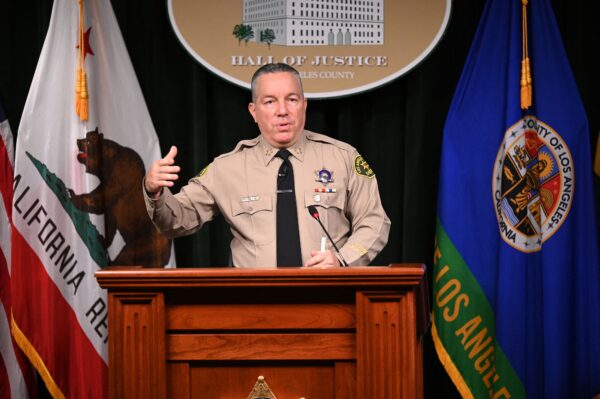 The sheriff also reported that 2,913 inmates were quarantined throughout the county's jail facilities.
The Los Angeles Police Department (LAPD), which has about 9,500 sworn officers, reported that 500 officers were staying home after testing positive for the virus. One employee was hospitalized and in "extremely grave" condition, LAPD Chief Michel Moore said during a press conference Jan. 6.
Moore said that the average time for employees to return to work was about three weeks.
Los Angeles Mayor Eric Garcetti assured the public that the departments remained at adequate staffing levels.
"We have maintained staffing levels to make sure you, your family, and our communities are safe," Garcetti said at a Jan. 6 press conference.
The police chief said emergency services were up and running.
"I want to stress to Angelenos that 911 services are up," Moore said. "Our workforce of 911 operators are there at our two centers. We are by the support of the mayor's office staffing additional seats there on an overtime basis to cover for the 61 individuals who have tested positive and are currently quarantined."
The Los Angeles Fire Department (LAFD) also reported that 300 of its nearly 3,800 employees were off duty because of the virus.
Fire Chief Ralph Terrazas said fire stations remain open, but some have fewer resources, with some ambulances and fire engines not being used.
"Our response times have been impacted by our lack of staffing due to COVID," Terrazas said.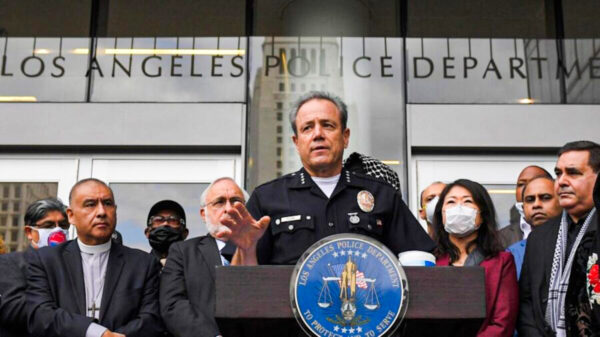 About five out of every six LAFD and LAPD employees are vaccinated, Garcetti said. About 41 employees are on leave for not reporting their COVID-19 vaccination status to the county, and 374 employees have submitted exemption requests.
About 2,000 police employees have filed religious exemption requests, according to Moore.
"These are big numbers, numbers that are reflecting the staffing challenges that all of us face, whether it's in the private sector, the public sector, and across all of our city departments," Garcetti said.
The mayor said the city is taking additional measures to ensure public safety needs are met, including authorizing more overtime funds to pay for employees who cover the shifts left open by sick personnel.
City News Service contributed to this report.