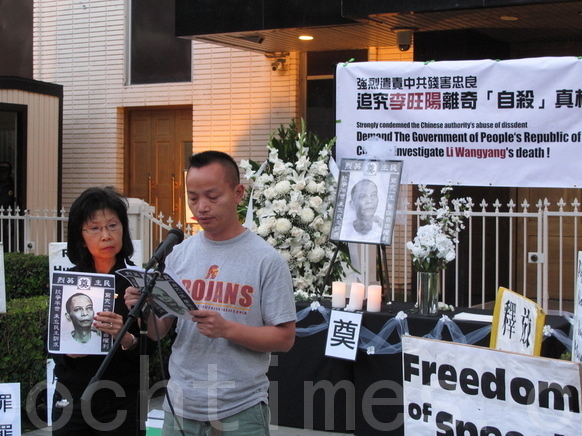 LOS ANGELES—Demonstrators rallied outside the Chinese Consulate in Los Angeles in recent days to eulogize the death of Li Wangyang.
Wang was a leader in the June 4 democracy movement who later attempted to establish a labor union in Shaoyang City. Liu, who had been imprisoned in China for 22 years, died under mysterious circumstances in a Chinese hospital on the morning of Wednesday, June 6. Li had been released from prison last year.
Participants in the rally in Los Angeles at the weekend called on the Chinese regime to investigate Li's death. Authorities in Hunan Province where Li died said he committed suicide.
Visual Artists Guild president Liu Yaya organized the rally. She said the group had four request for Chinese authorities.
"First, a thorough investigation to unveil the truth of the death. Second, release Zhou Zhirong who started an investigation committee into Li's suicide. Third, lift the house arrest against Li's relatives and friends. Fourth, allow lawyers to meet with Li's family," Guild president Liu Yaya said.
The rally comes after the Hong Kong-based Information Center for Human Rights and Democracy gave details of the torture Li had suffered during his prison terms. The rights group said Li was placed into a small "coffin cabin"—a prison cell only slightly larger than a coffin case—before he died. The rights group said he was put into the coffin cabin more than 20 times for extended periods of time as a form of torture. On one occasion authorities put Li inside the chamber for three months straight. Li had gone blind due to torture, and some of his front teeth were missing due to attempts to force-feed him.
Paul Guo, a U.S.-based Chinese democracy advocate, said Li's death was likely ordered by the Political and Legislative Affairs Committee (PLAC), led by Zhou Yangkang. The PLAC is a vast and sweeping security organ that controls the country's judicial system, police, and security forces.
Guo said the PLAC likely issued the order to silence Li from making statements to foreign press, pointing out that Li recently exposed the torture he suffered in prison to a Hong Kong-based media entity. Li had also told media that he would not relent in his campaign to bring democracy to China.
Li, Liu said, was most likely accidentally killed while being tortured, but the regime attempted to cover it up by saying he killed himself.
A photo of Li's suicide has been circulating on Chinese websites, showing his feet still touching the ground while his body hangs on a window frame. Media reports said police had dispatched guards to Li's hospital room days before his death in response to his comments to the Hong Kong media agency. No one could confirm whether those guards had been present when Li died.

Li Yuren, a U.S. immigrant from China, said Li represents the typical grassroots activist in China who pushes for workers rights in a country that has little to none. "The Chinese media do not pay enough attention to people like Li," Yuren said. "As a result, [people like Li] have endured the worst punishments."
Wu Renhua, an archivist for the June 4 protests and Tiananmen massacre, has appealed repeatedly to Chinese authorities to redress the persecution suffered by China's democracy advocates.
Many ordinary citizens who took part in the protests in 1989 have suffered greatly, Wu said.
"Many sentenced to prison terms due to the June 4 incident were regular citizens and workers whose names have been hidden from the outside world," he said. "In Beijing, more than 100 people received 20-year sentences or longer."
Chinese Democratic Party member Liao Mingzhong said Chinese people should not hold any illusions about the Chinese Communist Party.
Using a traditional Chinese idiom Liao said: "It is heaven's will to destroy the CCP, and everyone should step forward and fight for their freedom. Unless the party is dissolved, there will be another June 4 incident."
More than 2000 citizens were killed during the 1989 Tiananmen Square massacre.
"The CCP," Liao said, "is on the verge of total collapse. It simply is trying to stay alive for just a little bit longer."
Read the original Chinese article.
The Epoch Times publishes in 35 countries and in 19 languages. Subscribe to our e-newsletter.
Click www.ept.ms/ccp-crisis to read about the most recent developments in the ongoing crisis within the Chinese communist regime. In this special topic, we provide readers with the necessary context to understand the situation. Get the RSS feed. Get the new interactive Timeline of Events. Who are the Major Players?