The so-called harm reduction model of providing drug equipment and a supervised place to inject or consume the drugs is saving lives in downtown Los Angeles, advocates say, while others contend that it's harmful and only exacerbates the city's and the state's homelessness crisis.
A nonprofit organization called Homeless Health Care Los Angeles, stirred controversy earlier this month, after a video went viral on social media showing workers passing out the government-funded methamphetamine pipes in downtown Los Angeles's Skid Row neighborhood.
Resident Tony Anthony, who lives in a nearby apartment and filmed the video, told The Epoch Times he first heard about the issue in April and then began encountering it himself.
"I went out there to see for myself. It's wrong what they're doing, they're giving them the tool to go out and get the drug," he said. "I don't think it's helping them."
Anthony said he understands why some services offer needle exchanges to prevent the spread of deadly diseases, but meth pipes just encourage drug use.
"You're supposed to be helping people get off drugs, not helping them to stay on drugs," he said. "I've seen what it does to people. When they smoke that methamphetamine, they go crazy, they take off their clothes, they run down the street, they break windows and break into cars and do all kinds of crazy things."
According to the county's Department of Public Health, the harm reduction model focuses on "meeting people where they are," by offering pipes and clean needles, supervised drug use, and overdose medication to help save lives.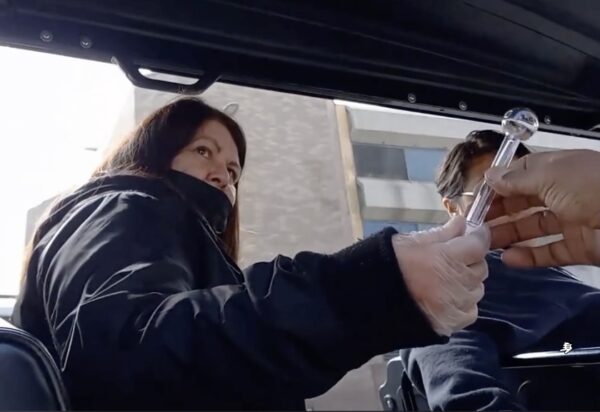 But Anthony said he and others who live in the neighborhood are concerned that some agencies that are supposed to be helping the homeless are more interested in receiving government funds than getting to the root of the problem.
"The more homeless people that are out on the street, that don't want to get off the street, they're making money off them. It's called soliciting to the homeless," he said.
"There's money in homelessness," he said, pointing to a Fox LA News news report that showed the nonprofit in question received nearly $12 million in government funding in 2019. That was an increase from $5.7 million in 2016, tax records show.
Of the nonprofit's reported $12.4 million total revenue in 2019, employee salaries and benefits made up $7.2 million.
The organization operates four locations in Los Angeles, it says on its website. In Skid Row, they offer syringe exchange, Naloxone—an opioid reversal medication—wound care, acupuncture, food, clothing, and hygiene kits. Meth pipes aren't mentioned specifically.
Representatives of Homeless Health Care Los Angeles didn't respond by press time to a request by The Epoch Times for comment.
Differing Opinions on Methodology
Other organizations serving Skid Row's homeless population said they support the harm reduction approach; they say it saves lives.
J. Ellis McGinnis, the director of communications for the Los Angeles Mission, also located in Skid Row—and which offers over 1,000 daily meals, hot showers, and temporary or long-term shelter—said while the facility doesn't offer paraphernalia like other places and nonprofits, it supports the concept behind supervised drug use and offering pipes or needles, since there's evidence that approach can save lives.
"In the system that we have—which is to preserve lives—everywhere that there are safe injection sites, ambulance visits are less by [around] 60 percent, HIV transactions are decreased, there's less of a demand on our ER and there's less people who are dying," he said.
Supervised injection sites decrease overdose-related deaths by 88 per 100,000 person-years of data in Vancouver, according to data published in 2017 from The College of Family Physicians of Canada, a professional organization representing family physicians in Canada.
Overdose-related ambulance calls were reduced by 67 percent and HIV infections fell, although researchers debate over to what degree, according to the Vancouver study.
McGinnis said when it comes to viral videos such as Anthony's, sometimes people will make judgments without seeing what goes on behind the scenes.
"It's the visuals and images of a caseworker handing out a meth pipe that goes viral, but you don't see how sometimes the same caseworkers are able to provide support during the comedowns because they've now built a relationship with the community, saving lives," he said.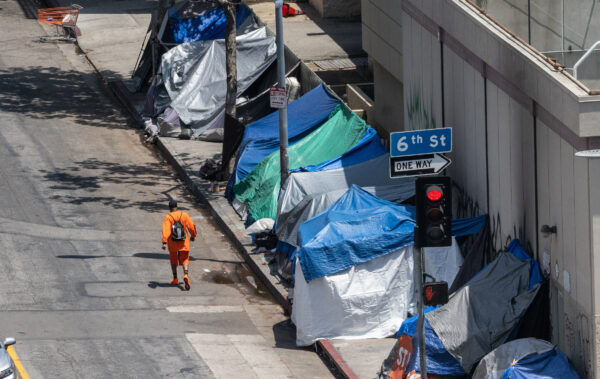 But some others say they fear the harm reduction approach isn't saving lives.
Andy Bales, president and CEO of the Union Rescue Mission, which has a location in Skid Row, said he believes there's no situation where free pipes or needles are beneficial to drug-addicted individuals.
"We're totally against the harm reduction model. We believe it's deadly and it's the [reason why] nearly one-half of the unsheltered people in the U.S. are in California," he told The Epoch Times.
Federal data released in December showed that 30 percent of the United States' homeless population is in California.
The Union Rescue Mission is a Christian-based nonprofit that provides meals, showers, temporary and longer-term housing, and recovery programs to the homeless and drug addicts, with locations in downtown Los Angeles and Sylmar, California.
He tied the increase in homelessness and drug use in California to welcoming state laws.
"Our policies in California have doubled down only on Housing First," which advocates for unrestricted housing, he said, as well as "Harm reduction and the free flow of hard drugs."
Bales said he specifically blames a 2016 California Law, SB 1380, which cut off state funds to facilities like his that have sobriety or treatment requirements for housing the homeless.
As for the facility passing out meth pipes, he said that could lead to deadly results.
"Homeless Health Care handing out meth pipes is irresponsible because, on Skid Row, there's a combination of meth, fentanyl, and horse tranquilizer," he said.
Although Narcan can prevent fentanyl overdoses, the recent addition of horse tranquilizer on Skid Row streets can't be combated, according to Bales.
"Nobody knows what's going to be put in the meth pipe. … In the case of Skid Row, sometimes it's meth mixed with fentanyl, now mixed with horse tranquilizer, and Narcan doesn't work on horse tranquilizer," he said.

The Los Angeles Department of Public Health issued a health alert in March warning residents to watch out for horse tranquilizer—known as xylazine—in illicit drugs, after increases in drug samples were found in San Francisco and San Diego.
Bales said the risks associated with a harm-reduction approach outweigh the benefits.
"We believe not in reversing overdoses as a practice but in moving people to recovery. … Harm reduction without the intent to end addiction is unlikely to deliver any permanent reduction at all," he said.
He argued that safe consumption sites may successfully help reverse overdoses for drug users, but the lasting impact is harming users' brains.
"Every time you overdose, you lose 2 to 3 percent of your brain power or mental capacity," according to Bales.
According to the National Library of Medicine—the world's largest medical library, located in Maryland—drug overdoses can cause cerebral hypoxia, which results from cutting off the brain's supply of oxygen and nutrients. A lack of such can lead to brain cells dying in less than five minutes, rapidly causing severe brain damage.
Last year, there were about 300 overdoses at a safe consumption site in San Francisco—known as the Tenderloin Linkage Center—according to the San Francisco Department of Public Health.
Since the center's closure on Dec. 4, 2022, overdose-related deaths between January and April of this year have increased by 42 percent from the year-earlier period,  according to data released by San Francisco's chief medical examiner.
One representative who worked at the Tenderloin Center claims the rise is a result of the consumption site's closure, according to an article in the San Francisco Public Press.
"When [it] was open, and we had a safe place for folks to go, the numbers went down," Gary McCoy, vice president of policy and public affairs for HealthRight360—a nonprofit that provides health services, told the news outlet.