Three juveniles are in custody, and nearly a dozen catalytic converters have been recovered following a short pursuit that ended in a crash in Ventura County on Nov. 23, according to police.
Early Nov. 23, a resident called 9-1-1 after seeing the theft of a neighbor's catalytic converter in the 2500 block of Harbor Boulevard.
Ventura police officers began patrolling the area and spotted the suspects in the Portside Ventura Harbor neighborhood, committing another catalytic converter theft. However, the suspects sped away in their vehicle, according to the Ventura County Police Department.
After a short pursuit, the suspects' vehicle crashed while turning onto Seaward Avenue.
All three juvenile suspects were taken into custody and transported to a local hospital for medical treatment of minor injuries from the collision.
After a basic investigation, the police found eleven catalytic converters in the suspects' possession and confirmed that the juveniles were from Los Angeles County.
All eleven catalytic converters appeared to be from Toyota Prius, police said.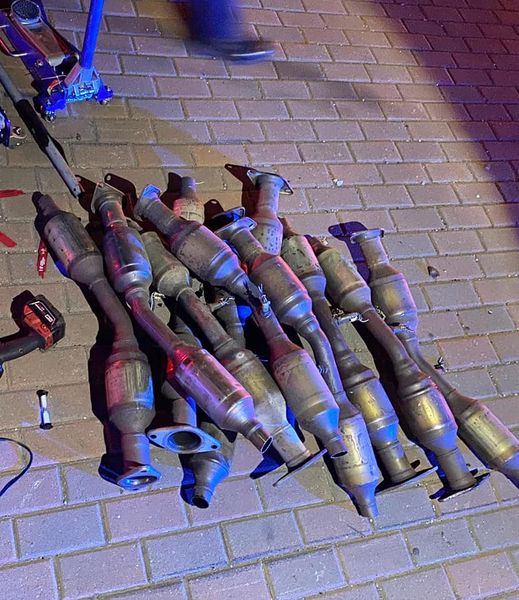 The three suspects will be sent to juvenile hall for suspected conspiracy, grand theft, possession of burglary tools, vandalism, and possession of stolen property. The driver will also be charged with vehicle evading, the release stated.
From January to May this year, more than 8,000 Californians reported having their catalytic converter stolen, NBC reported.
The data shows the most frequently targeted models are Toyota, Lexus, and Honda. The average cost of a catalytic converter repair for most vehicles is between $945 and $2475, including parts and labor, according to CarBrain, an auto trading company.
Catalytic converters are valuable because they contain precious metals, including rhodium, which is worth more than gold.