Los Angeles-area law enforcement reported several arrests this week in the recent smash-and-grab retail theft spree that has hit several local businesses.
Suspects wearing hoods, masks, and gloves have targeted high-end retail businesses, primarily on the west side of the city and San Fernando Valley.
"Many of our suspects are from the South Los Angeles area and some are linked to criminal street gangs," the Los Angeles Sheriff's Department said in a release this week.
In one incident, at about 7 p.m. Nov. 24 five people entered the Nordstrom store at the Westfield Topanga and the Village shopping mall in Canoga Park, sprayed the security guard with bear spray, and fled with about $5,000 in stolen purses.
The sheriff's department recovered the bear spray and it is being tested for DNA recovery, according to the department.
On Nov. 22, about 20 people entered a Nordstrom store at the Grove retail and entertainment complex in Los Angeles and fled with about $5,000 worth of merchandise, police said.
Los Angeles Police Chief Michel Moore said the department had arrested 14 suspects involved in 11 instances.
The sheriff's department said the department had arrested nine suspects over the past few days during traffic stops, probation searches, and warrant services.
"Large quantities have been seized during follow-up investigations," according to a statement by the sheriff's department.
"We're going to work closely with the DA's office to eventually prosecute these individuals," Moore told KTLA 5 News Thursday.
Moore said he did not know what was fueling the attacks, but the style of robberies and attacks were more characteristic of something the department witnessed 20 years ago.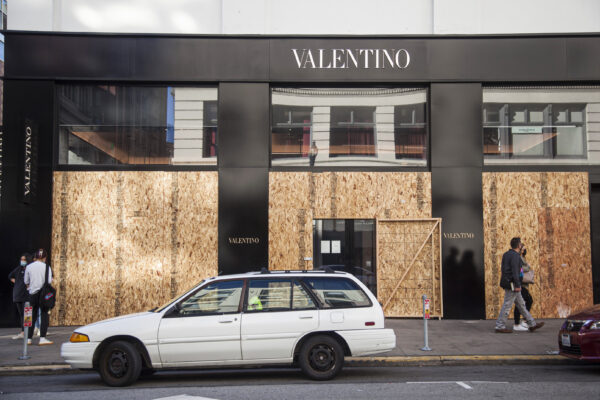 The rash of retail thefts and robberies is increasing at the same time the region is seeing "follow-home robberies." In the follow-home crimes, celebrities and wealthy residents are targeted by robbers in Hollywood, Wilshire, West Los Angeles, San Fernando Valley, and downtown.
LAPD has made more than 36 arrests related to the follow-home robberies, Moore said Thursday.
"So, we are getting traction," Moore told ABC 7.
The suspects are bragging about their crimes on social media, where police are able to identify them and make arrests, he said.
There is a sense that there is a lack of consequences for the crimes, Moore said.
"We see people who are bailing out and not having court dates for months into the future and that does not set the stage well for accountability," he said.
The National Retail Federation agreed that societal changes and changes in policies have contributed to the increase in retail theft.
"Since the pandemic, societal changes and new law enforcement and prosecution policies in many cities have also changed the environment for in-store theft: 65 percent of respondents in the 2021 survey said [organized retail crime] gangs now exhibit greater levels of violence and aggression than they have before," the retail federation reported.
The retail federation reported that organized retail crime now costs retailers an average of $700,000 per $1 billion in sales and three-fourths of retailers saw an increase in organized crime in 2020.
The national group said organized retail crime gangs most commonly target designer clothing, laundry detergent, designer handbags, allergy medicine, razors, high-end liquor, and pain relievers.
The LAPD has joined with the California Highway Patrol, the Beverly Hills Police Department, the Federal Bureau of Investigation, and the LA County Sheriff's Department to identify the suspects and bring them to justice, Moore said.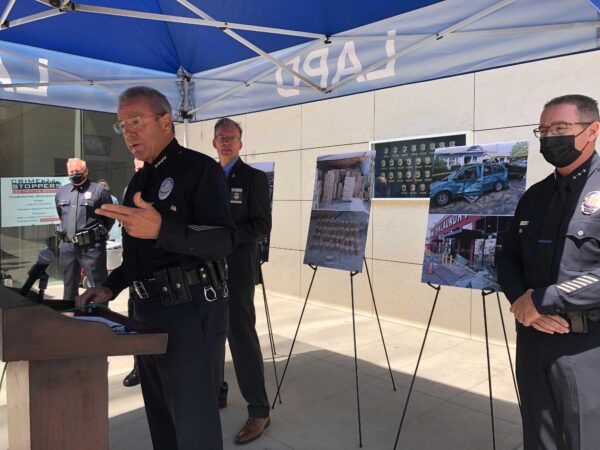 This week, California Highway Patrol reported the arrest of Ekatarina Zharkova, 38, of Costa Mesa, following surveillance by the organized crime task force. CHP reported that the task force witnessed her stealing from numerous stores, including Nordstrom Rack, according to CBSLA.
A search of her home resulted in law enforcement recovering 2,333 pieces of stolen goods worth more than $300,000.
Zharkova was arrested Nov. 23 for a Nordstrom Rack incident, where the task force caught her stealing over $3,500 in goods. She posted bail two days later, according to CBSLA.
Thieves have also targeted the San Francisco Bay Area.
Four men are suspected of stealing $20,000 in goods from an Apple Store Nov. 24. On the same day, police in Palo Alto announced they arrested two women in connection with an attempt to steal items from the RealReal clothing boutique downtown.
Police said 30 to 40 people arrived in some 20 cars and tried to break down the glass front door during that incident, according to reports.
Nine people have been charged in connection with attacks on stores including Louis Vuitton, Burberry and Bloomingdale's in the downtown area and in Union Square, a posh shopping district popular with tourists that was teeming with holiday shoppers the AP reported.
The sheriff's department recommended that businesses increase lighting and expand security cameras as a way to prevent thefts.
Meanwhile, law enforcement in the Los Angeles area is stepping up its patrols and adding uniformed officers who will walk beats in shopping locations.