Los Angeles County District Attorney George Gascón's office claims it was not consulted by the sheriff's department before federal charges were filed in the robbery and shooting death of an LA police officer this week.
The Los Angeles County sheriff filed federal racketeering charges Jan. 13 in the death of Los Angeles Police Department (LAPD) Officer Fernando Arroyos instead of what he said would have been lesser charges by the county's district attorney.
"We support the federal authorities taking the case and will be in communication with all the parties involved," Alex Bastian, special advisor to Gascón, told The Epoch Times. "It was indicated to us that the case was referred to the federal authorities, who filed charges. As such, we did not have an opportunity to review the case."
LA County Sheriff Alex Villanueva said during a press conference that the department spoke with Gascón's office and the response about charges in the case was "not satisfactory to the gravity of the situation."
"I believe their plan was to prosecute a simple murder with no gun enhancements, no gang enhancements. Nothing," Villanueva said. "That really did not cover the gravity of this crime, so we definitely want to thank our federal partners for stepping up and giving us a different array."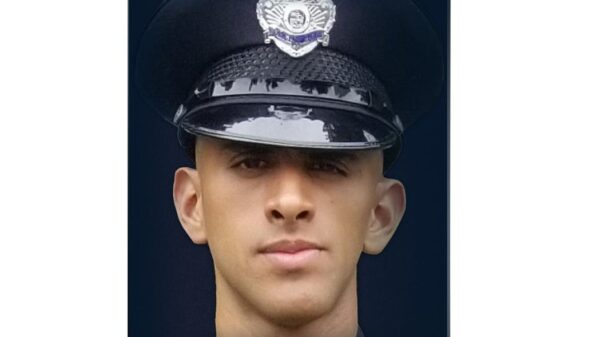 The charges are covered by the California Penal Code, Villanueva said."The tools are there, but we need to have someone who is willing to use them," Villanueva said. "We don't have that, so thankfully we have our federal partners that are making up the difference … We're going to use any tool at our disposal that's going to work and bring justice to these individuals."
Four gang-related suspects are expected to face a federal judge this month. Luis Alfredo De La Rosa Rios, 29, Ernesto Cisneros, 22, Jesse Contreras, 35, and Haylee Marie Grisham, 18, were arrested by sheriff's deputies after an intensive search, according to the U.S. Attorney's Office.
Rios and Contreras appeared in court Jan. 14 and were ordered to be held without bond. Their arraignment is scheduled for 11:30 a.m. on Feb. 3. A preliminary hearing is set for 11:30 a.m. Jan. 28 for Cisneros and Grisham, according to U.S. Attorney's Office spokesman Thom Mrozek.
The suspects potentially face the death penalty and a minimum sentence of life in federal prison without the possibility of parole because Arroyos was allegedly murdered during a robbery, according to the U.S. Attorney's Office.
Federal prosecutors filed charges in the case Jan. 13 against three members of the Los Angeles Florencia 13 street gang and one associate member. The gang has faced past federal prosecutions, including two major racketeering cases, the U.S. Attorney's Office of the Central District of California said in a release.
Charges include violating the federal racketeering statute for their suspected roles, according to the U.S. Attorney's Office.
The county's district attorney faces a possible second recall effort and has drawn criticism from several cities for his policies that critics say favor criminals. Gascón has eliminated cash bail for low-income suspects and his policies include not prosecuting suspects for some misdemeanor crimes and seeking reduced sentences related to hate, guns, and gangs.
LAPD Chief Michel Moore said he agrees with the federal charges.
"The [Racketeer Influenced and Corrupt Organizations Act] standards of the federal government are specifically for this type of case, regardless of whether this involves an off-duty officer or not," Moore said.
The officer's death is the latest violent crime in LA, which has seen several armed robberies, smash-and-grab burglaries, and murders in the past few weeks, including the murder of a 24-year-old Pacific Palisades woman who was shot to death at work by a suspected burglar Jan. 13. A 41-year-old Taco Bell employee was also killed on Jan. 10 after a squabble over a counterfeit $20 bill, according to the LAPD.
It was unfathomable that a simple robbery of a wallet and two chains would escalate into a murder, Moore said.
"The full and complete authority and weight of the federal government is deserved and warranted," Moore said. "And regardless of what the district attorneys would do or not … I'm glad this is going federally."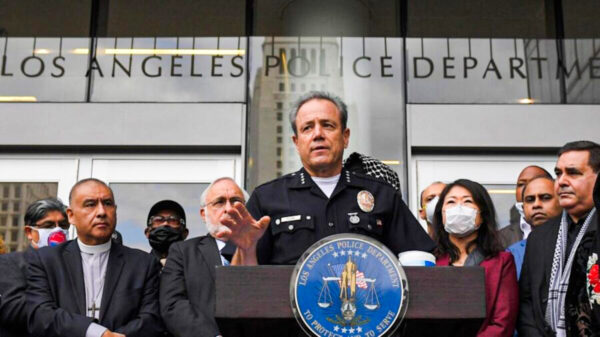 The suspected gangs involved in the case have operated in the Newton area since Moore worked there in the 1980s, and they commit street robberies to further their gang initiatives, Moore said.
The complaint alleges that Arroyos and his girlfriend were house hunting on Jan. 10 in the area of East 87th Street in Los Angeles when a black Nissan pickup truck approached them. They were reportedly confronted by Rios and Cisneros when they pointed guns at the off-duty officer, according to police.
The two are suspected of stealing Arroyos' wallet and jewelry before allegedly shooting him during the ensuing exchange of gunfire. Arroyos collapsed in an alley and the suspects fled, police said.
Sheriff's deputies responded to the scene where they found community members giving Arroyos first aid.
"Deputies assessed his gunshot injuries and made the decision to immediately transport him by patrol vehicle to St. Francis hospital where we later learned he did not survive his injuries," Sheriff's Department Homicide Bureau Cpt. Joe Mendoza told reporters during a press conference.
Officers were alerted to the location of potential suspects 10 minutes after the initial shooting when someone called police to report a gunshot victim about a mile away near Junction Street an East 60th, according to Mendoza.
The sheriff's department is asking for the public's help in finding Arroyos' black bi-fold wallet containing his identification, and two silver chains, one with a sword pendant. Anyone with information is asked to call the sheriff's Homicide Bureau at 323-890-5500.