Los Angeles-based clothing company Castles and Queens has produced 160,000 gowns for doctors and nurses to date.
"We want to help," owner Josh Holm told The Epoch Times. His company usually produces clothing and accessories for men and women, but he moved quickly to change from designer fashion to hospital gear.
His company was in its infancy; he had just incorporated it this year. He now employs 100 people, many of whom were hired practically overnight to meet the demand from new contracts with hospitals.
"I was able to glue everything together within a couple of days to a week," he said. "That was really cool to have that all come together and people who wanted to work on this project."
In addition to gowns, his company is making lab coats, medical-grade face masks for medical teams, and non-medical grade masks for the community.
"They were struggling," Holm said, because major suppliers are "out of stock for the rest of the year. So they had to go local."
Holm said that he was passionate about helping Los Angeles.
"The big conversation I had with the hospital was, like, OK, how do we keep the price as close to what you guys normally bought it for," he said. "And it was super-reasonable."
Hedley & Bennett
Normally, Los Angeles-based Hedley & Bennett specializes in producing chef gear, such as aprons, knife bags, and coats for restaurant workers. One of the founders, Ellen Bennett, said she created the company with the intent to design durable chef-wear that can take a beating.
But Bennett has decided to respond to the needs of health care workers, inspired by a similar shift made by wedding designer Christian Siriano.
"We have the infrastructure, a 16,000-square-foot factory in L.A.," Bennett told The Epoch Times. "It's not exactly normal to have that, and we actually have the tools to be able to make a really big impact here because we're vertical."
"Vertical" means her company does much in-house, making it less vulnerable to supply chain disruptions.
Bennett explained that her company cuts and sews the masks in-house and also has its own distribution center out of the factory, which makes its turnaround time "incredibly quick compared to most."
For every mask sold, the company donates one to an emergency service in need. It also takes donation requests.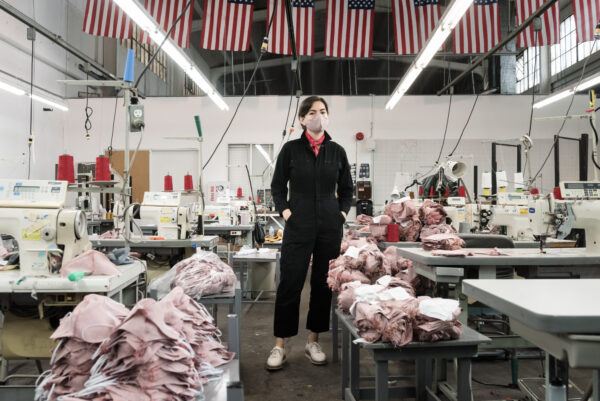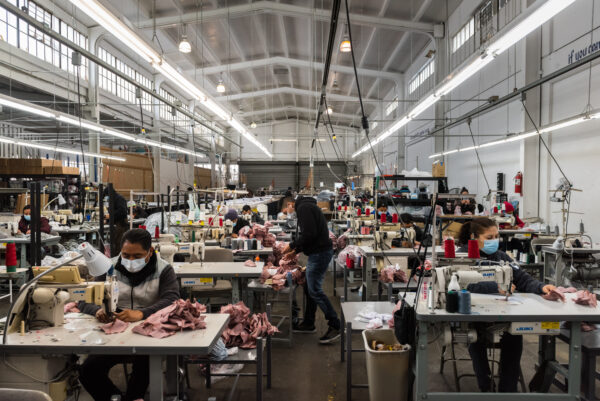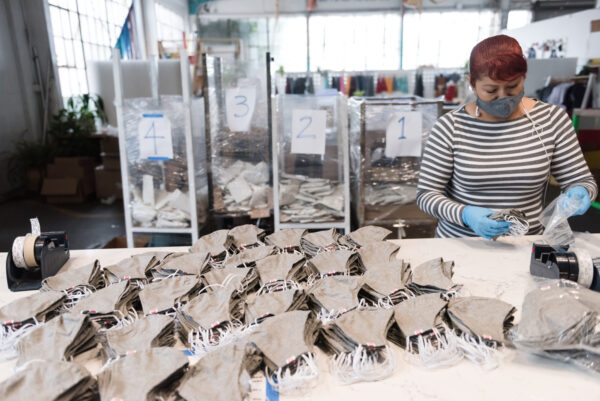 "We have, I would say, 120-plus sewing jobs that have been created because of this," she said. However, her business has taken a hit overall. Though she needs more people to do the stitching, she has had to furlough other employees.
The masks are made from cotton and Oxford-poplin chambray, she said. They also contain a filter and come in various shapes and sizes, so they'll fit children, too.
The first batch of masks were delivered to hospitals at the end of March. In addition to hospitals, her company has received requests from senior living homes and government workers.
"It's been a lot to navigate," she said. "One of the biggest challenges that people are having right now is the reality check that everything can be instant."
Like many companies, Hedley & Bennett is dealing with a bottleneck in the global supply chain.
"Everybody is being affected, especially people that are doing business right now," she said. "And in our case, you know, we are feeling the ripple effects of everything … A lot of our vendors have closed, or they're not available."
While the company ran out of logos two weeks ago, Bennett said, the team decided that the safety of their consumers was paramount, so they shipped the masks anyway.
"It's been very trying and testing on me as an entrepreneur, and also on our team," she said. "But our team has been amazing."
So far, the company has donated more than 100,000 masks.