Los Angeles police have arrested an 18-year-old man four times this year following several armed robberies.
After each release, Matthew Adams returned to the streets and is suspected of holding victims at gunpoint while demanding jewelry and other expensive items, Los Angeles Police Chief Michel Moore told police commissioners April 5.
After the first three arrests, Adams was released by the courts within days.
"Through a follow-home task force investigation, we have identified Mr. Adams as being involved in at least eight robberies, and potentially others," Moore said.

Some of the suspected incidents include follow-home robberies, a trend that has spread fear throughout the Los Angeles area.
"I'm thankful that there was no loss of life through the course of these ordeals," Moore said.
Moore said he appreciated the arrests, but "I'm disappointed that the full weight of existing laws, and the support of our district attorney and the court to hold this individual responsible and accountable and keep him from the community, was missed."
Many Los Angeles officials and residents have alleged at least part of the blame for the recent spikes in robberies and violent crime falls on Los Angeles County District Attorney George Gascón.
The district attorney is facing a second recall effort and heavy criticism for what many say are crime-friendly policies, for example "zero bail," reduced sentencing for some crimes, and eliminating sentencing enhancements for gun crimes or gang affiliations.
The recall effort has collected 200,000 signatures and raised $4 million, according to organizers. The effort needs 566,857 signatures, or 10 percent of the total current registered voters in the city, to qualify for the ballot.
"This is an offender we believe has capitalized on weaknesses in the current system," Moore said.
Los Angeles Police Commission President William Briggs said local policies are failing.
"The example that you just laid out with respect of Mr. Adams and this revolving door criminal justice system that we have right now clearly is not working and is endangering the citizens of Los Angeles and creating a public safety crisis that we need to find a solution for," Briggs told the police commission April 5.
"Those who are in a position to change what is rapidly coming out of control they need to seize this moment and change policies that are demonstrably failing."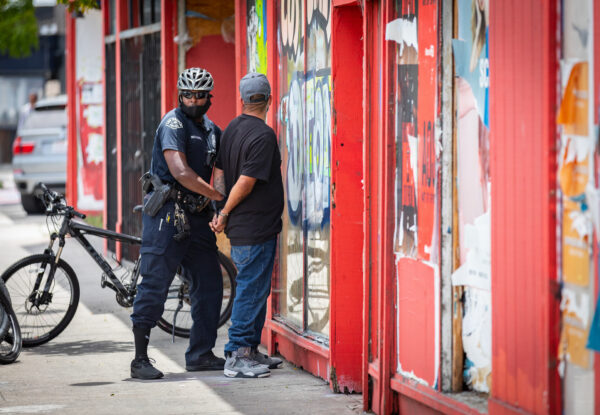 Adams was one of three men arrested after a task force investigation into recent follow-home robberies. He was first arrested Jan. 9 following two robberies. Adams was arrested in a car that was reportedly used in a robbery two days earlier.
In January, police investigated two Jan. 7 robberies. The first occurred in Burbank when the victim was followed home from Hollywood. Three male suspects armed with handguns took $51,000 in property.
That same day, a man and woman were followed home from a high-end restaurant on Melrose Avenue in West Hollywood. A watch, wallet, and cell phone were taken from the victims during the robbery.
Adams posted bond following the Jan. 9 arrest.
A week later, two tourists visiting from England were robbed of $73,000 in jewelry, cash, and a purse at a restaurant on Sunset Boulevard, according to police.
Adams was again arrested Jan. 27 and released without posting bail.
"The fact that he was out on an earlier bail for robbery at gunpoint, that enhancement was not filed and the court actually released Mr. Adams a few days later on his own recognizance," Moore said.
On Feb. 21, Adams was at the scene of a carjacking in the downtown jewelry district, Moore said. He was arrested for being in possession of a handgun and released again without posting bail.
"Again, a filing was obtained for possession of that handgun but there was no enhancement filed," Moore said.
The latest arrest was March 31. Adams was arrested during a traffic stop and suspected of being involved in the robbery of two UCLA students the day before. During this crime, two men armed with guns were waiting outside the victims' residence in West Los Angeles. One victim was struck on the head with a firearm and the suspects took two watches and an iPhone valued at $145,000.
Adams remains in jail, according to police. The Los Angeles District Attorney's Office filed multiple charges against Adams, including seven counts of robbery and two gun enhancements. His bail was set at $450,000.
Jayon Sparks and Eric Wilson were arrested on March 24 on suspicion of their suspected involvement in follow-home robberies and weapons violations, the LAPD reported. Wilson has been released on bond. Bail was set at $50,000 for Sparks.
Moore, who has been reluctant to criticize the district attorney until now, said every enhancement should be made available to the police department.
"The increase in violence, with 35 percent of robberies in the city being at gunpoint, and 70-plus percent of our increase in robberies this year, is a result of firearms," Moore said.
A spokesman for Gascón's recall effort said the recent case shows how dangerous the district attorney's policies are.
"I think it's emblematic of the false pretense of George Gascón's policies and it paints a very clear picture of the danger of turning your back on crime," said recall spokesman Tim Lineberger. "Every day, we just learn more and more about exactly how dangerous these policies really are. It's sad because a lot of this stuff is entirely preventable."
A spokesperson for District Attorney George Gascón was not immediately available for comment.