Kyrie Irving, Kenneth Faried Set For Breakout Seasons After FIBA World Cup?
September 17, 2014 8:33 am Last Updated: September 17, 2014 9:45 am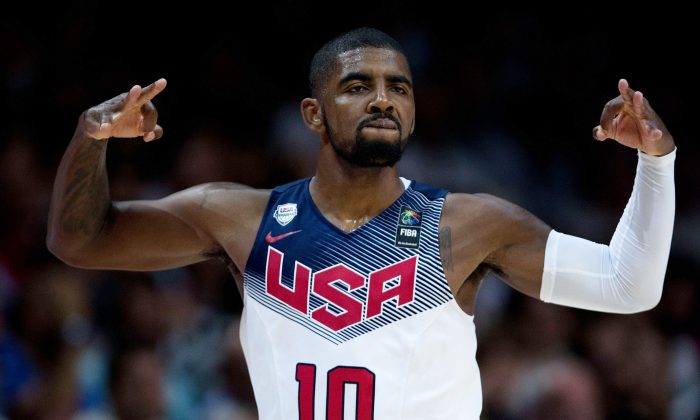 With what was called by some as the 'B team' or even 'C team', team USA basketball demolished Serbia 129-92 in the 2014 FIBA World Cup Final. They also successfully won all nine tournament games by 20 points or more.
As a U.S. player, you'd think that there wouldn't be much to gain skill wise from participating in this tournament. The main draw is to represent one's country.
Think again.
European countries are often much better versed in basketball fundamentals and execution. The Greek team of 2006 beat team USA by executing the pick-and-roll to perfection — one of the simplest plays in basketball.
Defending against these types of offenses does wonders for elevating players' basketball IQ's.
European teams also have outstanding chemistry, which is what the disappointing U.S. teams of the early 2000s were criticized to have lacked, and ultimately, what caused their demise.
Then in order to not get ousted by European teams that have played together for years, in a span of just weeks, these players are forced to develop from scratch real, tangible chemistry among each other. 
Therefore, FIBA allows NBA stars to play alongside NBA stars from different teams – an opportunity they would almost never get otherwise. In the process of acclimating with all these great players, one is not only able to elevate one's play, but become a much better team player.
Actually, shortly after winning the 2010 FIBA World Cup, many U.S. players praised the benefits of playing international basketball. Some of these players then went on to take their games to completely different levels during the coming NBA season. We list them and their statistical explosions below.
Eric Gordon
09-10 season: 16.9 ppg, 2.6 rpg, 3.0 apg
10 -11 season: 22.3 ppg, 2.9rpg, 4.4apg
Derrick Rose
09-10 season: 20.8 ppg, 6.0apg, 0.2 3pm
10-11 season: 25.0 ppg, 7.7apg, 1.6 3pm
Kevin Love
09-10 season: 14.0 ppg, 11.0rpg, .450 fg%, 0.6 3pm
10-11 season: 20.2 ppg, 15.2rpg, .470fg%,  1.2 3pm
Russell Westbrook
09-10 season: 16.1 ppg, .418 fg%, 1.3 stl
10-11 season: 21.9 ppg, .442 fg%, 1.9 stl
Going off this theme, here are the breakout candidates for the 2014-2015 NBA season.
2014 Breakout Candidates
Kyrie Irving

At the age of 22, Kyrie already has enormous potential. The 2014 all-star game MVP, and just recently team USA MVP, Kyrie could have been all but primed to explode into a MVP level performer ala 10-11 Rose. The only drawback is, two big-name superstars have suddenly been added to his NBA squad. Nonetheless, still expect Kyrie to show huge improvements in one regard or another. For instance, though he is generally considered the weakest link of the 'Cavaliers three', we could find at times that he, rather than Kevin Love, is the Robin of the team. At times, he could even be (dare we say), the Cavalier's batman.
Kenneth Faried

Honestly, if Irving didn't go bonkers in the World Cup finals, the USA MVP very likely would have been Kenneth Faried. Considered at the beginning to not even be good enough to make the team, Faried was by and large the U.S.'s most effective and consistent player throughout the tournament. If you look at Faried's Denver Nuggets game log, this past season he averaged 13.7 points and 8.6 rebounds a game – solid, but hardly groundbreaking numbers. However if we look at solely the last two months of last season, Faried averaged an all-star tier 18.8 points and 10.1 rebounds a game. Coming off a hyper-successive World Cup, don't be surprised to see those numbers sustained throughout the entire season, if not augmented.
Anthony Davis

At many points in the tournament, Anthony Davis was considered the star of team USA's team of stars. Davis already made a big leap between his rookie and sophomore seasons, but there's still much room to grow. During his third season, Davis could make another leap and firmly entrench himself in the NBA's uppermost tier.