Commentary
In a paper on History and Civility, Larry Schaefer writes that "Civility is one of our most honored and valued words, a five-star word … It walks in partnership with other honored words such as politeness, duty, and civilized. There are those who say that duty and civility should be expressed together: the duty of civility."
This "duty of civility" has developed over the last 2,500 years, a trajectory that the author describes in his paper. It is fair to say that, nowadays, people know instinctively that "civility" is a prerequisite for living together amicably. One would expect that this duty is also taken seriously by tennis players, who spend time together over a potentially 14-day period during Grand Slams.
However, the word "civility" does not appear in Nick Kyrgios's vocabulary. As is well-known, Kyrgios is the enfant terrible of Australian tennis. Nevertheless, he is a naturally gifted player who is certainly capable of winning Grand Slams, provided he submits himself with a dedication to a rigorous process of training.
But unfortunately, he may never win a Grand Slam and enter the pantheon of greatest successful tennis players because he lacks dedication instead of relying on his natural prowess and ability to serve well. In addition, his behaviour on the tennis court is often unpredictable and abominable. He routinely and aggressively argues with umpires, who try to control his on-court behaviour when he participates in an international tournament.
Respect Goes Both Ways
His latest noteworthy exploit occurred during his first-round Wimbledon match in 2022 against Paul Jubb when Kyrgios spat at spectators he regarded as "disrespectful." In his post-match press conference, Kyrgios readily admitted to spitting in the direction of a "disrespectful" spectator, adding that "I would not do that to someone who was supporting me."
Quite apart from the point that spectators are free to support or not to support the players—after all, spectators attend the tournament to support their preferred players—Kyrgios seems to forget that respect is a two-way street. And as a professional tennis player, he should know that a tennis court, especially the centre court, is, at least potentially, a cauldron of explosive emotions.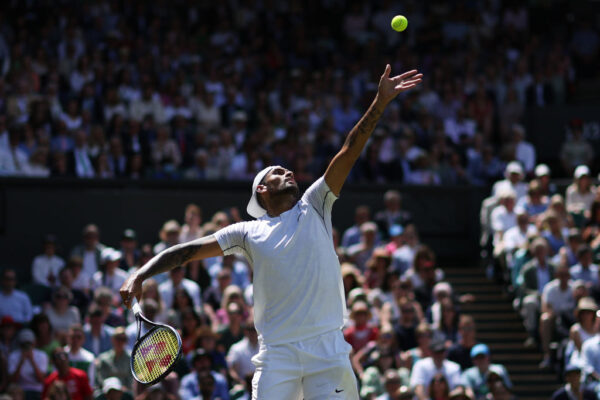 Kyrgios did not even regret his despicable act of spitting because he said: "I couldn't care less if there is an investigation about me doing that [spitting], to be brutally honest with you, I know what I bring to the sport."
He added that "I'm one of the most important people in the sport." This narcissistic comment explains Kyrgios's cavalier attitude perfectly because it implies that he expects to get away with anything because he is "one of the most important" persons in the sport.
Kyrgios's histrionic behaviour at Wimbledon this year is characteristic of his tennis court attitude. His history of inappropriate behaviour on the court and his tirades against umpires are well documented. For example, in August 2019, when participating in the Cincinnati Masters, he feuded with the umpire, Fergus Murphy, who he accused of being "the worst ref in the game, hands down," a tirade that cost him a fine of US$113,000. He also called a line judge a "snitch."
Irresponsible Behaviour
His matches are very well attended, certainly compared to the contests of other players who are also highly ranked—he is ranked 40th on the ATP list. But those who attend his matches do not only want to see quality tennis but also look forward to witnessing the unavoidable histrionics of the player who, predictably, will not disappoint in this regard.
Kyrgios's latest outburst during his first-round match at Wimbledon 2022 earned him a fine of A$14,400 (US$9,900), a considerable sum of money, which will be deducted from his earnings.
Although paying a fine is his penalty for the spitting incident, it also serves as an invitation to behave civilly on the tennis court during competitions. In this regard, he could learn from other players, for example, Rafael Nadal, who is always courteous on and off the tennis court.
In the current Wimbledon campaign, Kyrgios also withdrew from the tennis doubles tournament, where he intended to partner with Thanasi Kokkinakis. Kyrgios withdrew because Wimbledon is the only Grand Slam that has a best-of-five sets requirement, whereas it is best-of-three sets at the other Grand Slams. He was not willing to potentially play five sets. "I think it's the stupidest thing ever, to be brutally honest," he said.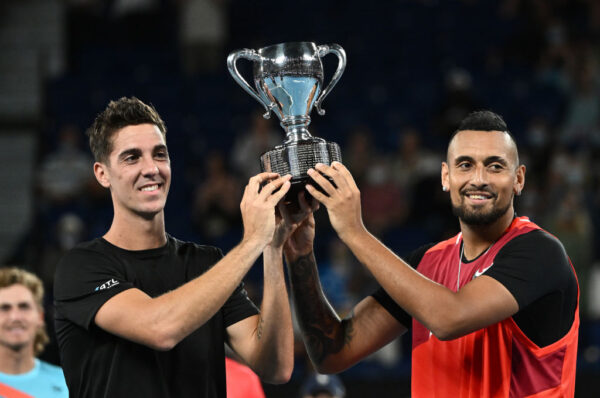 Such irresponsible behaviour affects other players, especially his doubles partner, who undoubtedly had a legitimate expectation to participate in this competition, even more so because he lost in the second round of the singles competition against the Serbian champion, Novak Djokovic. Moreover, Kokkinakis and Kyrgios won the Australian Open doubles title earlier this year; this victory must have raised the expectation that the doubles partners would continue to compete in other Grand Slam competitions as a team.
Timely Reminder for Civility
Respect for the game of tennis and its players, who delight visitors with their skills, aptitudes, and unremitting dedication, is thus a prerequisite for "civility" to prevail in tournaments.
But the likelihood that Kyrgios might never reach his full potential as a tennis player is undoubtedly the most tragic consequence of his on-court antics. This is tragic because part of being human is a willingness, if not a desire, on the part of most people to exploit their strengths and reach their potential. If not, life may well remain unfulfilled.
Larry Schaefer writes in his paper that "the antonym of civility is rudeness and incivility" and that "civility is the force that made civilizations civilized." It is a message that Kyrgios needs to be reminded of because tennis is a game for civilised interaction between professional tennis players. Schaefer's exhortation to act civilly is a timely reminder as the tennis world is nearing the business end of this year's Wimbledon competition.
Views expressed in this article are the opinions of the author and do not necessarily reflect the views of The Epoch Times.