It was only their second day in Ukraine, but a Russian armored column already had reached their bridge too far at Bucha, northwest of Kyiv.
"I had just crossed the bridge in Bucha to drop off a friend who would meet her family on the Kyiv side of the Irpin River, and as I glanced back, I saw a group of Russian armored personnel carriers approach the bridgehead from the other side," said Igor Korsun to The Epoch Times.
He recalled the incident he witnessed on Feb 25.
"In a flash, I saw a Javelin missile pass a couple of meters from my car on its way to the lead Russian vehicle which exploded in fire," he said.
"I hurriedly drove to a side street while the Ukrainian soldiers demolished three armored vehicles in the column," said Korsun, who now lives on the southwestern perimeter of Kyiv.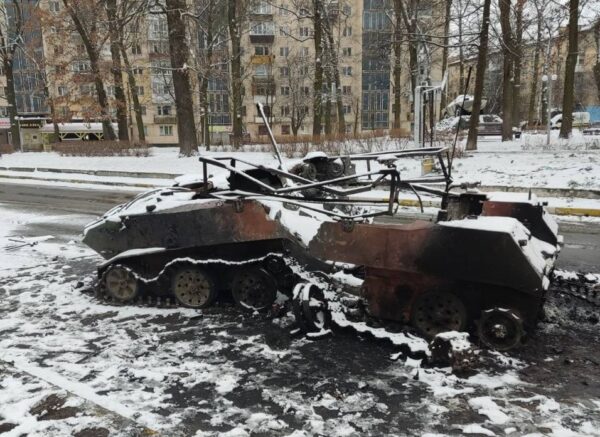 Russian forces are today still occupying the west side of the river Irpin where they were stopped, Korsun said in a phone call on March 15.
They attempted to build a pontoon bridge in recent days but were stopped by fire from Ukrainian troops, he said.
The defenders have been buoyed by reports that a new shipment of Turkish-made drones has arrived.
Korsun was sharing his house in Bucha with two other families when the invasion began on Feb. 24.
After three weeks and scores of local civilian casualties, the Russian army is still trying to cross the Irpin River, which runs through the northwestern suburbs of the gateway towns of Irpin and Bucha.
The Irpin River is a tributary of the Dnieper River whose basin forms the ancient heartland of Kyivan Rus.
Today the no man's land of Irpin is littered with corpses of civilians caught in the continuous shelling and crossfire between Ukrainian and Russian soldiers.
Korsun helped his sister's family leave the Bucha house on March 12.  Today she and her children are refugees in Germany, he said.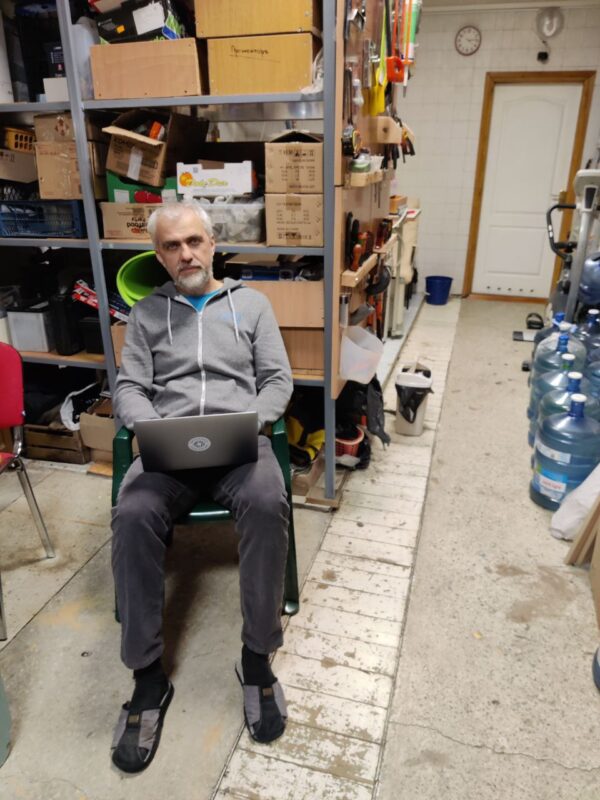 For residents who stayed in their houses, the constant shelling has taken its toll in lives and emotional trauma.
"Bucha residents had a mass burial of 67 people on March 10," Korsun told The Epoch Times.
Russian soldiers looted the Novus supermarket a few blocks from Korsun's home on Feb. 27.
"The soldiers just collected all the precooked meat, canned goods, and alcohol they could carry, leaving behind anything that needed to be cooked because they have no cooking equipment," Korsun said.
According to reports, the tank crews were carrying expired rations with expiration dates in 2015, according to Korsun.
"They were told that after entering the target area they could buy or seize food and fuel in the city."
The day after Russians looted the Novus store, the managers opened the doors to all local residents and gave the products away, Korsun said.
Before the invasion a minority of Ukrainians—almost 10 percent—wanted to return to Russia, but since the attacks began that percentage has almost disappeared, Korsun said.
But the information war has separated him from his brother's family in Russia.
"My brother has lived in Russia for more than 40 years and sees only state-approved news.
"All dissident TV channels and news sites have been shut down. He told me the Ukrainian president [Volodymyr Zelenskyy] and the leadership are Nazis who have deliberately bombed our own cities and blamed it on the Russians," Korsun said.
"The propaganda war is a nightmare," he added.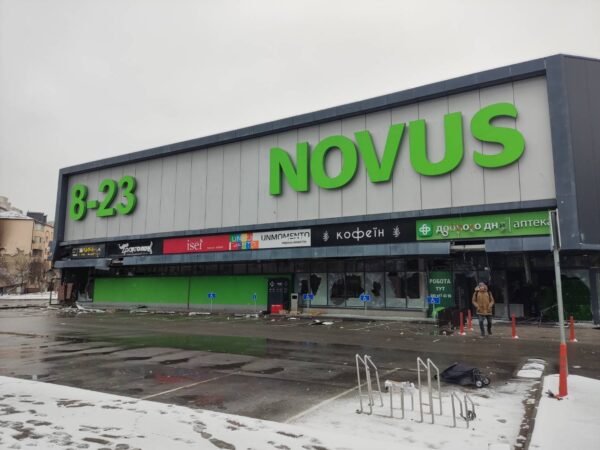 "The disinformation war is very important," according to Kira Rudik, a Ukrainian member of Parliament speaking to Fox News over the weekend.
"They are doing everything they can to make Russian people believe what they see is fake. We have to oppose it with the free media," Rudik said.
Korsun works part-time daily in the territorial defense militia as an IT specialist coordinating CCTV scans of the village where he lives.
The militia-operated checkpoints in the village are aimed at discovering plainclothes saboteurs attempting to infiltrate the city, says a fellow resident at Korsun's house.
"We can spot some Russian infiltrators by their language. They don't have quite the same accent and they don't know Kyiv slang," he said.
Already more than 700 Russian soldiers have been captured or surrendered, according to Ukrainian TV reports, Korsun says.
"It has become a problem for the city administration to find jail space for them."
Some US media have been reporting for three weeks that Russian forces are entering Kyiv, yet counterattacks by Ukrainian forces and effective anti-tank missiles have bogged down Russian armored columns, according to an Institute for the Study of War report.
Ukrainian forces have slowed the advance of Russia's army, which made very little progress in the second week of the war.
The Ukrainian general staff claims to have destroyed or damaged 31 Russian Battalion Tactical Groups (BTGs) so far, according to the institute in Washington.
A BTG is composed of 10 to 12 tanks and 40 infantry fighting vehicles (armored personnel carriers) with 600 to 800 soldiers and officers, which would mean 31 tactical groups equals some 310 to 370 tanks, 1,200 armored vehicles, and 20,000 men.
Last week it was reported that 30 Russian tanks were left abandoned.
The Ukrainians report 13,000 Russian soldiers have been killed in the three-week war, a figure not confirmed by the U.S. government.
Ukrainian civilian fatalities range from 550 to as many as 2,000, according to Fox News reporter Jonathan Hunt in Lviv.
Despite missile attacks on two airfields on March 13, the Ukrainian air defense system is preventing Russia from winning the air war.
Some Ukrainian fighters are still operational.
Ukrainian military's claims cannot be verified but have reported having shot down 77 Russian jets and 90 helicopters.
At his house, and at virtually every house on Korsun's block, the residents have Molotov cocktails ready to throw at Russian armored vehicles should they appear.
More than 100,000 Ukrainian citizens have registered to serve with the Ukrainian military or the territorial defense. "It was announced that 30,000 new rifles were distributed in Kyiv alone," Korsun said.
Life in the village still functions much the way it did before the invasion.
Several supermarkets and pharmacies are open, and gas stations are selling petrol at close to $8 a gallon, but there is a limit to how much each customer can purchase.
"We will fight if the soldiers come to Kyiv," Korsun says. "But honestly, I don't think they will. At this point, they can't defeat the citizenry."