White House economic adviser Larry Kudlow said House Speaker Nancy Pelosi (D-Calif.) is unwilling to compromise on key issues in a stimulus package in the latest back-and-forth about who's responsible for the impasse.
"Somehow, I guess it's a mystery, that letter got to Politico before it got to the secretary. Our team now believes that the Speaker has no intention of compromising on key issues," Kudlow told Fox News on Oct. 29, criticizing Pelosi for a letter that was sent to Treasury Secretary Steven Mnuchin and suggesting it was leaked to the press before it was sent to Mnuchin.
"She is stringing us along," Kudlow said. "We have doubted her seriousness in the recent weeks."
"We continued to negotiate in good faith. This letter that got public before it got to the secretary is the wrong, bad form. But most importantly, they show no evidence of compromising on the very key issues."
He added that Americans will "have to wait" on stimulus checks, small business loans, unemployment assistance, school funding, and more.
Pelosi, in her letter to Mnuchin, called on the White House to respond to her demands, warning that a lack of future action on a stimulus package would cause more economic suffering.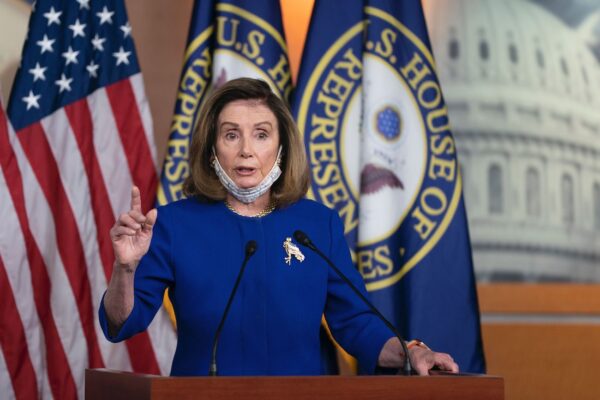 "Your responses are critical for our negotiations to continue," Pelosi wrote. "The President's words that 'after the election, we will get the best stimulus package you have ever seen' only have meaning if he can get [Republican Senate Majority Leader] Mitch McConnell to take his hand off the pause button and get Senate Republican Chairmen moving toward agreement with their House counterparts."
Over the past several months, Pelosi and the White House have traded blame over the lack of action on another round of stimulus.
Last week, during the final presidential debate, President Donald Trump said it was Pelosi who is blocking a deal, arguing that she doesn't want one because it would bolster his reelection chances.
Speaking to reporters earlier this week, Trump predicted that a stimulus package would be passed after Election Day. White House spokeswoman Alyssa Farah also told Fox News this week that a stimulus deal would be hashed out "within weeks."
The intransigence among the two sides comes as the Commerce Department reported Oct. 29 that U.S. gross domestic product rebounded at a 33.1 percent annualized rate last quarter, which was the fastest pace since the government started keeping records in 1947.
"I don't think this recovery depends on the assistance package per se," Kudlow said.