KTLA news anchor Chris Burrous died after overdosing on methamphetamine at a Days Inn two days after Christmas, according to his autopsy report.
The Los Angeles County coroner's office said that Burrous, 43, who anchored the Southern California news station's weekend coverage, had hypertensive and atherosclerotic cardiovascular disease, which factored in his death, reported the Los Angeles Times.
However, the office said that methamphetamine toxicity was his cause of death.
The office said he was taking meth during a sexual encounter at the motel, the paper reported.
The other person in the hotel room said they performed CPR on him before paramedics arrived, said the report.
First responders arrived and were unable to revive Burrous, who was taken to a hospital. He leaves behind a wife and a 9-year-old daughter.
According to a police news release in December, "The Glendale Fire Department responded to the scene and found a man down inside a room suffering from a medical emergency. The man was not breathing and CPR was administered as paramedics prepared to transport him to the hospital."

It said, "The man was later pronounced dead at the hospital."
The release at the time suggested that he died of a drug overdose.
"Our thoughts and prayers go out to the Burrous family," KTLA President and General Manager Don Corsini and News Director Jason Ball told Deadline Hollywood.  "Chris loved sharing the stories of Southern California and connecting with our viewers. He will be remembered as a great journalist and a wonderful friend to many. He brought a kindness to his work and will be deeply missed by the entire KTLA family."
Burrous joined KTLA as a reporter and anchor in 2011, and he helped expand the station's "Morning News" to seven days per week. Burrous formerly worked at PIX11 in New York City. He also had jobs at stations in the Bay Area and South Dakota before joining KGET in Bakersfield, California, in 1999.
KTLA wrote on Twitter at the time, "We have some sad news to report. Chris Burrous, a fixture on the KTLA 5 Morning News since 2011, passed away Thursday. He was a beloved member of the KTLA family and will be deeply missed. He was 43."

Meth Overdoses Increase
The U.S. Centers for Disease Control and Prevention (CDC) said that the number of fatal meth overdoses has more than tripled between 2011 and 2016, according to Medical Xpress.
Some people who were using opioid drugs like fentanyl or heroin, which are the biggest killers in the United States, have turned to meth, a stimulant, to offset the downer effects of the drugs, Theodore Cicero, a Washington University researcher, told the website.
"It's a very dangerous drug to mess around with," Cicero said.
Fentanyl Overdoses
In August, President Donald Trump urged the Senate to pass a measure to stop synthetic opioid drugs such as fentanyl from being transported into the United States via the U.S. Postal Service system.
"It is outrageous that Poisonous Synthetic Heroin Fentanyl comes pouring into the U.S. Postal System from China," he wrote on Aug. 20.
The shipment of fentanyl from China to the U.S. is "almost a form of warfare," Trump said in August.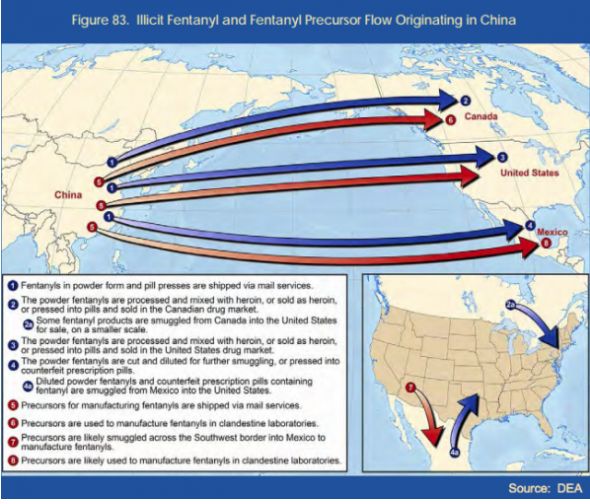 "In China, you have some pretty big companies sending that garbage and killing our people," Trump said at the time.
More than 71,500 Americans have died of drug overdoses in 2017, according to data released the U.S. Centers for Disease Control and Prevention.
The majority—or least 68 percent—of those deaths could be attributed to opioids such as fentanyl.
"[Chinese drug makers] have been using the internet to sell fentanyl and fentanyl analogues to drug traffickers and individual customers in the United States," said Deputy Attorney General Rod Rosenstein in a statement on Oct. 17, 2017.