Europe's top human-rights court has ruled that Russia's repeated arrests and detentions of a politician who ran against Vladimir Putin breached his human rights and were politically motivated.
The European Court of Human Rights said that of the repeated detentions of Russian opposition leader Alexei Navalny, who was arrested seven times between 2012 and 2014, at least two instances were designed to suppress "political pluralism."
Earlier this year, Navalny was blocked from running against Putin in a presidential election. He also has been repeatedly jailed for organizing what Russian authorities said are illegal protests.
Navalny's series of investigations into corruption in Russia has been watched online by millions of people.
The court ordered Russia to pay about $72,000 in damages to Navalny, and ruled that his rights to liberty, a fair trial, and freedom of assembly had been violated. It also recommended that Russia take steps to protect the right to peaceful assembly.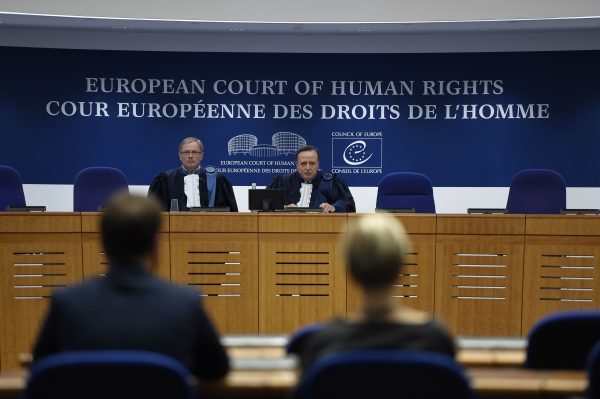 "The court found that there was 'converging contextual evidence' that the authorities were becoming increasingly severe toward Mr. Navalny and that his allegation of being a particular target appeared coherent in the context of a general move to bring the opposition under control," the court said in a statement.
Russia's Justice Ministry questioned what it portrayed as the flawed and inconsistent logic of the ruling, but said it would pay the court-ordered damages and costs, the Interfax news agency reported.
Putin has suggested that Navalny is backed by the United States, which Navalny denies.
'The Government Has Been Thrashed'
The 42-year-old lawyer was in Strasbourg, France, where the court is based, to hear the ruling. He said he was delighted about the ruling that his treatment had been politically motivated, something the court hasn't done in a case concerning Russia for many years.
"Despite pressure from Russia, it has become clear … that European justice does not intend to ignore obvious facts," he told reporters.
"We've won," he later wrote in a tweet. "Completely. The government has been thrashed. They recognized Article 18 [of the European Convention on Human Rights]. Hurray!"
While the European Convention on Human Rights upholds various human rights, such as liberty and security, a fair trial, and privacy, these rights are recognized as having limits in some situations. Article 18 is designed to ensure these limitations aren't used as a pretext for restricting human rights. Navalny's achievement is significant, in that cases involving breaches of Article 18 have only been upheld four times before.
"It is a very clear judgment," AFP reported Navalny as saying following the ruling.
"The European court recognizes that it was a politically motivated arrest and persecution. It was very important not just for me but for other people all over Russia who are arrested every day," he said.
Navalny has spent a total of 172 days in jail, according to a spokeswoman quoted by AFP. Often, he is held for a few weeks or forced to pay a fine.
This year, he's been detained at least four times: In January, he was arrested at a rally in Moscow, then again in May at another rally. In August, he was jailed for a month for planning an unauthorized anti-government demonstration, and in September, he was jailed again for breaking a law on protesting.
Navalny was initially prevented from leaving Russia to attend the ruling, with authorities claiming he had to pay a court fine of $32,000. Navalny said the fine was suddenly enforced to stop him from traveling.
He flew out of Moscow on Nov. 14, after the federal bailiff's service rescinded the travel ban, saying Navalny had paid the fine.
Leonid Slutsky, chairman of the Russian Parliament's international affairs committee, said the ruling raised questions about the court's objectivity.
"The ECHR is increasingly becoming a tool to pressure our country," Slutsky wrote on social media.
Reuters contributed to this report.