HONG KONG—Five days of impressive T20 cricket was on display in Hong Kong from March 8 to 15. This was the second such event in Hong Kong, demonstrating a big move forward from last year, in organisation, and standard of play with many more overseas players attracted to the event with top players from around the globe taking part,
After 5 days of bat on ball with T20 league matches between 5 teams each with a mixture of local and international players, Kowloon Cantons and City Kaitak emerged finalist. They had both won 3 matches from 4 games, each finishing with 6 points but Kowloon Cantons topped the league table with a superior run-rate. These two teams met in the final on the afternoon of Sunday March 12, 2017.
The last league match of the series was played on Sunday morning with a game between City Kaitak in their distinctive yellow kit and Hong Kong Island (HKI) in their red gear. City Kaitak scored 167 in their 20 overs. HKI were fairly well up to run rate in the early stages, and had reached 64 for 3 in the 8th over but were losing wickets at regular intervals.
Misbah and Dar moved the total forward but then Dar hoisted a ball to leg and was well caught making the score 78 for 4 in the 10th over. Pascoe joined Misbah and they took the total onto 92 before the 5th wicket fell in the 13th over. Ehsan joined Misbah but Ehsan only lasted a few balls before being dismissed – 92 for 6 wickets still in the 13th over. The run rate required had increased to 9 per over and HKI were running out of batsmen.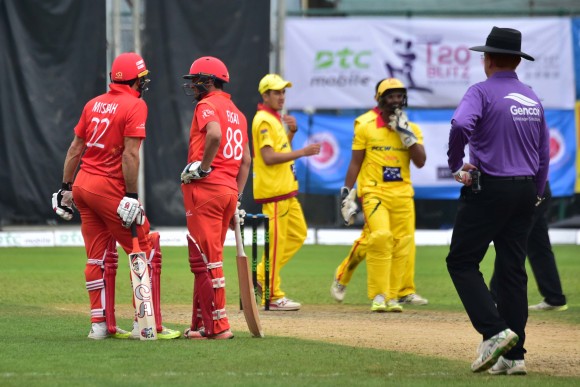 Tanwir Afzaal joined Misbah and started with a 6, hitting the ball out of the ground and the umpires had to select a replacement ball. Tanwir was striking the ball well but the partnership only lasted 1 over as Misbah was caught on the boundary in over 14 with the score at 101. Another catch by Chris Jordan dismissed Tanwir without advancing the score. Desperate times for HKI as they were running out of wickets. Saeed Ajmal and Kyle Christie took up the fight but Saeed tried a cheeky deflection to leg but he missed the ball which struck the leg wicket – bowled out. Now they were down to the last batting pair. Christie miss-timed a hit through the covers and was easily caught by Ryan Buckley to end the game with City Kaitak winning by 52 runs, to take them into the final.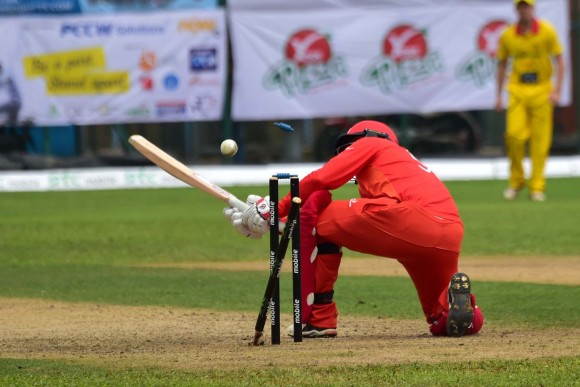 The Final
The final between City Kaitak and Kowloon Cantons was a spectacular affair. Cantons batted first with big hitting by openers Dwayne Smith and Babar Hayat scoring 73 in the first 6 overs and clocking up 118 in 9 overs without loss of a wicket. 140 for no wickets and both batsmen were piling on the runs.




But Hayat fell at 149 and Smith followed soon after caught by Aizaz Khan with the score on 162 in the 15th over. But bats 3 and 4, Marlon Samuels Ashar Zaidi continued the charge, They took the score to 214 before Samuels was caught in the last over of the innings. Calum MacLeod came in and the innings finished at 222 for 3 wickets – the highest total of the tournament.
A target of 223 for City Kaitak was a big ask at over 11 runs per over.
City Kaitak openers Kyle Coetzer and Tillakaratne Dilshan started with a half-century partnership, 57 without loss in 4 overs was ahead of schedule. However the partnership was broken when Dilshan was caught by Mudassar with the score at 65 at the end of the 4th over. Waqas Barkat came in at No 3, but was out stumped when the score was on 76, midway through the 6th over.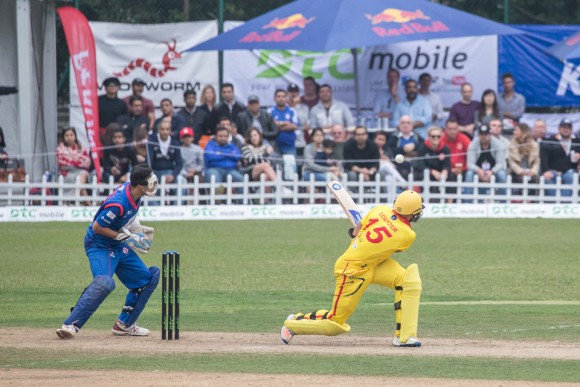 Barkat was replaced by Nicholas Pooran and he and Coetzer took the score on to 108 before Coetzer was caught off the bowling of Tanveer Ahmed in over 10, bringing Aizaz Khan to join Pooran. Khan only lasted 2 balls making it 108 for 4. Wickets were beginning to fall too quickly to maintain the run rate. Pooran was the next to go in the 11th over with the score on 121. Chris Jordan came to the crease but soon lost his partner Gareth Harte later in the 11th over – 123 for 6 and life was getting difficult!
Ryan Buckley now joined Jordan and added 21 runs before Jordan was caught out midway through the 15th over – 144 for 7.  Emrit and Buckley brought up the 150 but disaster struck in the 17th over when Emrit was out LBW to Arafat and Ankur Vasishta Sharma was bowled by Arafat. The last man Nadeem Ahmed walks to the crease at 168 for 9 wickets needing an unlikely 55 runs from 2.2 overs!
The last pair made every effort but at 197 Buckley was caught by Waqas off Hayat to close the innings and Kowloon Cantons had won by 25 runs.
A pretty even match, but once Kaitak started losing wickets, the run rate dropped making the task even more difficult.
Finalist Squads
Teams were selected from the following squads.
Kowloon Cantons: Dwayne Smith*, Babar Hayat(c), Marlon Samuels*, Calum MacLeod*, Ashar Zaidi, Waqas Khan, Ahsan Abbasi, Shahid Wasif(w), Yasir Arafat*, Mudassar Hussain, Tanveer Ahmed, Shahid Afridi, Isaac Poole, Ehsan Nawaz, Li Kai Ming, Angus Robson, Sunny Bhimsaria
City Kaitak: Kyle Coetzer*, Tillakaratne Dilshan*, Aizaz Khan(c), Waqas Barkat, Gareth Harte, Nicholas Pooran*(w), Chris Jordan*, Rayad Emrit*, Ryan Buckley, Ankur Vasishta Sharma, Nadeem Ahmed, Raag Kapur, Akbar Khan, Niaz Ali.
Note: * Denotes overseas players.