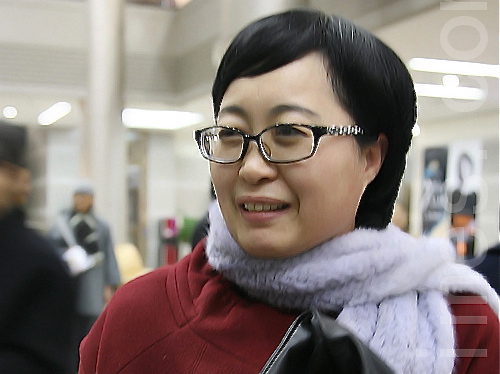 DAEGU, Korea—The Suseong Art Center in Daegu, Korea, ushered in the premiere of Shen Yun Performing Arts New York Company on Feb. 24. After the performance, clothing entrepreneur, Mrs. Bai Jinrui, spoke of her experience: "The plot of the stories was very wonderful; so much so that it moved the audience in a continuous succession."
Mrs. Bai continued to share her feelings, saying, "The show, overall, was extremely amazing," and "the continuous scenes making the stories unfold were very touching."
Based on her understanding of classical Chinese dance, she said, "I used to think that the motion of Chinese dances were their skills, but this time I understood that, in fact, it is their classical arts. I was impressed very much, as the dancing performances were not only exquisite and graceful, but they also had a robust nature full of brightness and warmth."
"The huge dynamic backdrop was really amazing. Perhaps, it is because the scenes on the backdrops were something relating to our Oriental culture that I sensed a very warm feeling. The use of color was perfect. In addition, the backdrop can display changes of four seasons and the atmosphere of life," she said.
Mrs. Bai explained that the performance gave her a sense of peace, as well as a swiftness and a strong sense of rhythm. "It is really very wonderful," she said.
"The village life showcased in the program Happiness in the Huai Valley was very impressive, which allowed me to sense a cheerful atmosphere. Flowers in full bloom and the breath of spring demonstrated in the programs Lotus Leaves and Flower Fairies made me feel relaxed."
Mrs. Bai also shared an insight she experienced from watching the performance. She said: "I also enlightened to many of God's revelations to humans. And further realized that humans should live with conscience and do good deeds."
'The performers are truly outstanding'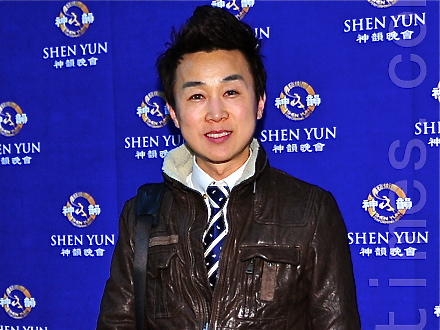 On the evening of Saturday, Feb. 25, having long been attracted to Shen Yun, Chi Heng Kwan, a hairstylist and a professor in the College of Arts at Seo Kyeong University, applauded the marvelous skills by the dancers, the sublime music of the orchestra, and said, "the reputation of Shen Yun has indeed preceded itself."
Through classical Chinese dance, Shen Yun portrays the beauty of both the masculine and the feminine, leaving an unforgettable impression. Professor Kwan expressed that there was a difference between male and female dances, with the males emphasizing the physical robustness of men, and the females focusing on the gracefulness of women.
Professor Kwan also marveled at the dancing skills, saying: "The unmatched tumbling ability and the outstanding dancing skills of the male performers have once again proved that the reputation of Shen Yun is well-deserved." He added: "In a dance performance laden by drama and talents, the performers are truly outstanding, genuinely portraying the characters with body movements and candid facial expressions."
Professor Kwan further said that the erhu solo performance by Xiaochun Xi was simply compelling. Being very knowledgeable about musical instruments in Korea, he commented: "The musical tone of the erhu was simply sublime. … "
That's not all there was as Professor Kwan also loved the animated backdrop, and how it changes according to the movement of the performers on stage. Such seamless integration had Professor Kwan in awe. "This was simply stunning. It is absolutely incredible," he said.
Professor Kwan said he will definitely be back next year.
Reporting by Shijiong Li & Joseph Wu and Xu Xiaobin & Frank Fang.
Shen Yun Performing Arts, based in New York, tours the world on a mission to revive traditional Chinese culture. Shen Yun Performing Arts New York Company will perform in various cities in Korea until March 4 and then continue to top venues in Taiwan, Australia and New Zealand.
For more information visit ShenYunPerformingArts.org
Read the Chinese article
Read the Chinese article