Korean Christian Students Provide Relief to Refugees in Petition Village
October 4, 2006 12:00 am Last Updated: October 4, 2006 12:00 am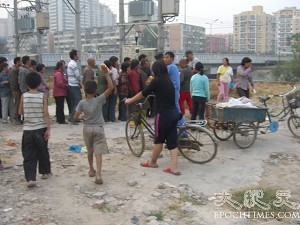 On the morning of October 1, over 100 refugees from a petition village in Beijing had lined up to wait for the arrival of a relief team organized by Christian exchange students from South Korea.
One of the locals told an Epoch Times reporter, "Today is a 'big' day for mainland China—it is National Day, a public holiday. Chinese people have lived through this 'holiday' 57 times [since the Chinese communist regime has been established], but our lives have become worse and worse with each passing year. Now we all have to beg for food and wait for people to relieve our suffering. Living feels even worse than dying. Nowadays, we receive no food from Chinese Communist Party. Instead, those foreigners who believe in God are the ones giving us food. They are all Korean foreign students studying in Beijing. They give us food and clothes very often, and we really appreciate them. We heard that they are coming today, so we have been eagerly anticipating their arrival since the early morning."

The appellants claim their petition village has been destroyed by the local authorities several times. The local authorities have also driven away the appellants multiple times since before October 1, but they keep coming back. It seems the authorities is unable to get rid of petitioners.