Kokomo, Indiana: Reported Tornado Causes Major Damage
November 17, 2013 4:18 pm Last Updated: November 18, 2013 12:45 pm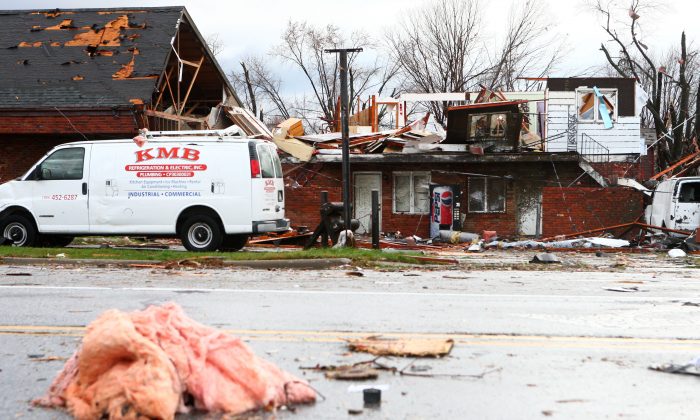 A tornado likely caused major damage in Kokomo, Indiana, located north of Indianapolis.
Brian Scott with 1610 AM XRB wrote on Twitter that major "damage with injuries reported in Kokomo. Looks like a major hit. Houses destroyed. Gas leaks. Area near Markland Mall and Hoffer St." 
A state of emergency was declared through Monday, meaning that schools will be closed and trash pickup will be suspended.
The Kokomo Tribue wrote that a "house was reported in the road near Goyer and Markland Avenue. Woman was reported trapped under a car near Hoffer Street. Police are checking door-to-door in Quail Run subdivision." 
On Monday, power companies worked to restore power to thousands of customers who suffered outages during the tornado outbreak. As of around 9 a.m., more than 25,000 Duke Energy customers were without power across Indiana. Other power companies said that more than 30,000 people had no power, said the Indianapolis Star.
In Kokomo, reports suggested that the Markland Mall in Kokomo was also damaged, while Firehouse 6 was hit. The roof of the Chrysler casting plant also came off, another person wrote on Twitter.
There were power outages across the city, including traffic lights being out.
The Kokomo Police Department is urging people to stay off the roads, and people should away from the south side of the city.
Howard County Emergency Management crews told the Indianapolis Star that there were injuries at the Kokomo Town Center, a local mall.
"We've got ambulances there getting them out," said Larry Smith, who heads the Howard County Emergency management, according to the paper. "What kind of damage or how badly they're hurt, I don't know." 
Kokomo Mayor Greg Goodnight says a storm that damaged large swaths of his city is the worst he's seen in 48 years living there.
Goodnight said Sunday night he's grateful no deaths have been reported. He says crews planned to continue work through the night clearing debris and restoring power to residents.
The city police department sent photos of buildings with roofs torn off, a destroyed bank branch and other updates on its Twitter account.
Governor Mike Pence said 15 counties in Indiana suffered damage.
"We are wanting to follow the lead of the local jurisdictions," Pence told Indiana Public Media. "Once they get a handle on what their needs are providing personnel and resources to help them put their communities back together will be a real focal point for us." 
Nearby Lebanon also saw tornado damage.
The Associated Press contributed to this report.
MORE:
Brookport, Ill., Suffers Major Damage in Tornado
Lebanon, Indiana: Tornado Touches Down on Sunday, Hits Starbucks