Kobe's Facebook Rant: 'Maybe This is How My Book Ends'
April 13, 2013 12:44 pm Last Updated: April 13, 2013 12:46 pm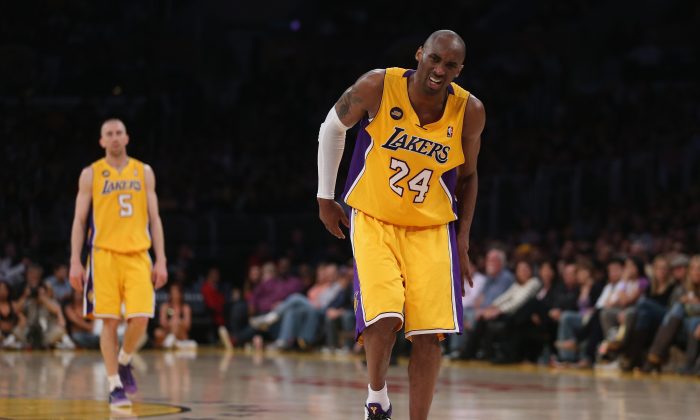 Kobe's Facebook rant: Following an injury to likely his Achilles tendon that will leave him out for the rest of the season and playoffs, Kobe Bryant went on a rant on Facebook to vent his frustration.
"This is such BS! All the training and sacrifice just flew out the window with one step that I've done millions of times! The frustration is unbearable. The anger is rage. Why the hell did this happen ?!? Makes no … sense. Now I'm supposed to come back from this and be the same player Or better at 35?!? How in the world am I supposed to do that??" he wrote.
He added: "I have NO CLUE. Do I have the consistent will to overcome this thing? Maybe I should break out the rocking chair and reminisce on the career that was. Maybe this is how my book ends. Maybe Father Time has defeated me…Then again maybe not!"
"It's 3:30am, my foot feels like dead weight, my head is spinning from the pain meds and I'm wide awake. Forgive my Venting but what's the purpose of social media if I won't bring it to you Real No Image?? Feels good to vent, let it out. To feel as if THIS is the WORST thing EVER!"
Bryant said that despite the venting, a "real perspective" has set in.
"There are far greater issues/challenges in the world then a torn achilles. Stop feeling sorry for yourself, find the silver lining and get to work with the same belief, same drive and same conviction as ever," he said, before adding: "I know it's a long post but I'm Facebook Venting LOL. Maybe now I can actually get some sleep and be excited for surgery tomorrow. First step of a new challenge."
After the injury, Bryant gave a calm yet somber interview after the Los Angeles Lakers beat the Golden State Warriors on Friday night.
He will undergo an MRI to see whether his Achilles was injured, according to ESPN. He said that he couldn't walk despite his attempts.
"I was just hoping it wasn't what I knew it was," Bryant told the network. "Just trying to walk it off, hoping that the sensation would come back, but no such luck."
After a timeout, he walked back onto the court and hit both his free throws.
"I mean, this is a long process and wasn't sure I could do it. Then your kids walk in and you're like, 'I need to set an example. Daddy is going to be fine.' I can do it. Work hard and just go from there," he said.
Recovery for a torn Achilles, as ESPN pointed out, can take as long as three month to a year to recover from. But some NBA legends' careers have been cut short because of the injury, including those of Charles Barkley and Shaquille O'Neal.
"It's a new experience for me. Obviously, there's been a bunch of players that have had the same injury, so, all I can do is look at them and what they've done and who had more success coming back quicker and healthier and see what they did and see if I can improve upon it," he said.