BRUSSELS—For Belgians, beer is a serious business. In a country with a population of just 11 million people, there are 224 breweries pumping out around 1,600 different varieties.
It is a place where bars pride themselves on the vast array of ales, wheat beers, lambics, and lagers they serve to an ever-thirsty public. Two such watering holes boast huge menus of more than 3,000 different types of tipple.
But now, this tiny country's legendary love of the amber nectar is being challenged by a new kid on the block. Belgium, land of beer, is increasingly warming to wine.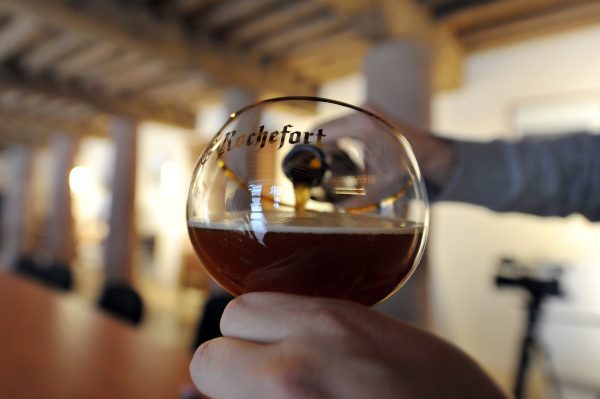 The amount of land dedicated to the growing of grapes has almost quintupled in the last decade alone, ballooning from just 72 hectares (178 acres) in 2005 to 343 hectares (848 acres) last year, according to Belgian government figures.
In turn, the number of winemakers has exploded, too—rising by 10 percent last year—with 237 producers nationwide bottling just under a million liters of vino last year.
Record Year
Belgium's wine industry is booming and vineyard owners are predicting 2018, which has been characterized by unusually high temperatures, will be their best year ever.
This year, Northern Europe basked in balmy Mediterranean temperatures topping out in the 90s for much of the summer, followed by a relieving downpour of rain toward the end of August that replenished the parched soil.
Winegrowers in Belgium say this combination of weather has led to a bumper crop, with grapes swelling in size and sugar content and ready to harvest several weeks earlier than usual.
Pierre Rion, head of the Association of Wine-Growers of Wallonia—a French-speaking region in the south of the country—predicted this year's vintage would be "exceptional."
Calculating that more than a million bottles of Belgian wine will be produced in 2018, he said: "This is already a record year both in terms of volume and quality. We had an excellent spring and an exceptional summer."
Winegrowers have said they are stretched to full capacity and will have to work overtime to press the abundant crop of grapes, which has been harvested over the past two weeks.
Lodewijk Waes, who owns a vineyard near the northern city of Ghent, said: "A year with a harvest like this can mean a lot. Anyone who buys and tastes Belgian wine will be amazed."
Meanwhile, Arnaud Leroy, who runs Les Agaises vineyard—the largest in Wallonia—also said that 2018 had been an "exceptional year" and predicted he could make as many as a quarter million bottles.
Global Recognition
It is not just in terms of quantity that Belgian wines are starting to make a mark; varieties from the country are starting to scoop prestigious awards on the international stage.
"Twenty years ago, we had wines that had tastes of citrus, lemon, and a bit grapefruit," explained Etienne Rigo, co-owner of the Domaine de Mellemont winery south of Brussels.
"Today, we have wines that are closer to exotic products—lychee, pineapple. This is a notable evolution. We had much lighter wines 20 years ago. Today, we have wines that are fatter, with a longer finish and a much longer persistence."
With production and global recognition on the up, scientists have even more good news for Belgium's winegrowers as they predict climate change could lead to a further boom in the industry in Northern Europe.
While this year's blazing temperatures have alarmed the region's beer producers—even threatening the future of one of Belgium's oldest varieties—they have been a godsend for vineyards.
"We do clearly see a shift where regions in the Mediterranean which are currently suitable for viticulture will no longer be suitable in the future, or less and less suitable," said Wim Thiery, a climate scientist at Vrije University in Brussels.
"Instead, regions in northern Europe such as Belgium will become suitable in the future for vineyards and for wine growing."