The knife crime epidemic plaguing England and Wales has hit a record high, new figures for the year ending in March 2019 show, with sharp instrument offenses up by 8 percent year on year.
The data released by the Office for National Statistics (ONS) shows there were 43,516 police-recorded offenses in the UK for the year ending in March 2019 involving a knife or sharp instrument.
Compared to 2014 figures—a low point in offenses committed using sharp instruments since records began in 2011—the new historic high represents an alarming 80 percent increase in knife crime.
Rural areas in Britain, meanwhile, have seen a 50 percent rise in knife crime year on year, while over the past four years the proportion of crimes solved in the UK overall has plummeted by half.
The March 2019 figures show only 7.8 percent of crimes result in a charge or summons, while four years ago that figure stood at 15 percent.
"The picture of crime is a complex one. Overall levels of crime have remained steady, but this is not the case for all types of crime," said ONS' Mark Bangs, via Sky News, adding that there were increases in "violent crimes involving knives and sharp instruments" and "fraud and overall theft."
Policing minister Nick Hurd was cited by the Telegraph as saying, "We are deeply concerned that certain offences, including serious violence, have increased and we are taking urgent action."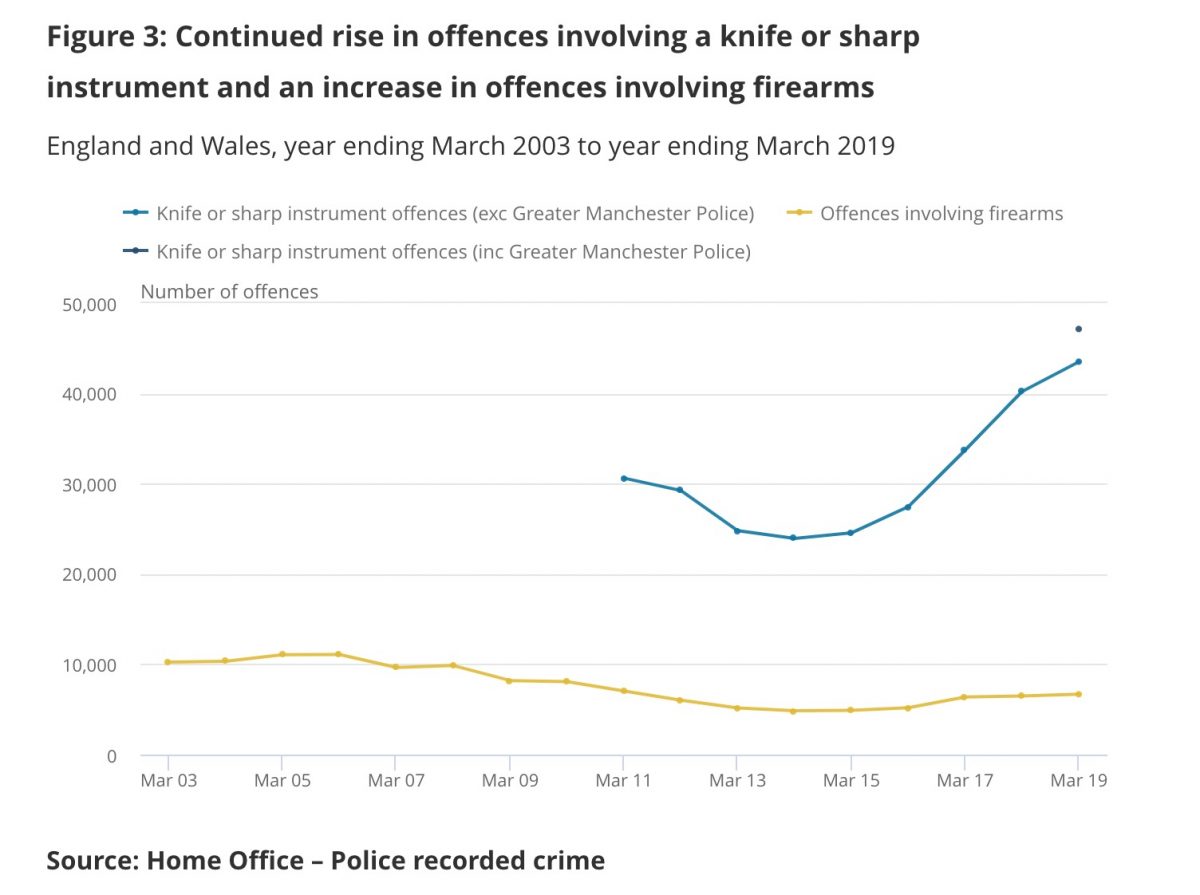 'Human Cost of Austerity'
The rise in knife crime is pronounced in London, where for every 100,000 people, there were 169 knife-related offenses.
The number of recorded robberies is also disproportionately high in London, the ONS says, accounting for 40 percent of all recorded robberies. London also accounts for 16 percent of all recorded crimes in England and Wales.
London Mayor Sadiq Khan has decried the rampant knife crime as the "human cost of austerity."
"The sad reality is the violence we're seeing on our streets today is an appalling side effect of increasing inequality and alienation caused by years of austerity and neglect," he said earlier this week.

Khan said City Hall data showed a "direct link" between poverty and violent crime.
But scientists studying the link between crime and socio-economic factors broadly agree that it is not levels of poverty that drive crime, but relative levels of income or wealth as measured by the Gini Coefficient.
"About 60 [academic] papers show that a very common result of greater inequality is more violence, usually measured by homicide rates," says Richard Wilkinson, author of The Spirit Level, via The Guardian.
Martin Daly, professor emeritus of psychology and neuroscience at McMaster University in Ontario and author of Killing the Competition: Economic Inequality and Homicide, told The Guardian that income or wealth inequality, as measured by the Gini Coefficient, predicts homicide "better than any other variable."
Some British politicians and experts have called for different policing methods to combat knife crime, in particular increasing the use of stop-and-search powers. According to Home Office statistics, cited by BBC, the number of instances of stop-and-search has fallen dramatically from around 1.6 million in 2009-10, to around 300,000 in 2017-18.
These powers let officers search people if they have reasonable grounds to suspect they may be carrying weapons or items that could be used to commit a crime. In some cases, there need not even be reasonable grounds for a stop-and-search, only a belief on the part of a senior officer that there is a risk of serious violence in a given area.
According to the BBC, the drop in the use of stop-and-search was driven in part by concerns that the measures disproportionately targeted young black men. Other reasons cited were lack of effectiveness at catching criminals and wasted police resources.
The BBC noted, however, that there was some anecdotal evidence that the drop in stop-and-search had emboldened people to carry knives.
'Knife Crime Crisis Continues Unabated'
Javed Khan, chief executive of Barnardo's, Britain's biggest children's charity, was cited by the Telegraph as saying, "It's unacceptable that the knife crime crisis continues unabated with offences at record levels.
"Children are not born with knives in their hands, knife crime is a symptom of a much bigger problem. Our frontline support services say vulnerable children and young people are being recruited and exploited by criminal gangs and forced to traffic drugs and carry knives.
"Urgent action must be taken so that future generations are not condemned to live in an endless spiral of violence."
Murder Rate Drops In UK
The recent ONS figures show a total of 701 homicides in the year ending March 2019, which is a 4 percent fall (from 728) compared with 2018.
This is the first drop in the number of homicides since the year ending March 2014, following four consecutive year-on-year increases.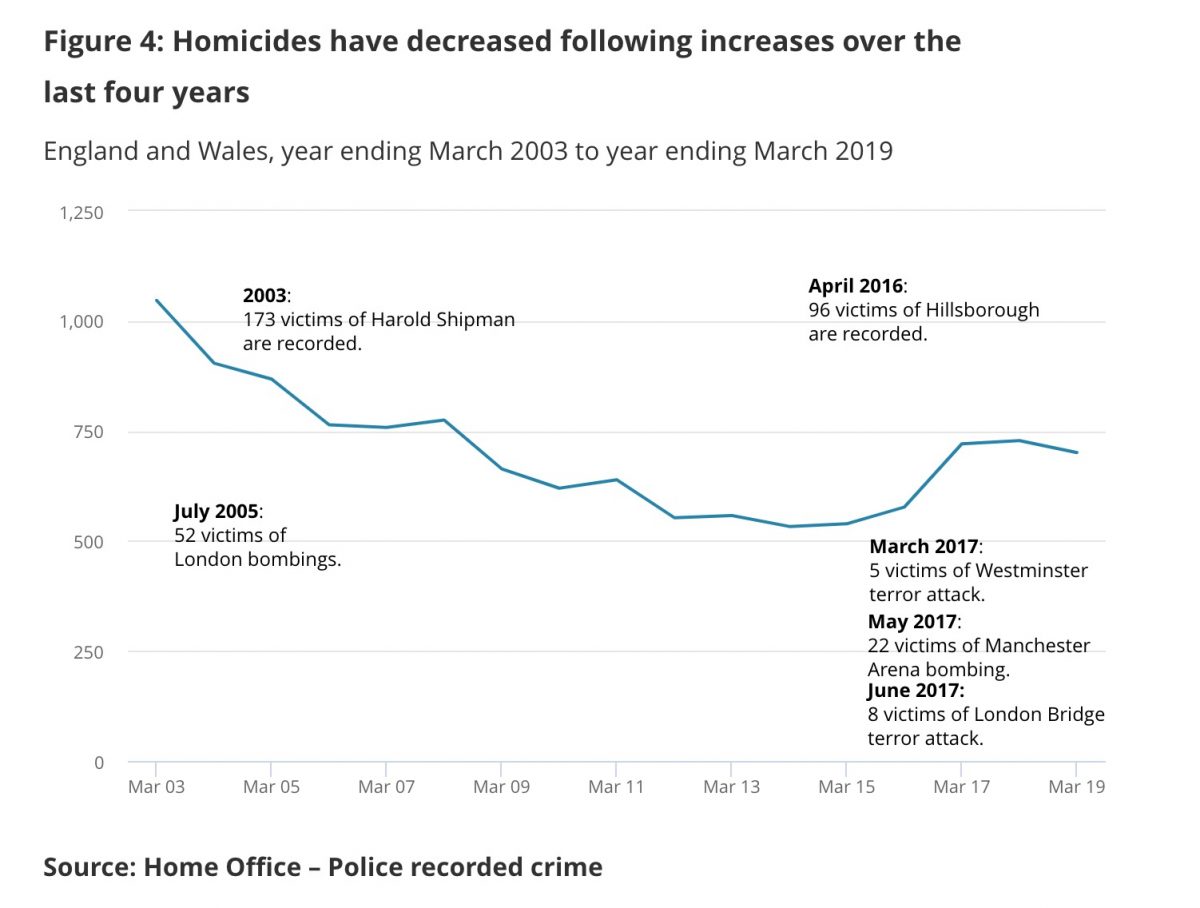 Still, the rate of homicide in the UK population remains relatively low, at 12 homicides per million people (or 1.2 per 100,000), according to 2017 figures.
By comparison, the homicide rate in the United States in 2017 was nearly five times higher than in the UK, with 53 murders per 1 million people (or 5.3 murders per 100,000), according to the Brennan Center for Justice, based on its own analysis and FBI figures.