The New York Knicks aren't doing great in preseason but are building up to the upcoming regular season, and fans are wondering about the latest news and rumors.
Check out the latest buzz below.
Carmelo Still Getting Used to Triangle Offense
Carmelo Anthony is finding that he has to adjust his game for the triangle offense that new coach Derek Fisher is implementing.
"It's an adjustment because I'm used to taking my time and seeing where the defense is coming from. And even now, it's a medium that you've got to play with," he told ESPN.
"Sometimes you can hold it a little, sometimes you don't have it, (you have to) get it out quickly. So it's an adjustment for me."
Anthony has played a lot of isolation ball the last two seasons as the offense flowed through him. Now, he's expected to get rid of the ball quickly if he can't do anything. 
"If you don't have nothing in a second, second and a half, the ball is out," Anthony said. "There's no holding, there's a lot of ball movement. So your [teammates] have got to be ready for it."
"We haven't even broke the tip of the iceberg yet in terms of this offense," Anthony said. "So for me I'm still trying to find my ay and trying to see the spots on the court and trying to get the timing down on this offset."
Hardaway Ahead on Offense
Second-year player Tim Hardaway Jr. is ahead of many of his teammates in learning the triangle because he pl sumer league in Las Vegas.
He's actually been helping the veterans with the offense, reported the New York Post.
Hardaway, a first-team All-Rookie choice last season, participated with the Select Team against Team USA in the training for the FIBA World Cup after the summer league.
"I see more confidence," Anthony said of Hardaway.
"That says a lot because Tim has a lot of confidence. He believes in himself a lot more. I need Tim's confidence to be sky-high."
Jackson Says Dolan Won't Meddle

New Knicks president Phil Jackson says that owner James Dolan, who is infamous for meddling with personnel decisions, won't do so with him.
"I was point blank and honest with him and said, 'If I walk into your office or call you up on the telephone and tell you that I want to trade X player who's an All-Star or Y player who's the fans' favorite, if I think it's the right move, I want you to feel confident that I can do this, will you give me the liberty to do this?' And he said yes, and that's really the key," Jackson said while speaking at The New Yorker Festival in Manhattan, per ESPN.
Jackson had the choice, for instance, of not re-signing Anthony. 
"I had that liberty to make that choice and needed to have that to come and do the job the right way," said Jackson.
Jackson said that Dolan has been correct at some points in the past when interfering with team decisions.
"He has this tremendous competitive drive and wants to really do well," Jackson said. "In the process, he's gotten involved in basketball simply because things have happened in this organization that have irritated him."
Knicks Undergo Mindfulness Training
Jackson, known as the Zen Master, has the Knicks undergoing mindfulness training.
The training is an attempt to help players stay in the moment.
Amare Stoudemire said that one 45-minute session took place during training camp, under the direction of a guy that Jackson brought in, reported the New York Daily News.
"This mindfulness is about sitting still and being quiet and controlling your breath and allowing you to be in the moment," said Jackson.
"And yet it's so vital for a team to have this skill or players to have this skill. To be able to divorce themselves from what just happened that's inherent to them — a referee's bad call, or an issue that goes on individually or against your opponent. You've got to be able to come back to your center and center yourself again."
Mindful training, I think it falls into the category of mental performance," Fisher added. "We've seen that evolve in professional sports in recent years where instead of always focusing on improving your performance in just the muscles and the bodies and the shooting, there is a very big muscle up here that also needs training sometimes. And so mindful training, mental performance, we take it seriously."
Lou Williams scores 21, Raptors beat Knicks 81-76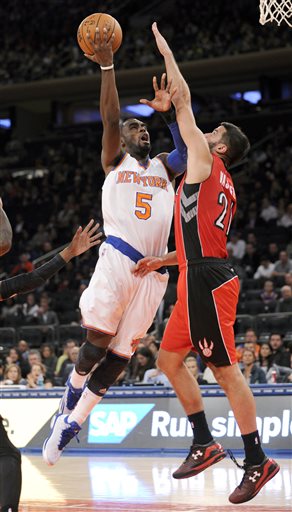 NEW YORK—Lou Williams scored 21 points and the Toronto Raptors beat New York 81-76 on Monday night in the Knicks' preseason home opener.
With starting point guard Kyle Lowry sitting this one out, Williams came off the bench and shot 6 of 9 from the field in 24 minutes. Toronto acquired him in June from Atlanta.
Carmelo Anthony scored nine points on 4-of-6 shooting in 15 minutes for the Knicks, who had just one player in double figures. J.R. Smith had 10 on 4-of-12 shooting.
Toronto center Jonas Valanciunas also got the night off, and former Raptors No. 1 overall pick Andrea Bargnani of the Knicks sat out with a strained right hamstring. Coach Derek Fisher said it was possible Bargnani could play Tuesday in Syracuse against Philadelphia, though the medical staff might prefer he gets a little more rest.
The Knicks opened an 8-0 lead but were horrendous offensively from there as they work to implement the triangle offense that Fisher played in Los Angeles under Phil Jackson. They managed just four more points in the first quarter and shot 3 of 23 (13 percent) from 3-point range.