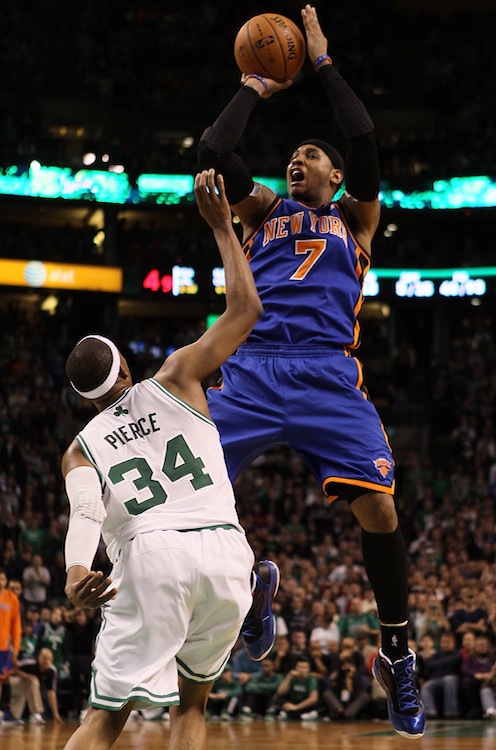 Boston guard Rajon Rondo scored 18 points, dished out 20 assists, and grabbed 17 rebounds for his fourth triple-double of the season as the Celtics (19-17) topped the Knicks (18-19) 115–111 in overtime Sunday afternoon in Boston.
In doing so, Rondo became just the third player in NBA history, along with Jason Kidd and Magic Johnson who both did it twice, to record better than 15 points, 15 rebounds, and 15 assists in a single game.
Meanwhile New York's sudden sensation, point guard Jeremy Lin, was saddled with foul trouble early and finished with more turnovers (six) than assists (five) while shooting 6/16 from the floor for 14 points. Lin's two first-quarter fouls limited him to just three minutes in the opening quarter, though backup point guard Baron Davis played well in his absence, contributing eight points and seven assists in 21 minutes.
The Knicks actually were well in control of the game in the second quarter, despite Lin still being in foul trouble. New York went on a 14–4 run midway through the quarter to take a 52–40 lead and after a late Boston surge, headed into halftime ahead 56–51.
The Celtics, though, continued their surge after halftime eventually tying the score at 60 and then running right past Knicks, taking an 80–65 lead off a Chris Wilcox layup, assisted by Paul Pierce that brought the Boston faithful to their feet and forced Knicks coach Mike D'Antoni to take a timeout.
Pierce was especially deadly in the third-quarter run by Boston, scoring 17 points in the period as the Celtics outscored the Knicks 29–16 in those 12 minutes. The Knicks scored the final seven points in the quarter to cut the lead to single digits at 80–72.
Pierce would end up with a game-high 34 points, including a three-pointer with 4.9 seconds left in the game that tied it at 103, forcing overtime.
The shot came after the Lin sparked the team to a 19–8 run in the final period to retake the lead. Lin personally scored a layup and followed that up with a three-pointer to cut a 96–90 lead down to 96–95 in just 48 seconds. From there Carmelo Anthony took over, scoring six straight points, the last of which put New York up 101–100.
Anthony finished with a team-high 25 points and 7 rebounds.
Knicks forward Amare Stoudemire scored four of the Knicks eight points in the overtime period, but it wasn't enough as Ray Allen and Rajon Rondo scored 10 of Boston's 12 overtime points to win it.
Stoudemire finished with 16 points and 13 rebounds, while center Tyson Chandler recorded a team-leading 14 rebounds to go along with 8 points.
The loss is the fourth in the last seven for New York following their seven-game winning streak. The Knicks' next game is Tuesday night at Dallas.