Kiryienka Gets Huge Solo Win, Horner Nearly Grabs Red in Vuelta a España Stage 18
September 12, 2013 3:12 pm Last Updated: September 12, 2013 3:34 pm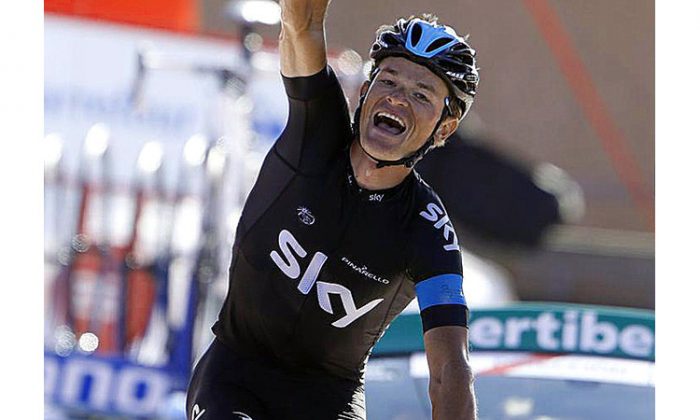 The 2013 Vuelta a España cycling race, the last three-week Grand Tour of the season, is into its final phase and the race couldn't be more exciting.
Several stages have been one by riders making long solo attacks, which is how Stage 18 ended. Sky's Vasil Kiryienka attacked 45 km from the finish line and climbed two mountains, The Cat Two Alto del Caracol and the ridiculously steep Cat One Peña Cabarga, which starts at 12 percent and hits a 21-percent slope near the top.
Kiryienka attacked a 15-rider breakaway so far from the finish it seemed foolish, but the Russian rider buried himself over the Caracol, blasted through the 40 kilometers to the Peña Cabarga, and forced himself up the steep slopes. The entire peloton, pushed on by the Movistar team, couldn't catch the lone rider.
"Once I'd gone away I knew I had to keep calm on the straight bits of the descent and then try to build time by sprinting out of the corners," Kiryienka told the Sky website. "Then it was a matter of taking food on board, controlling my effort, and making sure I had enough left in the tank for that final climb.
"Once the road ramped up again it was a matter of riding just below threshold and then judging my efforts over the steeper sections of the climb. It was hard to concentrate at times because the crowds were so loud and they really spurred me on.
"It was an incredible feeling when I wrapped up the victory and I was so pleased to be able to pay the team back for all the faith they have shown in me this year, and all the work they've put in."
The win was the third in a Grand Tour for the 32-year-old Russian; he won a stage in the Giro d'Italia in 2008, and another in 2011, that last stage with a 40-kilometer attack.
This win probably meant more to both Kiryienka and his team. Sky has had a terrible season since Chris Froome won the Tour de France in July, and had been invisible at the Vuelta. Kiryineka gained a stage for himself and saved the race for Sky.
"It's a perfect result for the team because we've been working so hard to get that elusive win in this last week or so." The Russian rider explained. "Our morale has always stayed high but this will have boosted the mood even further. We've come close in the sprints, in the mountains, and now we've won from a breakaway, so we're all really happy."
Battle for the Overall Win too Tight to Call
With two massive mountain stages left, American Chris Horner is only three seconds behind race leader Vincenzo Nibali.
Rarely does a 21-stage race stay so close for so long, but everything about the Vuelta has been surprising.
So far only one sprint stage has been won by a sprinter; riders have snatched stages with long solo breakaways, riders have snuck away in the final kilometer or two to steal stage wins, a couple riders have won their first Grand Tour stages, and most surprising of all, 41-year-old Chris Horner of RadioShack is poised to be the oldest rider to win a Grand Tour—oldest by five years.
This Vuelta has been even more grueling than most Grands Tours, with eleven summit finishes, several with pitches of 15 to 20 percent, and some terrible weather, which caused several dozen riders to retire. This has left the race leaders alone at the front, fighting it out head-to-head on the hills.
Horner needed knee surgery and didn't race from May to August. He recovered excellently—in fact, he is riding better than he has in years. While he hasn't had the racing miles to tune up his legs, he likewise hasn't drained his legs; he is at the peak of his form for the season.
His only rival, Astana's Vincenzo Nibali, won the first Grand Tour of the season, the Giro d'Italia in May, and has ridden a few races since then. Nibali, at 28, is right at his peak as a rider, but even so he is feeling the thousands of miles he has ridden this year.
Horner took the race leader's red jersey on Stage Three with an uphill attack, and won it back in Stage Ten the same way. He lost the jersey and 46 in the individual time trial, and has been clawing his way back to the front ever since.
Twice Nibali has been unable to respond when Horner attacked, in Stages 16 and 18. Horner gained 22 seconds in Stage 16, and in Stage 18 cut the gap to three seconds.
Stage 19 is not that tough; 181 kilometers long but with only three categorized climbs, two cat Threes and a Cat Two summit finish—easy compared to most of the stages. Nibali should be able to stay with Horner here.
It will be Saturday's monumental 20th stage which will probably decide the race. Stage 20 is very short, only 142 km, but it has a Cat Three, a Cat Two, a Cat One and ends on the Beyond Category Alto del'Angliru, a 12.5 km long at an average grade of ten percent with ramps up to 24 percent.
Chris Horner might have fresher legs, but he is almost a decade older than his rival. Nibali is in the prime of his career, but he has a lot more miles on his legs. Whatever each of them has inside will be revealed on the slopes of the Angliru this weekend.