North Korean leader Kim Jong Un sent a New Year's letter to residents, eschewing his annual tirade against foreign powers, state-run media reported.
In the letter, Kim offered thanks to the people for having trusted and supported the ruling communist Party even in the "difficult" times, state news agency KCNA reported on Friday.
The North Korean leader has previously apologized for failing to fulfill promises of economic improvement and for the hardships citizens have endured as a result of international sanctions and strict measures aimed at preventing a coronavirus outbreak.
"In the new year, too, I will work hard to bring earlier the new era in which the ideals and desires of our people will come true," Kim wrote, according to KCNA.
North Korea has said it has no confirmed cases of the CCP (Chinese Communist Party) virus, though officials in South Korea and the United States say that is unlikely. The virus causes the COVID-19 disease.
Kim as the clock turned midnight on Dec. 31, as well as other senior leaders, visited the Kumsusan Palace of the Sun, where the bodies of his father and grandfather—the previous rulers of North Korea—lie preserved under glass.
Kim was also accompanied by delegates to the Eighth Party Congress, a rare political gathering due to be held some time in early January, KCNA reported.
Kim usually gives a public address to North Koreans on Jan. 1, but he skipped the speech last year as well.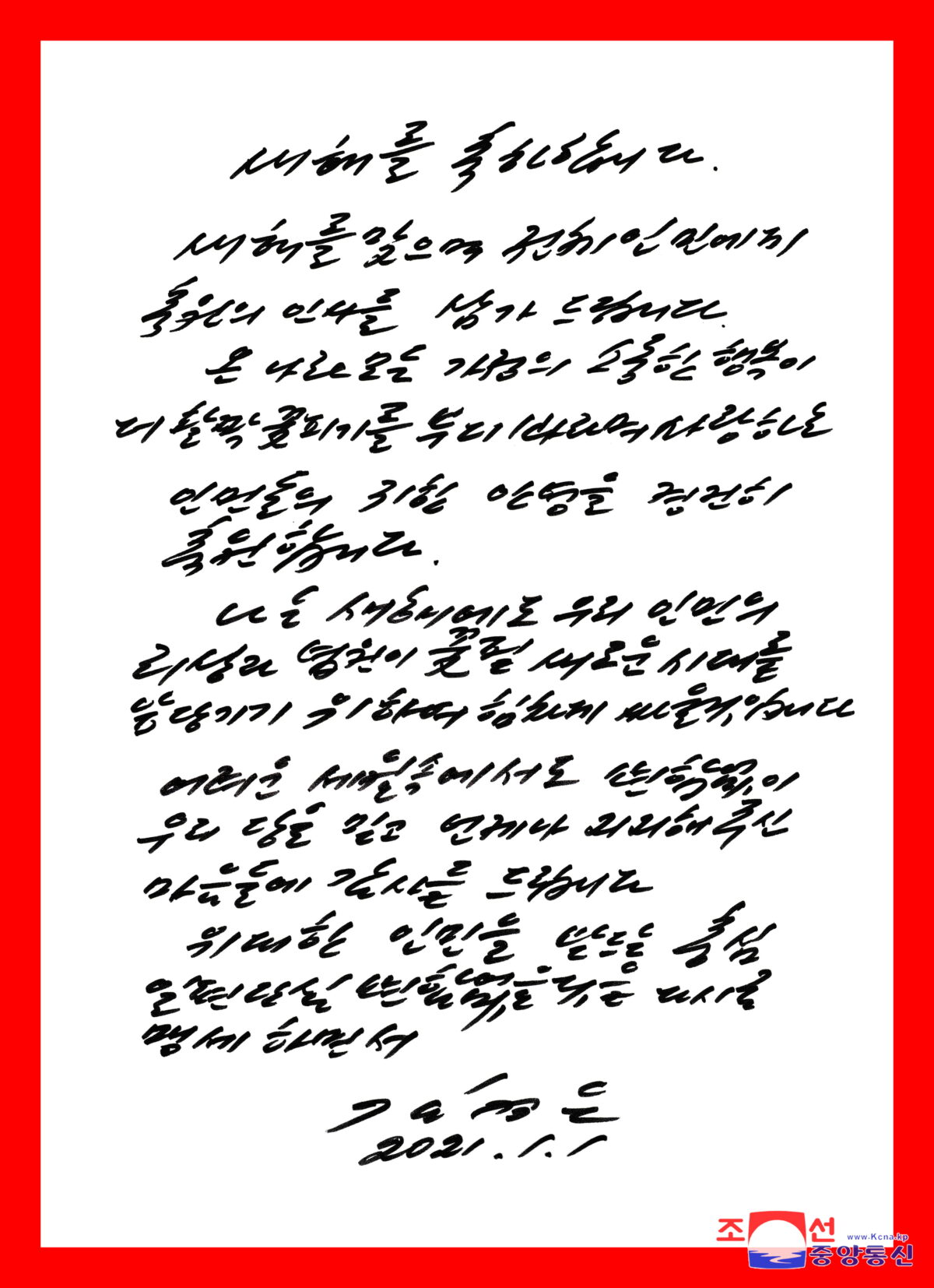 Instead, Kim issued a lengthy report and during an hourslong meeting of the Workers' Party, called for active "diplomatic and military countermeasures" to preserve the country's security.
Peace with North Korea was a key focus of President Donald Trump's foreign policy. Trump became the first U.S. president to meet with a North Korean leader and was seen joking and laughing with Kim at multiple events. At one point, Trump and Kim visited the Korean Demilitarized Zone, which marks the border between North and South Korea.
In late 2019, the United States refused to adhere to a year-end deadline set by North Korea to make concessions in nuclear talks.
North Korea threatened the United States with a "Christmas gift," if negotiations didn't progress. Trump joked at the time that the surprise could be "a beautiful vase." Nothing materialized from the threat.
Trump spoke of Kim in September 2020, as rumors swirled that Kim was close to death.
"Kim Jong Un is in good health. Never underestimate him!" Trump wrote on Twitter, without elaborating.
Kim vanished for weeks, prompting rumors. Some news outlets claimed he had died.
Kim later reappeared. His health appeared to be fine.
Kim, 36, took over as the leader of the country in 2011, when his father Kim Jong-il died.
Reuters contributed to this report.