'Killer' Bees Kill Horses, Hens in North Texas
July 28, 2013 8:09 pm Last Updated: July 28, 2013 10:57 pm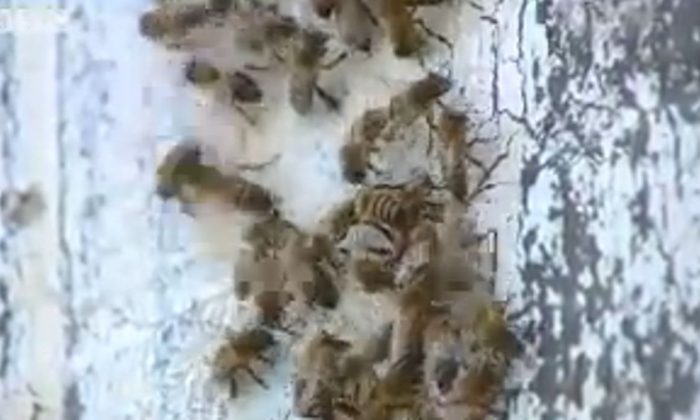 "Killer" bees killed horses and hens in North Texas, according to reports.
A swarm of some 30,000 bees went after a couple in Pantego, located in North Texas, as they were exercising with their horses, reported the Fort Worth Star-Telegram.
Kristen Beauregard, 44, told the newspaper that she was stung around 200 times during the attack on Wednesday evening. Her boyfriend was stung 50 times.
The two horses, named Trump and Chip, were killed after they were literally shimmering with bees during the attack, Beauregard recalled. The horses were stung thousands of times.
"They were chasing us down, they were following us," Beauregard said .
She added: "We swept up piles and piles of them … it was like a bad movie."
According to CBS Dallas, Beauregard was in her backyard with the horses when the attack occurred. She jumped into her swimming pool to avoid the insects but she was still stung.
"And I watched that horse who trusted me to always, always take care of him and I watched him look up at me in so much pain and thrash around and look at me like – why aren't you fixing this?" she told CBS, recalling seeing her horse stung to death.
The bees are being tested to find out if they are "killer," or Africanized, honey bees. The attack appears to be consistent with other "killer" bee attacks in recent years.
"It got all dark, like it was nighttime there were so many bees," Beauregard said. "We were trying to stand up in the water but every time we stuck our heads out for air, they would cover us and start stinging us. We were trying to breathe and they were stinging us in the face and in the nose."
Four of her ten hens also were killed, and her dog was stung, she said.
She told CBS that the hive of bees grew secretly inside the wall of a shed.
"I've never been a step on the ants or kill the bees person, but you know what? That needed to be taken care of," Beauregard said. "Even if you only see 3 or 4 at a time, have a professional come out, I'm not even kidding."
"Killer" bees are a hybrid variety of European honey bees and the African honey bees. They have been spotted in southern U.S. states in recent years. The first documented report of "killer" bees in the United States was in 1985, when a hive was found a Venezuelan oil tanker in California's San Joaquin Valley.