LE BOURGET, France— U.S. Secretary of State John Kerry will travel to Moscow next week for talks with Russian President Vladimir Putin on two of the most vexing crises in U.S.-Russian relations: Syria's civil war and Ukraine's ongoing instability.
The State Department said Friday that Kerry will travel to Moscow after attending a high-level meeting with European and Arab foreign ministers on Dec. 14 in Paris. Kerry will see Putin and Foreign Minister Sergey Lavrov the next day in the Russian capital.
The discussions come amid severely strained ties between the Cold War foes, but there are also some signs of possible improvement.
Washington and Moscow continue to clash over their uncoordinated military efforts in Syria, where the U.S. says it is leading a broad coalition fighting the Islamic State. Russia says its airstrikes since late September have targeted the same foe, but Western governments claim mostly moderate rebels are being hit and that Moscow is primarily concerned with shoring up Syrian President Bashar Assad's control of the country.
Related Coverage
The U.S. and its allies say Assad needs to leave power at some point for Syria's deadly violence to end.
Despite their disagreements, Kerry and Lavrov have been working together to start peace talks between Assad's government and Syrian opposition representatives, hopefully by next month. The State Department said talks in Moscow will cover "ongoing efforts to achieve a political transition in Syria and related efforts to degrade and destroy" the Islamic State.
Kerry said earlier this week that he wanted to visit Moscow soon because Russia was "playing a constructive and important role" in trying to find a diplomatic process to halt the Syrian conflict. It would be "irresponsible" not to test a political solution, he said, and that requires Russia because of its influence in the Arab country.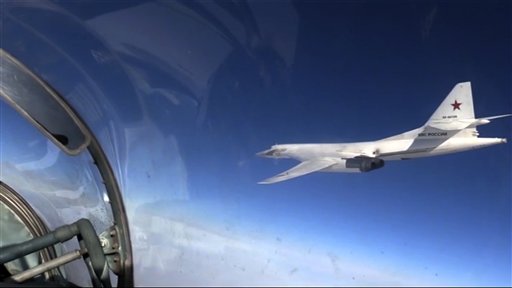 Kerry is hoping the U.N. will endorse his plan for Syria negotiations on Dec. 18, and needs Russian support for that step.
Earlier Friday, Kerry said he was pleased with progress Syrian opposition groups have made to form a united front to negotiate with Assad. But the deal that rival factions reached in Saudi Arabia on Thursday still has "kinks" that need to be worked out to make negotiations possible, he said.
These include the commitment of a key Saudi-backed militant group, which pulled out of the Saudi meeting at one point in protest. The group, Ahrar al-Sham, claimed too much weight was being given to factions close to the Syrian government. U.S. officials stressed that representatives of the ultraconservative group approved the document nevertheless.
On Ukraine, the U.S. has pressed its allies to continue applying sanctions on Russia because of its annexation last year of the Crimea region and support for separatist rebels in the east of the country. Russia has offered no indication it might return Crimea. And the Obama administration says Russia is still helping the separatists through equipment, personnel and training.
But violence is down significantly in recent months. The State Department said Kerry's emphasis on Ukraine will be for Russia's full implementation of a February ceasefire. That deal called for the removal of heavy weaponry from front lines, a Russian troop withdrawal, the release of detainees and full access for international monitors.