Two inmates who escaped in garbage cans from a Kentucky prison have been caught as of about 4:30 p.m. on Oct. 8.
The first inmate was apprehended in the morning, and the other, later that afternoon, according to a Facebook post by the Louisville Metro Police Department.
The two minimum-security inmates worked in the kitchen at the Louisville Metro Corrections Center. Three other inmates helped them hide inside.
The two inmates, Justin Stumler and Jeremy Hunt, escaped from the Louisville Metro Corrections center at around 10 p.m. on Oct. 6. According to a Metro Corrections statement, the pair hid "in the food waste trash cans that were then taken outside the facility for disposal," the Courier-Journal reported.
Lebanon Daily News reported that someone saw the two inmates climbing out of the garbage bins and called the police.
Justin Stumler was arrested on the morning of Oct. 8 near Preston Highway and Indian Trail, about two miles east of Louisville International Airport.
Stumler was caught because someone phoned in a tip about his whereabouts to the Louisville Metro Police Department, LMPD spokesman Dwight Mitchell told the Courier-Journal.
Jeremy Hunt was caught by LMPD at some point in the late afternoon of Oct. 8. LMPD's Facebook post went up around 4:30 p.m. showing pictures of Hunt sitting on the ground in handcuffs, and a mug shot with the words "arrested" printed over it in red.
The Courier-Journal reported that Hunt was arrested after leading law enforcement on a car chase. No further details of Hunt's arrest are available at this time.
Security Footage
Security camera video shows the loading dock from which the two inmates escaped.
In the video, an inmate wheels garbage bins onto the loading dock under the watchful eye of a security officer. Both the inmate and the guard disappear inside the building.
Shortly after, another inmate wheels out two more bins, unsupervised.
The two escapees, clad in prison-issue orange jumpsuits, climb out from these two bins and run out of sight behind a dumpster. They return wearing civilian clothing and run off into the night.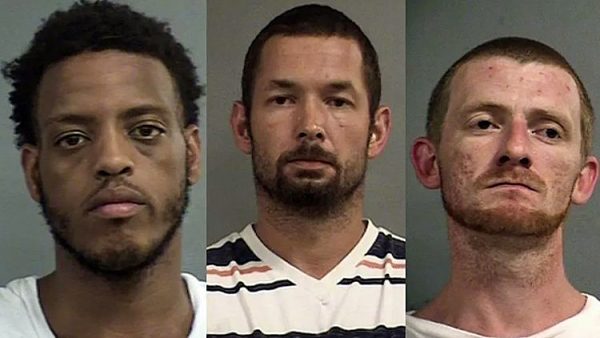 Stumler and Hunt had help from three other inmates: Gary Bradford, 33; Justin Rankin, 28, and Tajuan Burton, 18.
Each has since been charged with two counts of facilitation of escape in the second degree.
Metro Corrections Director Mark Bolton told the Courier-Journal the escape was a result of a "breakdown of basic security protocols."
Minimum Security No More
Hunt and Stumler were considered "minimum security" prisoners because they were in jail for non-violent crimes.
According to the Courier-Journal, Justin Stumler was arrested by Jeffersontown Police on Aug. 27 on charges of motor vehicle theft, possession of a handgun by a convicted felon, felony drug possession, and possession of drug paraphernalia.
Jeremy Hunt had been arrested by the Louisville Metro Police on June 28 for several felony burglary charges.
Because they were not considered dangerous, both inmates were allowed to work in the corrections center kitchen.
Both were awaiting trial at the time of the escape. Both will now face additional charges after their failed escape attempt.
From NTD.tv
Watch Next:
Why is Falun Gong Persecuted?
Although it's freely practiced in over 70 countries, doing this in China can lead to unlawful arrest, imprisonment, torture, or even death.