Kentucky Gov. Andy Beshear announced on Tuesday that an investigation will be carried out into the deaths of eight people who were killed at a candle factory when a tornado struck over the weekend.
At least eight people were killed after the tornado struck the Mayfield Consumer Products factory, the company said on Sunday.
The candle factory was reduced to rubble amid the extreme weather conditions that swept across several Midwestern and Southern states Friday night, with Mayfield, a city of about 10,000 in the state's west, among the hardest hit.
Beshear described the devastation as "unlike anything I have seen in my life." He told a press briefing on Tuesday that a month-long review of the deaths will be conducted by the Kentucky Division of Occupational Safety and Health Compliance—the state's workplace safety agency.
"So it shouldn't suggest that there was any wrongdoing. But what it should give people confidence in, is that we'll get to the bottom of what happened," he told reporters.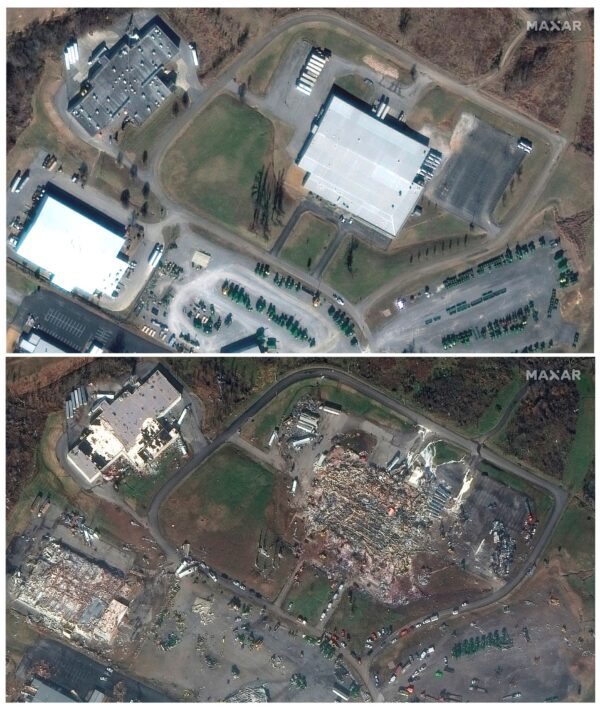 The announcement comes amid reports that at least five workers at the factory in Mayfield were told by supervisors that they would be fired if they left work before their shifts ended, NBC News reported.
"If you leave, you're more than likely to be fired," McKayla Emery, 21, said she heard supervisors say after employees had asked to go home after tornado sirens had sounded at about 5.30 p.m. on Friday.
"I asked to leave and they told me I'd be fired," Elijah Johnson, 20, told the news outlet. "Even with the weather like this, you're still going to fire me?" he said he asked.
Haley Conder, 29, another worker at the factory, told NBC News that team leaders cited safety reasons in preventing anyone from leaving, and asked workers to remain in hallways and the bathrooms. She said everyone was sent back to work after supervisors thought the tornado was no longer a threat.
"'You can't leave. You can't leave. You have to stay here,'" Conder said supervisors told her. "The situation was bad. Everyone was uncomfortable."
Mark Saxton, 37, a forklift operator, told the news outlet that employees were never offered the option to go home.
"That's the thing. We should have been able to leave," he said. "The first warning came, and they just had us go in the hallway. After the warning, they had us go back to work. They never offered us to go home."
The Epoch Times has contacted Mayfield Consumer Products for comment.
A company spokesman denied the allegations in a statement to NBC News.
"It's absolutely untrue," spokesman Bob Ferguson said. "We've had a policy in place since COVID began. Employees can leave any time they want to leave and they can come back the next day."
Ferguson also said supervisors followed guidelines set by the Federal Emergency Management Agency and the Occupational Safety and Health Administration.
"Those protocols are in place and were followed," Ferguson said.