Police in Kentucky have arrested two people after a tip to child abuse hotline led investigators to a property where four children were living in "horrendous" conditions.
WDRB reported that Sean Landrey and Jessica Downs were taken into custody on Thursday, May 9. Police had been called out to the home after someone requested a welfare check on a 7-year-old girl.
The girl had come to school with an injury to her face, WDRB reported, prompting someone to call in the tip.
According to an arrest report cited by WDRB, investigators who went out to the property found three children living in a home infested with cockroaches, cockroach feces, and bedbugs.
The children's ages were 2, 4, 5, and 7.
Police said some of the children told investigators that when they sleep, "they have bugs crawl on them and bite them."
The crib of the 2-year-old reportedly had hundreds of baby cockroaches inside as well as thousands of cockroach feces.
Police cited in the report said they felt the children's lives were in immediate danger and removed them from the property.
Landrey and Downs were arrested and charged with second-degree criminal abuse, and endangering the welfare of a minor.
The children were reportedly sent to live with great-grandparents.
Reactions
The post on WDRB's Facebook page drew comments of both outrage and sympathy.
"Thank God for the person who left that Anonymous tip!" wrote Shirley Meany-Jasper.
"So sad, poor babies," wrote commenter Larissa Hamilton."I know it's hard to get rid of bedbugs, and roaches I guess, but those babies were dirty and covered in bugs. The trauma from that and now being taken from their parents, rightfully so, will be with them for life. I'm glad that they got to go with family."
"This is horrible," wrote Lois Beneking Smith. "My grandma would say, 'may be a reason to be poor,but no reason to be dirty'. The thought of these babies living with all those bugs is disgusting. I hope grandma is cleaner. If not foster care is needed. God bless these poor children."
Crime in the United States
Violent crime in the United States has fallen sharply over the past 25 years, according to both the FBI's Uniform Crime Reports (UCR) and the Bureau of Justice Statistics (BJS) National Crime Victimization Survey (NCVS).
The rate of violent crimes fell by 49 percent between 1993 and 2017, according to the FBI's UCR, which only reflects crimes reported to the police.
The violent crime rate dropped by 74 percent between 1993 and 2017, according to BJS's CVS, which takes into account both crimes that have been reported to the police and those that have not.
"From 1993 to 2017, the rate of violent victimization declined 74 percent, from 79.8 to 20.6 victimizations per 1,000 persons age 12 or older," the U.S. Department of Justice stated (pdf).
Both studies are based on data up to and including 2017, the most recent year for which complete figures are available.
The FBI recently released preliminary data for 2018. According to the Preliminary Semiannual Uniform Crime Report, from January to June 2018, violent crime rates in the United States dropped by 4.3 percent compared to the same six-month period in 2017.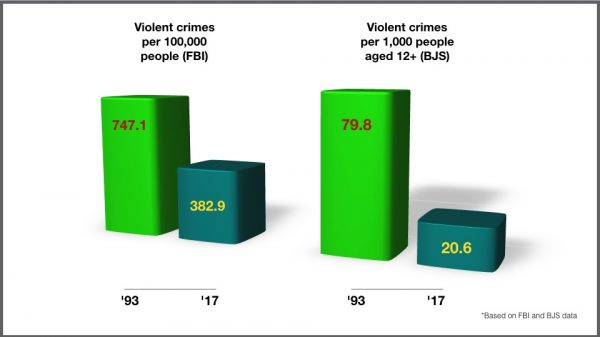 While the overall rate of violent crime has seen a steady downward drop since its peak in the 1990s, there have been several upticks that bucked the trend.
Between 2014 and 2016, the murder rate increased by more than 20 percent, to 5.4 per 100,000 residents, from 4.4, according to an analysis of FBI data. The last two-year period that the rate soared so quickly was between 1966 and 1968.
Property Crime
The property crime rate fell by 50 percent between 1993 and 2017, according to the FBI, and by 69 percent according to BJS.
According to the FBI's preliminary figures for the first half of 2018, property crime rates in the United States dropped by 7.2 percent compared to the same six-month period in 2017.
As with violent crime, the FBI survey only takes into account crime reported to the police, while the BJS figures include reported and nonreported crime.
Public Perception About Crime
Despite falling long-term trends in both violent crime and property crime, opinion surveys repeatedly show Americans believe that crime is up.
The vast majority of Gallup polls taken since 1993 show (pdf) that over 60 percent of Americans believe there is more crime in the United States on a national scale compared to the previous year.
Pew Research surveys show similar findings. A survey in late 2016 revealed that 57 percent of registered voters said crime in the nation as a whole increased since 2008, despite both FBI and BJS data showing double-digit drops in violent and property crimes.
Perceptions differed on a national versus local level.
Surveys of perceptions of crime levels on a local scale showed that fewer than 50 percent of respondents in every single Gallup survey (pdf) done since 1996 believed that crime in their area had risen compared to the previous year.