Ken Starr made his impeachment debut on Jan. 27 as a member of President Donald Trump's legal defense team with a warning about the growing use of impeachment.
"The Senate is being called to sit as the high court of impeachment all too frequently. Indeed, we are living in what I think can aptly be described as the age of impeachment," Starr told senators.
Starr, who, as an independent counsel, investigated then-President Bill Clinton ahead of his impeachment trial in the late 1990s, argued that no crimes were committed in Trump's case and sought to undermine House Democrats' case.
"Were crimes alleged in the articles in the common law of presidential impeachment? In Nixon, yes. In Clinton, yes. Here, no," he said.
Impeachment, he argued, should be a last resort to remove a president from office. He urged senators to look to the text of the Constitution to restore the United States' history and tradition.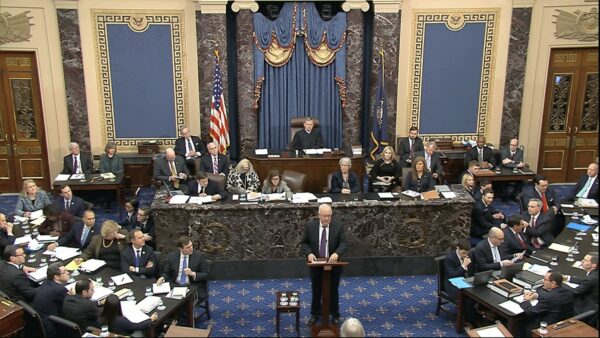 Over the past five decades or so—with the investigation into President Richard Nixon and the independent counsel provision of The Ethics in Government Act of 1978—impeachment has become increasingly used by the House, which is unprecedented in the history of the United States, Starr said.
"But the new chapter was not simply the age of independent counsels. It became, unbeknownst to the American people, the age of impeachment," Starr said.
Starr played a significant role in investigating Clinton, filing a report that led to his impeachment in the House; Clinton was acquitted in the Senate.
"Instead of a once-in-a-century phenomenon, which it had been, presidential impeachment has become a weapon to be wielded against one's political opponent," Starr said.
Starr claimed Trump didn't obstruct Congress by not allowing any White House witnesses or documents. He also stated that the House inquiry process that produced the two articles of impeachment was suspect.
"It is not an impeachable offense for the president of the United States to defend the asserted legal and constitutional prerogatives of the presidency," Starr said. "Due process could have been honored. Basic rights could have been honored … but what's done is done. These two articles come before this court, this high court of impeachment, dripping with fundamental process violations."
Democrats have alleged that Trump withheld millions of dollars in military aid to Ukraine in exchange for investigations into former Vice President Joe Biden, a claim that Trump has denied. The House voted to impeach Trump for abuse of power and obstruction of Congress in December 2019.